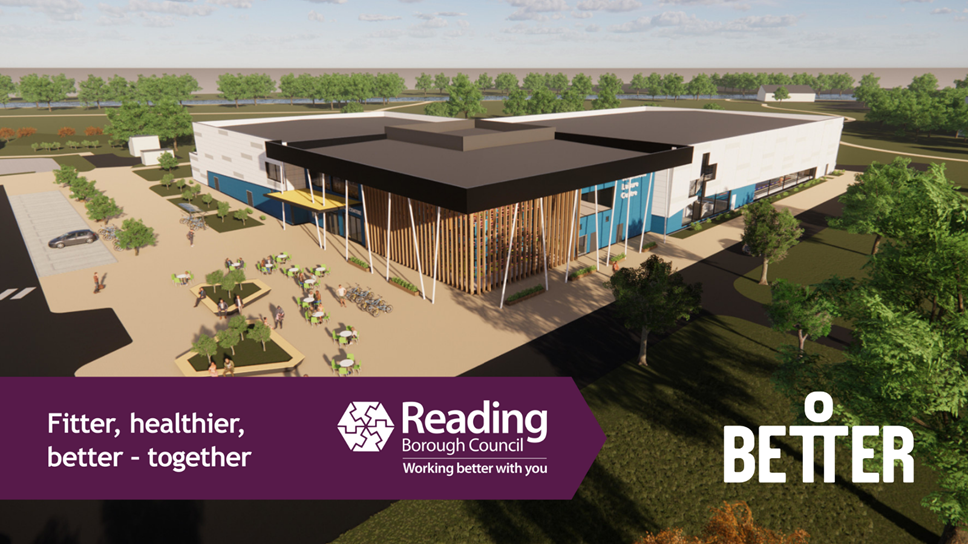 Reading's New Leisure Partner Operating Leisure Centres from Today
GLL will now operate all of Reading's three leisure centres on the Council's behalf
Membership and customer schemes will allow access to every single Council sports facility across the borough
An important next step in the Council's commitment to delivering modern new leisure facilities for Reading
A SIGNIFICANT next step in the transformation of Reading's Leisure offer took place today (1st July), with the operational transfer to new leisure providers, GLL.
Following the signing of the partnership contract on 1st July 2021, GLL will now operate all of Reading's four leisure centres on the Council's behalf, including: Meadway Leisure Centre, South Reading Leisure Centre, Palmer Park Sports Stadium and Rivermead Leisure Centre (a complex which GLL currently runs).
GLL will introduce membership and customer schemes, allowing access to every single Council sports facility across the borough, with a free 'Reading Resident's Card' giving up to 30% discount from activity charges, and up to 50% discount for concessions.
There will also be a drive to improve health and wellbeing across Reading, aiming for a 40% increase in participation levels, with targeted activities to help reduce health inequalities, including discounts for young, older, and disabled people; weight management courses, cardiac and cancer rehabilitation, falls prevention interventions and dementia friendly training for staff.
Today's announcement is the next step in the Council's commitment to delivering modern new leisure facilities for Reading – including a new leisure centre and two brand new swimming pools. Construction is due to begin on both sites this summer with the aim of delivering the new facilities by Spring 2023.
The new Rivermead facilities will still include:
25m 8 lane competition pool, with moveable pool floor
Splash pad for younger users
Diving pool with moveable pool floor
25m 5 lane club/swim lesson pool (demountable pool)
A café, information hub, and soft play
At Palmer Park, in addition to the refurbishment of the existing stadium building, there will be:
A modern new 25 metre, 6-lane community pool
A 100-station gym with three studios
An activity zone for children with party rooms,
And a new café and information hub.
There will also be improvements at South Reading and Meadway leisure centres.
Details of the new leisure service offer can be found at https://www.better.org.uk/reading
Cllr Graeme Hoskin, Reading Borough Council's Lead Councillor for Sport, said: "It is great news our new leisure partner, GLL, will take over the reins in operating Reading's leisure centres from today. This is a significant next step for us is delivering our ambitious plan for leisure.
"Despite the challenges presented by the ongoing pandemic, both the Council and our partners, remain fully committed to delivering the new leisure facilities. Our new leisure offer will provide a good balance for Reading's communities and for families at a time when it is more important than ever we inspire the communities we serve to lead healthier, more active lives and by offering targeted activities to help reduce health inequalities we know exist in Reading.
"We've partnered with GLL for a number of years now at Rivermead and this relationship will now move on to a new level of investment and performance. We'll be working closely with GLL to bring first-class facilities and service to Reading, including building modern new swimming pools at both Palmer Park and at Rivermead.
"By spring 2023, Reading will boast a 25m 8-lane competition pool with dedicated diving provision and a brand new 25m 6-lane community pool at Palmer Park, linked to existing sports facilities – combine the benefits of a sizable pool, velodrome and athletics stadium all in one accessible location – delivering a fairly unique facility in the region and putting Reading firmly on the map as a top sports destination. We have chosen an option that achieves a good balance for Reading, for the community and for families.
"As well as the improved facilities across all leisure sites being delivered over the next two years, the change this week will enable the introduction of membership and customer schemes allowing access to all Council facilities, which is an option often requested by residents. There will also be a drive to increase activity, health and wellbeing across the borough, with weight management courses, cardiac and cancer rehabilitation and targeted work in the community to reach those in most need and work towards reducing health inequalities."
Paul Shearman, GLL's Partnership Manager for Reading added: "It's a huge privilege to take on the management of three additional leisure centres within Reading and to be part of the regeneration of leisure provision within the town.
"The new and improved facilities will really enhance Reading's sports and leisure offering and this will undoubtedly lead to an increase in participation and so better health and wellbeing for local residents.
"We look forward to being part of this hugely positive and transformational project for the benefit of all."
Notes to editors
GLL, who operate under the brand 'Better', is a non-profit charitable Social Enterprise organisation which runs over 250 sport and leisure facilities on behalf of local authorities across the UK. The leisure provider has already partnered the Council in the delivery of Rivermead Leisure Complex for the past 15 years. https://www.better.org.uk/reading
In June, the Council approved an additional £2.433 million investment in modern new leisure facilities for Reading to cover additional costs largely caused by the impact of the ongoing Covid pandemic, bringing Reading Borough Council's overall investment in two brand new pools, a modern new leisure centre and improvements to existing leisure facilities in the town to £38.451 million.
For more information on the leisure investment project visit www.reading.gov.uk/newleisure