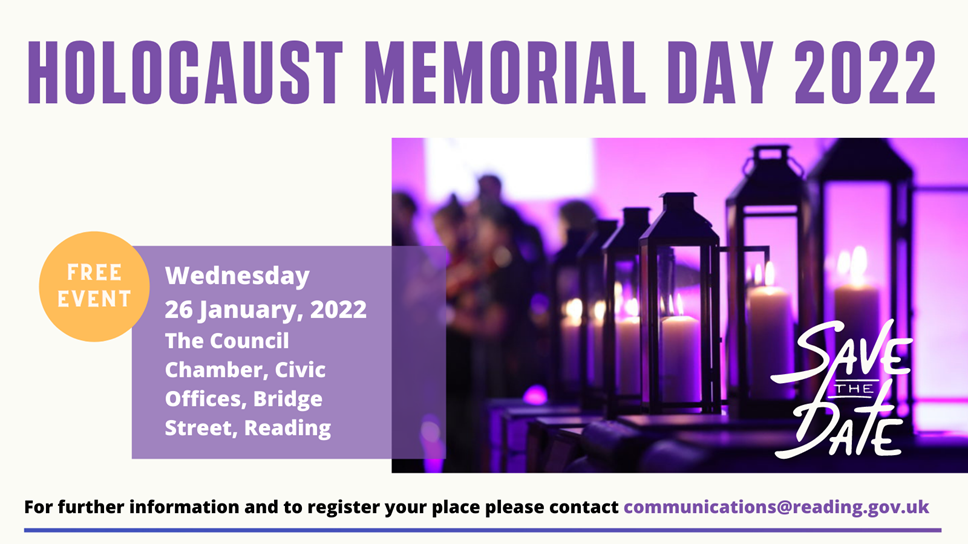 Reading's evening of reflection to mark Holocaust Memorial Day
A free event speakers, choral performances and an address from a keynote speaker will be taking place to mark Holocaust Memorial Day 2022 on 26 January
The mix of live and online elements has been organised is by Reading Borough Council and ACRE, and supported by Reading Hebrew Congregation, Maidenhead Synagogue, Reading Refugee Support Group and Berkshire Rwandese Community
AN EVENING of reflection to commemorate victims of the Holocaust will be held on Wednesday 26 January.
Reading's event will follow the global Holocaust Memorial Day theme for 2022 of 'One Day'. One Day put aside to come together to remember, to learn about the Holocaust, Nazi Persecution and the genocides that followed in the hope that there may be One Day in the future with no genocide. Learning more about the past, empathising with others today to act for a better future.
The free event will be a mix of live and online elements, including speakers, choral performances, and an address from Mr Tom Lake, the son of Jewish refugees from Vienna.
The evening will also feature a Candle lighting & Memorial Ceremony, The Maidenhead Synagogue Choir, and 'The Impact of Hate' speech by Prof Dan Stone, Royal Holloway University of London (RHUL).
The event will begin at 7:30pm in the Council chamber, and will also be live-streamed on the Reading Council Facebook page: https://www.facebook.com/Readingcouncil.
Councillor Jason Brock, Leader of Reading Borough Council, said:
"Holocaust Memorial Day allows us to reflect on the lives tragically lost during the Holocaust, and in genocides that have followed across the world. It is a vital opportunity to learn and raise awareness, just as it also offers a chance to reflect on how to chart a way forward that seeks to bring us all together in the common pursuit of a safer, better future.

"I'd like to encourage residents to join the ceremony online via our Facebook page, and if they are able, light a candle to illuminate the darkness to remember those who were murdered for who they were, and stand against prejudice and hatred in society today."
Victor Koroma, General Manager at the Alliance for Cohesion and Racial Equality (ACRE) said:
"In this post-truth world that we are now living, hate speech and disregard of the impact on minority communities, especially those defined by ethnicity, and religion continue to be underestimated and dismissed as 'woke'. ACRE continues to call on Reading residents to stand together and protect the most vulnerable in our society."
Please note audience places in the Council Chamber are limited to 30. These are free but must be booked in advance and will be allocated on a first-come, first-served basis. No walk-ins on the night will be accepted. For further information and to register for a place at the live event please contact events@reading.gov.uk.
ENDS
Notes to editors
Reading Holocaust Memorial Evening on 26 January is organised by Reading Borough Council and ACRE. The event is supported by Reading Hebrew Congregation, Maidenhead Synagogue, Reading Refugee Support Group and Berkshire Rwandese Community.
About Tom Lake
Tom Lake is the son of Jewish refugees from Vienna. He was born between the end of the war in Europe and in the Far East and started life a stone's throw from Wormwood Scrubs. After a scientific education, he has worked with computer software and is now happily retired. He and his wife have lived happily in Reading for 44 years, where their sons have grown up. He will explain how the Nazi Holocaust touched his own family.
About Professor Dan Stone
Dan Stone is Professor of Modern History and Director of the Holocaust Research Institute at RHUL. He is a historian of ideas who works primarily on twentieth-century European history. His research interests include the history and interpretation of the Holocaust, comparative genocide, history of anthropology, history of fascism, the cultural history of the British Right and theory of history. He is the author or editor of twenty books and over eighty scholarly articles.