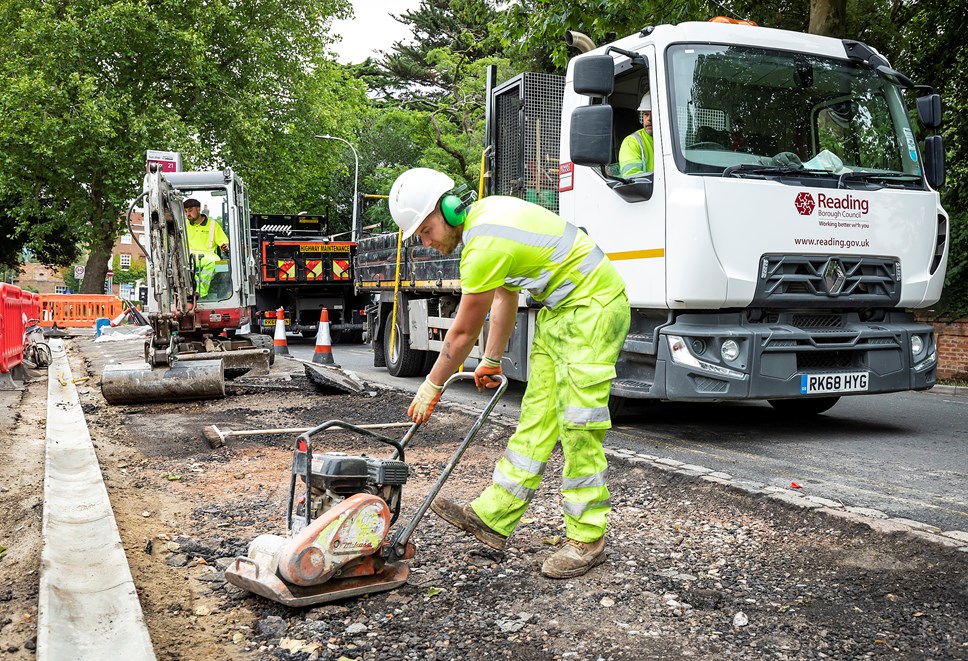 Reading ranked 3rd highest performing council in national highways and transport survey
Reading ranked 3rd highest performing council out of 111 in annual public satisfaction survey
Reading Borough Council scored above average in 6 out of 7 main criteria
Over 400 roads resurfaced in last three years thanks to Council's £9m investment
HIGHWAYS and transport services in Reading have received recognition from the borough's residents, after the council was ranked the third highest performing local authority in the country by the National Highways and Transport (NHT) Public Satisfaction survey.
Reading was judged to be the best performer nationally in 11 out of a range of indicators used to gauge the quality of services, with only two authorities (Portsmouth and Milton Keynes) achieving more top scores.
The results of the survey, run annually to gain views on the council's highways and transport services from the condition of roads and footpaths to the quality of cycling facilities, also saw Reading score above average in 6 out of 7 main criteria areas.
Compared to 110 other councils taking part in the survey of their residents, Reading scored above the NHT average in the areas of accessibility, communications, public transport, walking/cycling, road safety and highway maintenance, whilst for tackling congestion it equalled the average.
The results for the borough were provided by 700 members of the public, and provided a wide range of key feedback which Reading Borough Council will use to help inform service provision and improvements in future. The most important aspect of the survey to Reading residents was safety on roads, with condition of roads the most popular choice for improving the level of service and spending more.
This is something the council continues to address, with over 250 residential roads resurfaced since the start of February to take the total number of improved roads to over 400 since the £9m council funded residential roads and pavement project began. A three-year budget announced earlier this year also committed a further £8m investment to hundreds more road improvements.
Sam Shean, Highways and Traffic Services Manager at Reading Borough Council, said:
"We're pleased to have received such positive feedback from our residents, as their opinions have real value to us and help drive what we do in the future. I'm particularly pleased as the survey was conducted in summer last year, prior to the second phase of our Highways £9m road improvement programme. This has seen over 400 residential roads resurfaced, so we have done even more since the survey to maintain our ambitious schedule of road improvements".