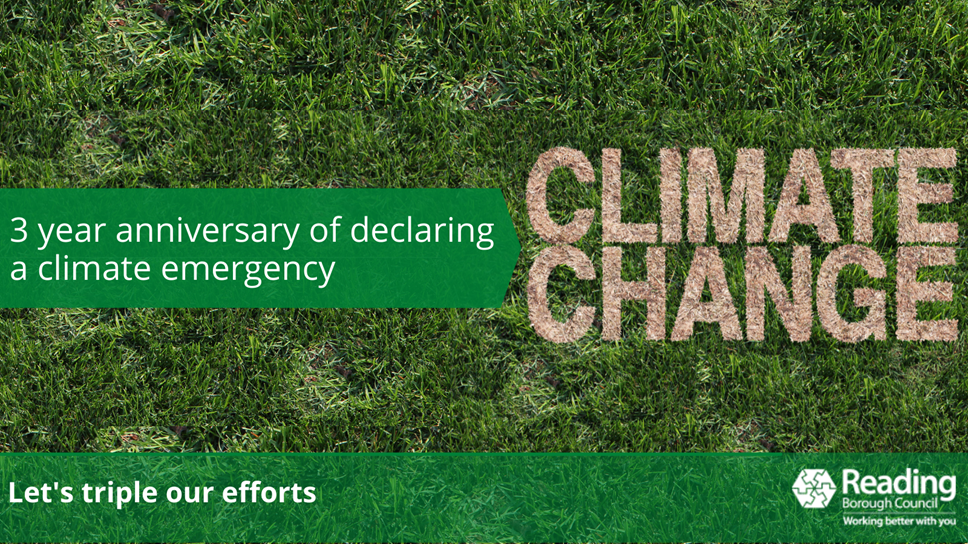 Reading Marks Three Years Of Action Since Declaring A Climate Emergency
Residents, businesses and local organisations in Reading are being urged to triple their efforts to tackle climate change, on the three year anniversary of the Council declaring a climate emergency.
On 26th February 2019 Reading Borough Council declared a climate emergency on behalf of the wider community, pledging to join the international effort to slow down climate change.
To mark the three-year anniversary of declaring a climate emergency, the Reading Climate Change Partnership and the Council are asking residents, businesses and local organisations to triple their efforts to tackle climate change and to take advantage of the information and resources on the Partnership's website to help them do so.
With growing concerns about the cost of living, there are positive steps we can all take to save carbon and save money, which include:
Walk, cycle or use public transport instead of driving and try to reduce or avoid flying wherever possible.
Reduce food waste – freeze leftovers and check your fridge temperature is between 0-5 ◦C.
Repair, Recycle and Reuse;
- Shop for bargains in charity shops rather than buying new
- Repair clothes and re-sole shoes rather than buying new ones
- Invest in reusable; use your own cup in coffee shops and fill up your own water bottles
Turn down thermostats and switch off appliances where possible – depending on your age the ideal room temperature is 18-19◦C during winter.
Skip meat for one day a week - reduce your annual carbon footprint by the equivalent of not driving your car for a whole month.
In response to the declaration the Reading Climate Change Partnership (RCCP) - in which the Council is an active partner - set out a roadmap to work towards the goal of achieving a 'net zero carbon' Reading by 2030.
Local achievements by the Council and other partners since the climate emergency was declared include:
Reading Borough Council named as one of only 11 UK local authorities, and one of just 95 across the world, to make a coveted CDP 'A' list on climate action – the accolade awarded for bold leadership on environmental action and transparency.
Continued investment in a strong public transport network and bus priority measures which saw Reading continue to buck the national (pre-pandemic) trends for bus use.
Community-led action to promote 'plastic-free' initiatives such as Refill Reading, with Caversham working towards Plastic Free Community accreditation.
Reading Borough Council cut its carbon footprint by 69.8% in just 12 years.
The borough's overall carbon footprint cut by 49% since 2005 - the 5th largest reduction of 379 UK local authority areas.
Launch by the Council of the first fully electric waste collection vehicle in Berkshire in November 2021 making collections from 1,400 houses daily and driving 8,000 miles a year with no tailpipe emissions - saving 32,200kg of greenhouse gas emissions each year compared to a diesel equivalent.
Development of 'nature-based climate solutions': Trees for Reading and 're-wilding' trials in greenspaces across the town; plus the installation of 'living' bus shelters at the A33, opposite Kennet Island, and at Christchurch Green - helping to improve local environments and absorb traffic fumes and rainwater.
Increased recycling rates from 32% up to 52% over the last year thanks to the introduction of food waste collections for residents.
Reading Borough Council's own housing has achieved an average Energy Performance Certificate (EPC) rating of 'C' compared to the national average of 'D', with plans to invest an additional £34m over the next 5 years in measures which will further improve energy efficiency
Opening of the Reading Hydro scheme in 2021, driven forward by the volunteer-led Reading Hydro Community Benefit Society, the scheme harnesses the power of the Thames to save approximately 5,600 tonnes of CO2 over its 40 year design life.
As Reading Borough Council's carbon footprint accounts for less than 1.5% of total emissions for the borough, residents, communities, businesses and organisations all have a huge role to play in helping Reading achieve its net zero target by 2030. But the rate at which emissions are falling will need to approximately double for Reading to achieve net zero by 2030.
Councillor Tony Page, Reading Borough Council's Lead Member for Strategic Environment, Planning and Transport, said: "We have made good progress in three years since we declared a climate emergency and we are heading in the right direction - but not fast enough. There is a lot more work planned for us to do at the Council and with others to achieve a net zero carbon Reading by 2030, and we need the Government's help to get there."
"By 2028 the Council's vehicle fleet will be all electric, and between now and 2025 we will be further investing in renewable energy projects and making improvements to the energy efficiency of our buildings and housing. Beyond this, our introduction of doorstep food waste collections, improving cycling and walking facilities, and continuing to invest in public transport infrastructure will all contribute towards a further cut in Reading's carbon footprint."
"We recognise the importance of the Council leading by example and action speaks louder than words so we also have taken steps to drastically cut our own carbon footprint, reducing our emissions as a Council by 69.8% since 2008/09, and have reaffirmed our commitment in our recent budget announcement which includes ambitious plans for low carbon investment."
"To be recognised by the Carbon Disclosure Project as one of only 11 local authority areas in the UK and one of only 95 worldwide to be added to their 'A' list is a tremendous accolade in what is considered to be the gold standard in environmental reporting."
"But the rate at which Reading borough as a whole cuts emissions will need to double for the town to achieve the ambitious goal of net zero by 2030, in 8 years' time."
"It is sobering to note that the Council is responsible for less than 1.5% of Reading's carbon footprint. There is little doubt we are headed in the right direction, but the question remains is it fast enough and is central Government investing enough into helping residents, businesses and organisations make the changes they need to?"
"Continued and sustained effort will be required to increase the rate of emissions reduction between now and 2030. This is a huge challenge which will require buy-in from every single business, organisation and individual in Reading."
Tracey Rawling Church, co-chair of the Reading Climate Change Partnership said: "Achieving net zero by 2030 is an enormous challenge and although we are encouraged by progress to date there is still a great deal to do."
"Decarbonisation of an entire town is a joint endeavour and can only be achieved through collaboration."
"We're delighted that we have been able to build effective partnerships with numerous influential groups representing businesses and communities and will continue to focus on increasing these links to get everybody in the town working towards a shared goal of building a better place for everybody who lives, works or studies here. The recent formation of the Net Zero Task Force by the Local Enterprise Partnership will enable us to collaborate more effectively with neighbouring boroughs, too. "
Professor Tim Dixon, co-chair of the Reading Climate Change Partnership said: "Working with Tracey and the rest of our board we are keen to help develop further innovative projects such as the recent ADEPT (DfT) Thames Valley Live Labs Programme which has brought together local government (the six unitary authorities in Berkshire), industry (O2 and Stantec), civil society and the University of Reading in helping tackle important issues around air quality, energy demand and mobility."
"As part of our mission to improve outreach and engagement we are also developing several exciting new projects which we hope will bring a greater awareness of climate change to people and businesses across Reading, as well as our schools and colleges. A big part of our mission has also been to help increase the diversity and depth of expertise and insight in our partnership board, drawing on industry, the voluntary sector, NHS and the Youth Parliament."