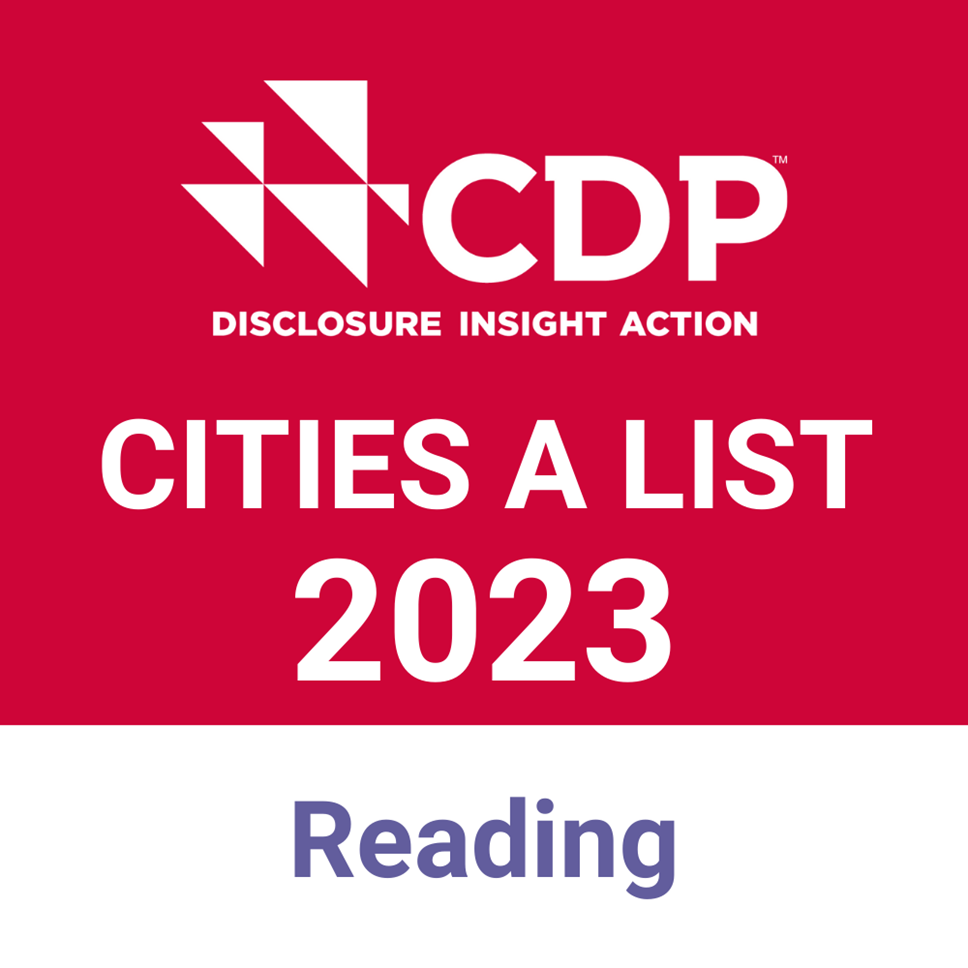 Reading makes global environmental A List for third successive year
Reading one of only 119 towns and cities in the world to make CPD A List 2023
Only 26 UK authorities achieve A status in the 'gold standard' of environmental reporting
Call for Reading residents, businesses and organisations to help keep up the momentum
Reading is one of only 119 towns or cities around the globe that is recognised for taking bold leadership on environmental action in a new report published today (14 November).
The town features on the CDP (Carbon Disclosure Project) A List for the third consecutive year and joins only 25 other UK local authorities which have achieved the status.
The news comes in the same week it was announced that Reading has cut its carbon emissions by 51% since 2005 and that the Council has reduced its own carbon footprint by 74% in 14 years.
Reading joins the likes of New York, Rio de Janeiro and Canberra on the CDP A List and local authorities including Greater London, Greater Manchester and Edinburgh City Council in the UK.
The Council has worked with local partners, including the Reading Climate Change Partnership, to achieve the status and is calling on all Reading residents, businesses and organisations to help keep the momentum going.
CDP is a global non-profit organisation which holds the world's most comprehensive data on how companies, cities, states and regions measure, understand and address their environmental impacts. It is widely recognised as the 'gold standard' of environmental reporting.
To appear on the A List, a local authority must publicly disclose and have a city/town-wide emissions inventory and have published a climate action plan. A List cities are demonstrating their climate leadership through concerted and effective action and are taking four times as many mitigation and adaptation measures as non-A List cities. Only 13% of cities that applied in 2023 received an A.
Cllr John Ennis, Lead Councillor for Climate Strategy and Transport, said:
"For Reading to feature in the CDP A List for a third consecutive year is a remarkable achievement and testament to the town's commitment to the environment and tackling climate change.

"The Council declared a Climate Emergency on behalf of the borough in 2019 and we have worked hard with our partners and with the support of residents to see real progress being made.

"We should be proud of what we have achieved so far but we cannot afford to sit back and ease up for a second. We have no time to lose if we are to reach our ambitious target of a net zero Reading by 2030 and we need everybody on board.

"A little action by everyone can make a big difference so I urge everyone in Reading to step up and do what they can to help protect the environment."
Key measures the Council has taken to reduce emissions in 2022/23 include: installing heat pumps and solar panels in Reading's two new leisure centres, Rivermead and Palmer Park; installing EV charging infrastructure for the growing fleet of electric vehicles in the Council's Bennet Road depot; reducing electricity usage in schools by installing solar panels, upgrading lighting and other energy efficiency improvements and reducing emissions from waste due largely to a significant drop in rubbish going to landfill.
Actions taken by partners in 2022/23 include:
The University of Reading secured a £2.2m government grant to install large water source heat pumps as part of a low carbon heat network at its Whiteknights campus which will reduce its corporate emissions by 10%.
The volunteer- led Reading DraughtBusters expanded its operations helping people reduce energy bills through simple but effective home improvements, and helped establish 10 new DraughtBusters groups in neighbouring towns.
The Royal Berkshire Hospital declared a successful amnesty to collect and re-use old IT equipment. Almost 400 items were recycled, saving an estimated 128 tonnes of CO2.
Notes to editors
Please see our recent press release for more details about carbon emission reductions in Reading in 2022/23: https://media.reading.gov.uk/news/reading-cuts-carbon-emissions-by-51-percent-and-council-reduces-own-carbon-footprint-by-74-percent
About CDP
CDP is a global non-profit that runs the world's environmental disclosure system for companies, cities, states and regions. Founded in 2000 and working with more than 740 financial institutions with over $136 trillion in assets, CDP pioneered using capital markets and corporate procurement to motivate companies to disclose their environmental impacts, and to reduce greenhouse gas emissions, safeguard water resources and protect forests.
Over 24,000 organizations around the world disclosed data through CDP in 2023 - including listed companies worth two thirds of global market capitalization - and over 1,100 cities, states and regions. CDP is a founding member of the Science Based Targets initiative, We Mean Business Coalition, The Investor Agenda and the Net Zero Asset Managers initiative. Visit cdp.net or follow them @CDP to find out more.