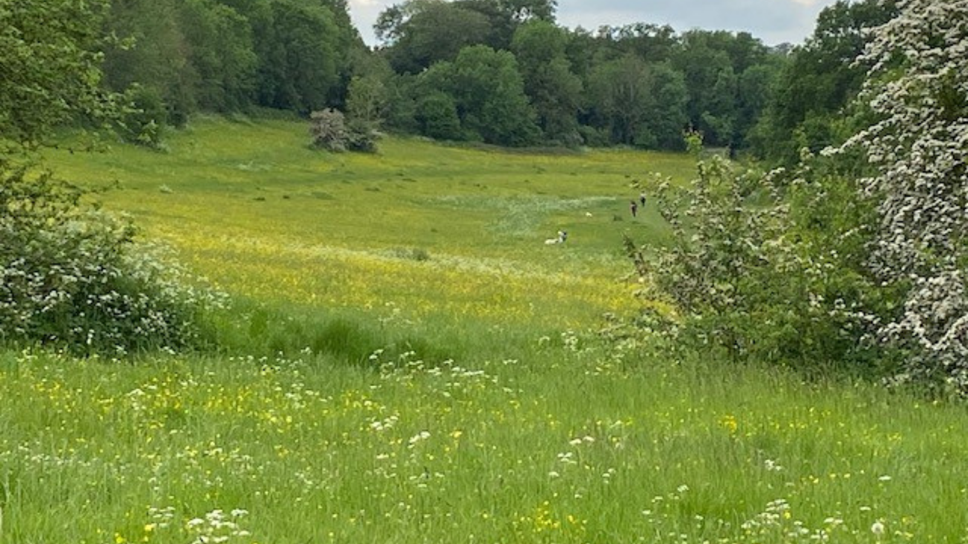 Reading Council to extend successful 'Rewilding' trial into 2022
Rewilding scheme first introduced in 2020 continues to be a great success
Initiative launched in 12 parks during 2021
Introduction of wildflowers to town centre locations
Several volunteer groups created community-led rewilding sites last season
READING COUNCIL has announced plans to further extend its progressive 'Rewilding' scheme, following another successful year.
The scheme aims to restore, reclaim and protect natural habitats and native species on highway verges and in parks to address the climate emergency, by enhancing biodiversity and green links across the town. It introduced a new approach to grass cutting across various sites in Reading over the past two seasons and has so far proved a great success.
The latest end of season review verifies that the experiment had worked in most areas and public feedback and support for the scheme continued to be overwhelmingly positive.
Following the publication of the 'Wildflower Plan' launched in 2021, the Council has further extended trial areas across 12 parks, which has successfully added 2 ha (5%) to the overall conservation grassland and rewilding efforts.
Above: enhanced wildflower turf around the Station roundabout
The Council has also extended wildflower planting to areas within the town centre using enhanced wildflower turf, funded by Reading Central BID.
Local interest has enhanced the Council's efforts involvement with several volunteer groups arranging their own neighbourhood rewilding efforts, including areas of Waterloo Meadows and the Newtown Community Garden.
Above: Wildflowers in Waterloo Meadows
A report on Rewilding will be considered at a meeting of the Council's Housing, Neighbourhoods and Leisure Committee (HNLC) on Thursday 10 March. The report summarises the results of this year's activity and makes recommendations to further extend the project in 2022.
As well as recommending the continuation of the scheme this next year, the option of creating wildflower – or naturally rewilded – areas on the margins of allotments sites, will be explored. There is also potential for rewilded areas in main shopping areas in Tilehurst, Caversham and Whitley, where there is land for wildflower planting, as well as corridors into Reading, like the A33, Oxford Road, London Road and Henley Road.
Local resident Kate, from Emmer Green, told us: "You asked us to let you know what we think of the rewilding scheme in Reading. I love it! I live on Rotherfield Way and walk past the rewilding area here every day. I think it looks great, as well as having a positive effect on the environment. I am always happy to see it as I pass by. I wholly support the scheme and would love to see it extended to wider areas. It makes me proud of Reading!"
Cllr Karen Rowland, Reading's Lead for Culture, Heritage and Recreation, said: "I am absolutely delighted our Rewilding trial has continued to prove so successful during the past two seasons – many of our verges look lovelier than ever during the summer whilst improving our biodiversity in our busy urban town. The continued positive feedback from residents has been heartening to see. I'm pleased that extending rewilding across 12 of our parks has worked so well and I'm delighted to see our efforts extending right into our town centre with the use of enhanced wildflower turf.
"I am especially heartened by the local groups who have worked hard to rewild their local areas – most notably with the Newtown Community Garden. Additionally, the Friends of Waterloo Meadows and CROW (Conserve Reading on Wednesdays) are working together to extend the wildflowers at Waterloo Meadows. I sincerely hope more grassroots groups and individuals will be inspired to get in touch with the Council and look to rewild even small patches of private land or gardens. Every bit makes such a huge difference!
"Importantly, these changes feed into our wider, far-reaching ambitions set out in the Climate Emergency Strategy and Biodiversity Action Plan. The project is now embedded in the Council's approach to grassland management. Our recommendation is to now look to how we might rewild areas of Reading allotments and further areas around the borough, including the shopping centres in Caversham, Tilehurst and Whitley."
As with previous years, requests for feedback from local residents and parks users will be sought and any changes carefully reviewed at the end of the season. Feedback can be sent by email to rewilding@reading.gov.uk and visit www.reading.gov.uk/rewilding to find out more.
Cllr Rowland added: "We are very grateful to everyone who took the time to feedback to us and we encourage you to continue to tell us what you think about the changes during 2022."
View the full Housing, Neighbourhoods and Leisure Committee (HNLC) report at:
https://democracy.reading.gov.uk/documents/s21657/12%20Rewilding%20March%202022.pdf
Ends