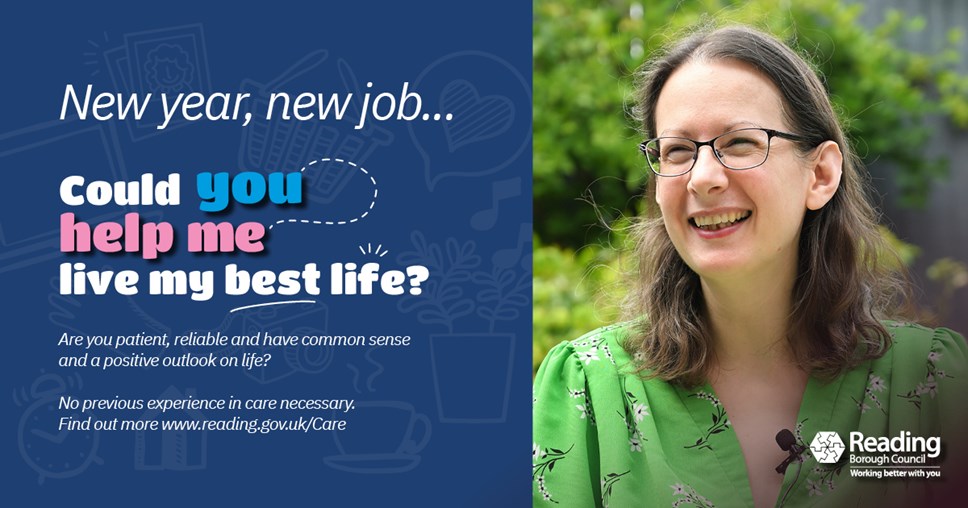 Reading Council Launches Carer Recruitment Campaign
Reading Borough Council is supporting the recruitment of local carers
Could you 'help someone live their best life?'
Our borough urgently needs more carers and the Council is urging people to find out more about working in the care sector; working directly with residents who need support as a Personal Care Assistant or employed by a care agency.
You may not have previously considered working in care or aren't sure how to take the next step, rest assured no experience is necessary, training and support will be provided.
Local resident Angela who employs her own Personal Care Assistants says the care she receives "Allows me to live my life as close to what it used to be as possible, which is wonderful. I am an autonomous person I'm just the same Angela as I was before, I might be a bit more slow physically and sometimes when the brain doesn't quite work, but I still know what I want and need and what I like… is for someone to come in and support me".
Hear more from Angela in our care recruitment campaign video https://www.youtube.com/watch?v=-_vUoEe3pAk&t=1s
The council support up to 2,000 adults with social care needs in any one year so people can live as independently as possible in their own homes. This includes older people, people with physical disabilities or learning disabilities and people with mental health that impacts their daily lives.
Carers ensure people are safe and well and tasks range from helping people to get washed and dressed, get ready for bed to preparing or collecting medication, shopping and ensuring the people they provide care for are getting out and about and involved in their local community.
If you are patient, reliable and have a positive outlook on life, care could be the new job for you.
Residents in Reading are looking for Personal Care Assistants to support them and there are also vacancies available within the residential, home care and supported living areas. A range of temporary, permanent, full time or part-time roles are available. No previous experience is needed and training and support will be given.
To find out more visit www.reading.gov.uk/care
Cllr John Ennis, Reading's Lead Councillor for Adult Social Care, said
"When you care every day, you make a difference. Now more than ever, you could really support people in your local community. Caring is an incredibly rewarding career with opportunities for training and career progression."

"Reading urgently needs more carers. If you are kind, reliable and patient there will be a role for you - supporting adults of all ages. Could you help someone live their best life?"