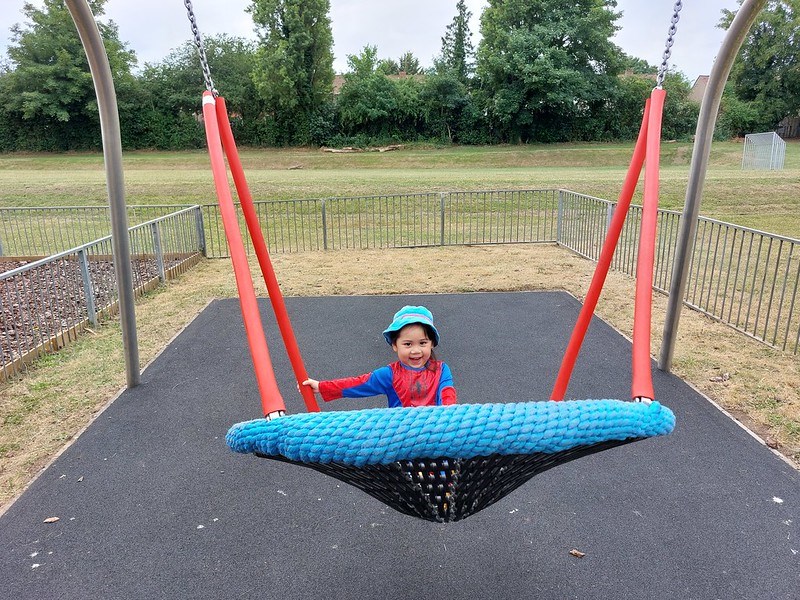 Reading Communities Benefit from £4.5 Million Worth of Investments
61 community projects worth £4.5 million have benefitted from CIL funding
The money is paid by developers as part of conditions for the grant of new planning permissions
OUR communities right across Reading will benefit from £4.5 million worth of investments in 61 local projects big and small, thanks to contributions paid by developers as part of conditions attached to the grant of new planning permissions.
A huge range of neighbourhood benefits are either complete or will be delivered as a result of Community Infrastructure Levy (CIL) funding. These include numerous play area refurbishments across the town, new pedestrian or zebra crossings and road safety schemes, new cycle paths, a new skate park, the refurbishment of the historic Maiwand Lion and the repair of the 'Cartwheeling Boys' damaged in Storm Eunice last February. Also included are much smaller but highly-valued neighbourhood projects, like a new fridge freezer for Southcote Community Centre, or new laptops for Coley Community Centre.
CIL is a charge applied to new developments in Reading, 15% of which needs to be used to fund infrastructure improvements in the local area where a development takes place.
A report to the Council Policy Committee in July provided an update on how CIL funds have been spent and allocated across community projects in Reading so far. https://democracy.reading.gov.uk/documents/s22776/CIL%2015.pdf
The Policy Committee report does not update on the projects allocated funds in March 2022. Progress on these latter projects will be reported to a future committee towards the end of the 2022-23 financial year, but this allocation includes £480,000 towards a variety of improvements in Whitley Wood, including £50,000 re-allocated from previous projects from the 2018 CIL which could not be progressed at the time. The £480k investment is made up of improvements to South Whitley Park, Gateway area pedestrian crossings (Imperial Way and Basingstoke Road) and Lulworth Road communal area improvements
Micky Leng, Reading's Lead Councillor for Planning, said:
"Reading remains an extremely attractive proposition for developers, but it is essential that residents across the town get something back for the developments which take place close to where they live.
"As Councillors we are often asked what is in it for local communities and this long list of neighbourhood benefits being delivered by the Council as part of the CIL process spells that out. They range from major play area improvements, road safety schemes, a Reading-wide graffiti clean initiative and public art refurbishments, as well as much smaller schemes, which may not cost a great deal but are massively valuable to the communities which benefit from them.
"The Council is always keen to hear from the public about local projects which could be of benefit, and I would urge people to contact their local Councillors with suggestions so these can be considered in the future against the CIL funding available."
The majority of community projects allocated CIL money in November 2018 have now been completed. They are:
Ivydene play area improvements - £100,000
Coley Recreation Park outdoor gym - £65,000
Avon Place play area improvements - £100,000
Cintra Park play area improvements - £95,000
Long Barn Rec improvements - £155,000
Prospect Park improvements - £88,000
Broad Street refurbishment of seating areas - £55,000
Dog Fountain, St Laurences Churchyard, repair - £25,000
Southcote Community Centre improvements - £1,700
Gosbrook Road zebra crossing - £50,000
Ridgeway School zebra crossing - £50,000
Reading Girls School extension of 20mph zone - £40,000
Redlands – enforcement of 20mph zone - £100,000
Elgar Road HGV signs - £50,000
Brunswick St and Western Rd 20mphzone - £50,000
Southcote Road and Westcote Road speed reduction - £30,000
Grovelands Rd double roundabout signs - £15,000
Oxford Rd and Overdown Road pedestrian crossings - £50,000
High Street Heritage Action Zone www.reading,gov.uk/hshaz (ongoing to 2024) - £150,000
Work to progress the majority of CIL funding allocated to schemes in June 2021 is ongoing. These are:
Borough-wide graffiti removal project - £75,000 (complete)
Town Centre monuments, statues, war memorials and public art - £170,000 – including refurbishment of the Maiwand Lion repair of the 'cartwheeling boys' after storm damage
Thames cycle path at Kings Meadow - £100,000
High Street Heritage Action Zone - www.reading,gov.uk/hshaz (ongoing to 2024) - £275,000
Improvements to Shinfield Road Rec, Linden Rd – upgrading park and facilities - £75,000 (complete)
Skate park John Rabson Rec - £95,000
Waterloo Meadows play area improvements - £95,000
Arthur Newbery Park play area improvements - £65,000 (complete)
Oxford Rd Rec Ground play area improvements - £130,000 (complete)
Norcot Road pedestrian crossing - £50,000
Dover St play area improvements - £85,000 (complete)
Coley Park Community Centre – new laptops - £2,000 (complete)
Brook Street West – improvements to wooden bridge - £100,000
Moriston Close play area improvements - £30,000 (complete)
Palmer Park play area improvements - £100,000
Morpeth Close parking bay markings - £5,000 (complete)
Addington Rd pedestrian crossing - £50,000
Church End Lane pedestrian crossing (near to Moorlands Primary) - £50,000 (complete)
The Meadway, road lining alterations - £10,000 (complete)
South Whitley Park, including exercise equipment and survey for drainage improvement - £15,000 (complete)
The allocation process for CIL monies include projects nominated by members of the public, community groups, local Councillors and officers, which are then subsequently discussed with relevant Lead Councillors and then agreed annually at a meeting of the Council's Policy Committee.