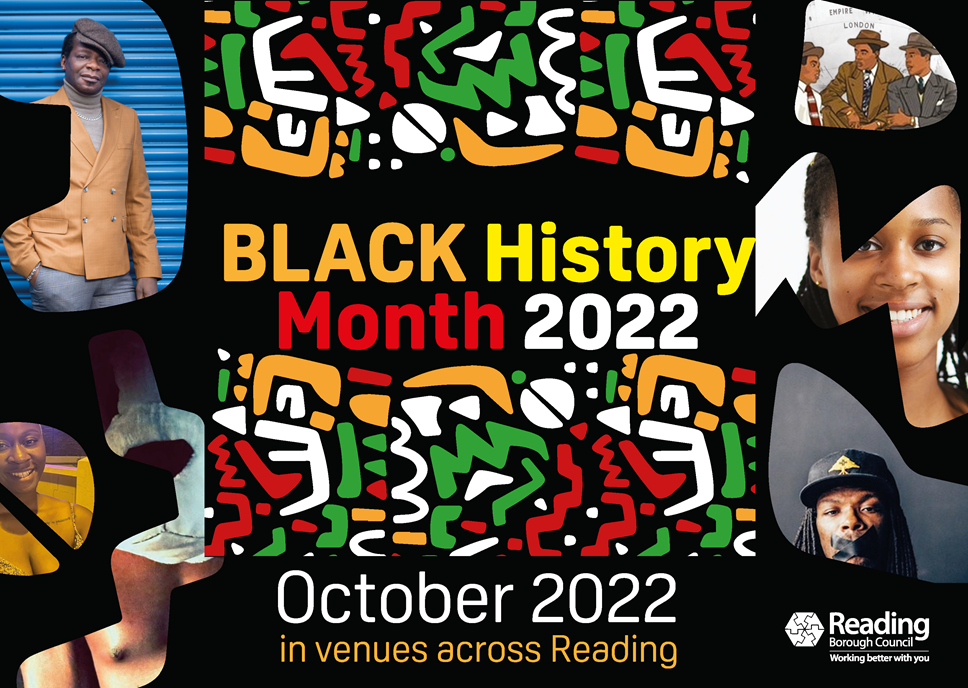 Reading celebrates Black History Month 2022
October offers a diverse programme of events and activities across Reading
Music, art, theatre and debate are all on the menu for Black History Month 2022
A CELEBRATION of music, art, theatre and debate are all on offer for this year's Black History Month 2022 in Reading.
This year's programme, taking place across the town during October, recognises the important contribution our diverse black community has made, and continues to make, to our town and across the country.
There is a packed calendar of fascinating speakers, lively debate, thought-provoking films, educational school sessions and innovative theatrical productions, with many events free of charge.
Musical highlights throughout October include children's steel band workshops with RASPO (under 18s free of charge), and on Friday 7 October, Reggae Fridays Open Mic night featuring Reading Reggae Collective led by Grammy Award winning producer and bass guitar supremo Don Chandler. Sign up to perform or attend. Both activities at CultureMix Arts & Music Centre.
Reading Museum launches its new black history virtual session for schools on Monday 3 October. The event is free for schools but booking is necessary.
On Thursday 6 October join in with Black History Month 2022 – The Big Debate and on Monday 24 October join in with ACRE's Black Lives Matter discussion. Both are held in the Council Chamber, Civic Offices. On Thursday 27 October, ACRE and Utulivu Women's Group are also hosting an awards ceremony in the Council Chamber, celebrating community volunteers.
Over at Central Library there is a free live screening of Paterson Joseph telling the story of Charles Ignatius Sancho on Friday 14 October and theatrical experiences on offer at South Street include 'I Belong' by Doris Allimadi, 22 October, 'WORD' by Jamal Harewood 2 November and 'The Privileged' by Jamal Harewood, 4 November. Reading Windrush Alliance present Howling Wind at South Street on 12 November, a play about the struggles and the many successes and achievements of the Windrush generation and their descendants.
Adele Barnett-Ward, Reading Borough Council's Lead Councillor for Leisure and Culture, said: "Reading is a town that rightfully prides itself on its diversity. Reading Borough Council is committed to supporting the Black community, furthering the rights of the members of that community and tackling head-on the disadvantages and struggles that the community has faced.
"Black History Month offers a full programme of live events hosted by Reading Museum, Reading Arts Venues, Reading Libraries and many local community organisations. It gives everyone the opportunity to learn about and celebrate the important contributions all of our Black communities have made, and continue to make, in the town and across the country.
"I always look forward to this year's Black History Month. A wide and diverse range of activities will be taking place across Reading throughout October. Black History Month is for everyone and I encourage everyone in Reading to take part in October's Black History Month events and embrace the richness our Black communities offer us all, acknowledging their importance to our town."
Other highlights this month include:
From 1 to 5 October, The Bengali Cultural Society mark their 10th Sharad Utsav 22, the annual Autumn Festival, hosted at Rivermead Leisure Complex.
Honouring Our Heroes - The Jamaica Society and Friends presents an educational and inspirational event, Reading YMCA, Saturday 8 October.
Celebrating the 10th anniversary of ACRE: An open day featuring a pictorial exhibition tracking the history of Acre, and its work with community partners. Monday 10 October, Oxford Road Community Centre.
Jeneba Kanneh-Mason on Piano at Reading Concert Hall, Tuesday 11 October.
Reading Minster Annual Lecture presents Mpho Tutu Van Furth – a lecture by late Archbishop Desmond Tutu's daughter, Friday 21 October.
An exhibition of fabric art at South Street Arts Centre on Sunday 30 October, featuring fabric art pieces made with members of the reading refugee community working with fabric artist Ravinder Kaur.
Reading Council's High Street Heritage Action Zone (HSHAZ) latest exhibition, Lifespring Stories, the exhibition uncovers the hidden stories of the people who are the 'life' of the Oxford Road. On throughout October in the foyer of the Lifespring Church.
And much more – for more information, including event dates and times, visit www.reading.gov.uk/blackhistorymonth2022
Find out about the event nationally here:
www.blackhistorymonth.org.uk/listings/region/south-east/
Ends
Notes to editors
Notes
About Black History Month
Black History Month was established in the USA by Dr Carter G Woodson, a black American historian who created a month (February) for African Americans to have the opportunity to celebrate and acknowledge themselves and their achievements.
In England, Black History Month was first celebrated in October 1987, African jubilee year, as part of a drive to improve racial harmony in London. It has since grown to encompass the whole country and to recognise and embrace the contributions and traditions of other black communities. Find out more at www.blackhistorymonth.org.uk