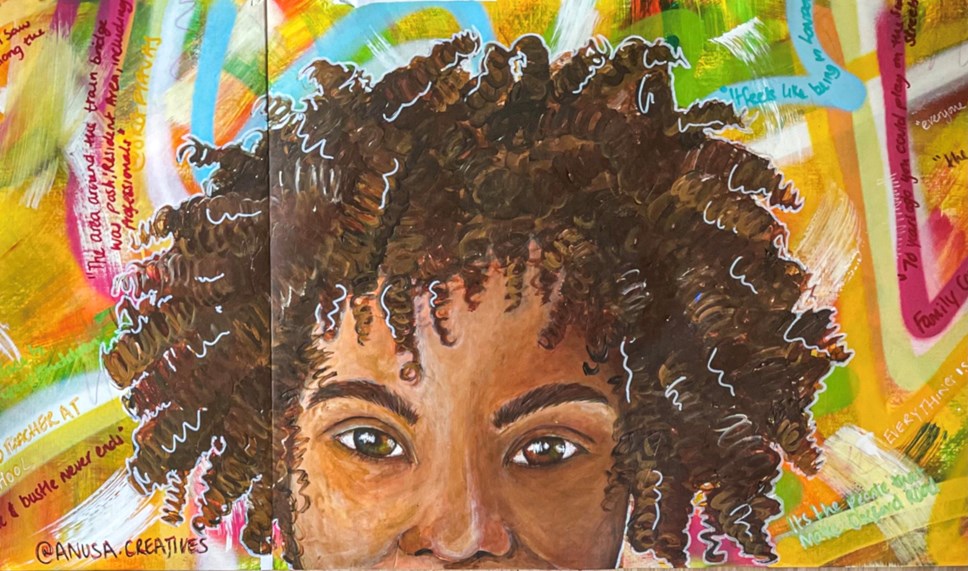 Reading celebrates Black History Month 2021
A welcome return to live events for Black History Month 2021
October offers a diverse programme of talks, comedy, film and art exhibitions - live and online
A CELEBRATION of drama, comedy, art and conversation are all on the menu for this year's Black History Month 2021 in Reading.
This year's programme taking place across the town during October recognises the important contribution our diverse black community has made, and continues to make to our town and indeed across the country.
There is a packed calendar of fascinating speakers, lively debate, thought-provoking films and entertaining theatrical productions, with many events free of charge.
Highlights include Reading Museum, as part of the Reading Windrush Project Steering Group, hosting free screenings of the film 'Memories of the Reading Windrush Generation' on 30 October.
At Central Library children and families are invited to an inspiring author reading of Kaya and Tuesday Holder's 'Tawny and Maya: Unique Me' on 30 October, followed by a Q&A session and a fun activity workshop.
Reading Arts has several great shows on offer, whilst on 24 October, The Rising Sun Arts Centre is hosting an exciting one-day exhibition featuring work from two recent community-led 'Emerging Voices' projects.
The Alliance for Cohesion and Racial Equality (Acre), alongside University of Reading's Students Union Community Champions, is holding a thought-provoking event entitled 'Do Black Lives Matter?' during the evening of 21 October, at the Reading Civic Offices.
See below or visit The Black History Month 2021 brochure for full details of events and activities:
https://issuu.com/readingcouncil/docs/bhm-2021-a5_v5
Cllr Karen Rowland, Lead Councillor for Culture, Heritage and Recreation, said:
"As ever, I am looking forward to this year's Black History Month. A wide and diverse range of activities will be taking place across Reading throughout October.
"Black History Month offers a full programme of live events hosted by Reading Museum, Reading Arts Venues, Reading Libraries and many local community organisations. It gives everyone the opportunity to learn about and celebrate the important contributions all of our Black communities have made, and continue to make, in the town and across the country.
"Reading is a town that rightfully prides itself on its diversity. Reading Borough Council is committed to supporting the Black community, furthering the rights of the members of that community and tackling head-on the disadvantages and struggles that the community has faced, as highlighted so well by the Black Lives Matters movement.
"Black History Month is not a month exclusively for our black communities in this town. We can all take part in the events this October and strengthen our ties with each other; educating ourselves about different communities, sharing in their stories and welcoming and embracing the cultural expressions of others. In doing so, we can each play our part in improving the bonds of Reading's collective diversity many times over. I therefore encourage everyone in Reading to take part in October's Black History Month's events, and embrace the richness our Black communities offer us all, acknowledging their irrefutable importance to our town."
For more information visit www.reading.gov.uk/blackhistorymonth2021
Find out about the event nationally here:
https://www.blackhistorymonth.org.uk/listings/region/south-east/
Black History Month 2021 Highlights
'Who Are We'
9 October, 3 pm to 5 pm
Online via Zoom
This Black History month online event presented by The Reading Jamaica Society and Friends offers an opportunity to highlight the achievements in our community through a historical, social and cultural lens.
To book your place please email thejamaicasociety@hotmail.co.uk or phone 07956106413
Kae Kurd: The Spoken Kurd Tour 2020
Reading Arts
16 October, 8 pm
At South Street
The unstoppable Kae Kurd is back with a brand-new show for 2020! Smart, sharp and brilliantly astute, the young British-Kurdish stand-up is making a serious name for himself. The world's gone crazy and it doesn't seem to be getting any better. Fresh from appearing on Live at the Apollo (BBC Two), join one of the UK's fastest rising comedy stars as he tries to make sense of it all.
Tickets - £14, https://whatsonreading.com/venues/south-street/whats-on/kae-kurd
Black History Virtual Session for Schools
Reading Museum (Teams Live)
19 October, 3:30 pm - 4:30 pm
Reading Museum is delighted to launch a new Black History Virtual Session for Schools, developed in partnership with CultureMix Arts and in association with the Reading Windrush Project Group.
You are invited to join on 19 October for a sample of the session which will be available for schools to book from October. To book a place please contact museum.education@reading.gov.uk
Do Black Lives Matter?
Alliance for Cohesion and Racial Equality (Acre)
21 October, 6pm - 9pm
At Reading Borough Council Civic Offices, Bridge Street, RG1 2LU
A conference in collaboration with University of Reading's Students Union Community Champions. Based around a research report' Rights-based mapping of race and religion (in) equalities and discrimination in statutory service provision in Reading'
To book your place please contact info@acre-reading.org
Memories of the Reading Windrush Generation
Reading Windrush Project Steering Group
30 October, 12noon and 2 pm
At Reading Museum
The Reading Windrush Project Steering Group* in collaboration with 'Through a different lens' is pleased to present free screenings of the video 'Memories of the Reading Windrush Generation'. The video features members of the Reading's Windrush Generation sharing their experience of arriving and settling in Reading.
Contact info@cag-reading.org.uk to book your place. Numbers are limited so book early to avoid disappointment.
*The Reading Windrush Project Steering Group consists of representatives from Alliance for Cohesion and Racial Equality (ACRE), Caribbean Associations Group (CAG) Reading, AGE UK Berkshire, Reading Museum Service/Reading Borough Council.
Emerging Voices Exhibition
Rising Sun Arts Centre (free entry)
24 October, 10.30 am - 6.30 pm
At Rising Sun Arts Centre, 30 Silver Street, Reading, RG1 2ST
'Emerging Voices' is a project run by the Rising Sun Arts Centre supporting emerging curators to work with artists and communities in Reading. This one-day exhibition will feature work from two recent 'Emerging Voices' projects.
Curator Khadija Niang commissioned Artist Hadil Tamim to work with people from Reading Refugee Support Group to create a work inspired by the flowers and buildings of the countries represented by people in the group.
The final work is a beautiful, detailed painting inspired by Hadil's work which brings together Islamic art and British wildflowers.
Curator Qamar Ayoubi commissioned Syrian artist Ahmad Alazami to work with community groups including Compass Recovery College, Deenway Montessori School, and Wild About Reading to create a wonderful, collaborative artwork.
Participants guided by Ahmad contributed wooden panels which were brought together to create a piece which looked at the impact of lockdown on those involved. Hadil Tamim's book 'Islamic Art Meets British Wildflowers' and Ahmad Alazami's book 'Multi-dimensional Art Technique' will both be available for purchase on the day.
Respect (12a)
Reading Arts
Wed 27 Oct, 7 pm
At The Hexagon
Film starring Academy Award-Winner Jennifer Hudson.
Following the rise of Aretha Franklin's career - from a child singing in her father's church choir to her international superstardom - the remarkable true story of the music icon's journey to find her voice.
Tickets £5.50 - https://whatsonreading.com/venues/hexagon/whats-on/respect-12a
Tawny & Maya Unique Me
Reading Libraries
30 October, 10.30 am - 11.30 am
At Reading Central Library, Abbey Square, Reading, RG1 3BQ
The work of duo Kaya and Tuesday Holder, 'Tawny and Maya: Unique Me' is an incredibly inspirational story, written specifically for children, to reinforce the power of individuality, diversity and being happy – exactly the way they are.
Readers aged 5-8 are invited to join Tawny and Maya as their school photo day approaches, and their hesitations about their naturally curly hair transforms into pride and embracement of their individuality.
An uplifting and timely message for people, everywhere. Come and attend the author reading and Q&A session as well as enjoy a fun activity workshop (activities can be taken away too!). Don't miss out. Please note that although this inspiring half-term workshop for children is FREE, places must be booked and numbers are limited, so book early to avoid disappointment. Call 0118 9015950 to book.
Stephen K Amos, Before and Laughter
Reading Arts
12 and 13 November, 8 pm
At South Street
In 2010 the world was in a sorry state. Fast forward ten years and everything's still going downhill. Stephen has had his own share of highs and lows too. And when the world gives him lemons, he adds gin, tonic, ice and a healthy dose of humour. Forget the divisions and discord and immerse yourself in an hour of bridge building laughter to welcome the new decade. As seen on QI (BBC2), Pilgrimage (BBC2), The Project (ABC TV), Live at the Apollo (BBC1).
Tickets - £20, £18 South Street and Reading Arts Gold Members, https://whatsonreading.com/stephen-k-amos
Battle Hoarding and Oxford Road Murals
Join Gemma Anusa from the 11 October by the Battle Road hoarding. She will be creating a brand new mural, that represents her community. Gemma's mural will be based around the idea of love, unity and the older generation. A mural inspired by the cultural diversity we have on Oxford road and what the former central swimming pool site is going to be used for down the line. Gemma, the artist, is someone who lives on Oxford road she sees first-hand how many people from all walks of life there are. She often likes to people watch and imagine what people's story's may be, where they're from, how old they are and where they're going. She really believes that the concept she has created highlights the worldly-ness of Oxford road. The final piece will be completed by 31 October.
Gemma has also created two paintings that have been digitalised and blown up to large scale aluminium prints which will be attached to railings along the Oxford Road. Gemma's paintings feature two faces that she has depicted with a gradient skin tone from white to black to represent the multicultural community of the Oxford Road. In the multicoloured background Gemma has included quotes and words from the community. Gemma's aim for the piece was to represent and celebrate the Oxford Road community and their history.
High Street Sound Walks
Historic England is working with the National Trust and Sound UK to launch a series of self-guided, immersive sound walks to help people discover the magic of their local high streets for Heritage Open Days. Artists Aundre Goddard and Richard Bentley's sound walk 'A Reading of London Street' tells the story of the community at the heart of London Street. Take a journey past the Black History Mural and Global Café, where food, music and romance can all be found along the way. Immerse yourself in the evocative sounds heard in the street, its alleyways and buildings. From the historic Huntley and Addington House to the vibrant music of the street's iconic nightspots, this sound walk brings London Street's history to life and captures its unique identity. Take a moment to slow down, pause and experience the high street in a new way. High Street Sound Walks are available via the Historic England website, listen any time via your smartphone or other personal device at: HistoricEngland.org.uk/ReadingSoundWalk
High Street Sound Walks is a commission by Historic England, National Trust and Heritage Open Days with support from the players of People's Postcode Lottery and produced by Sound UK. It is part of the High Streets Heritage Action Zones Cultural Programme, led by Historic England. Find out more at HistoricEngland.org.uk/HighStreetCulture
Produced in association with CultureMix, Readipop and Reading Borough Council.
'Hidden Recipes From My Ancestral Home'
In her new project 'Hidden Recipes From My Ancestral Home', local artist Caroline Streatfield encourages you to shop local and explore the vast array of food shops along Reading's Oxford Road where you can purchase ingredients to cook fantastic dishes from around the world.
Caroline has been working as part of the High Street Heritage Action Zone pilot project on Oxford Road 'Re-imagining the high street through your stories', in which she and two other local artists were commissioned to create exciting new art responses to the Oxford Road Stories research project, which is now available to view on the Reading Museum's website as an online exhibition. Commissioned artists were asked to create proposals for art projects that would celebrate the history, heritage and vibrancy of culture of Reading's Oxford Road, and were selected by a local community panel.
Through her project Caroline has produced a set of 17 recipe cards showcasing family recipes which can all be cooked using local ingredients from the Oxford Road, these recipe cards include stories and memories from the contributors as well as illustrations created by local school children and artists.
Notes to editors
About Black History Month
Black History Month was established in the USA by Dr Carter G Woodson, a black American historian who created a month (February) for African Americans to have the opportunity to celebrate and acknowledge themselves and their achievements.
In England, Black History Month was first celebrated in October 1987, African jubilee year, as part of a drive to improve racial harmony in London. It has since grown to encompass the whole country and to recognise and embrace the contributions and traditions of other black communities. Find out more at www.blackhistorymonth.org.uk