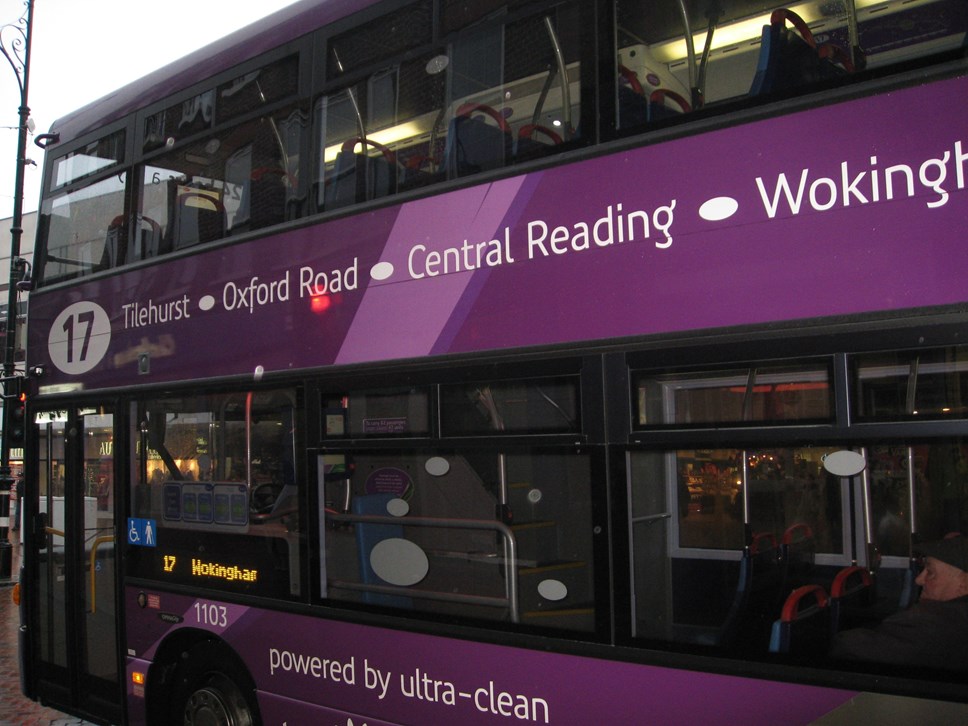 Reading Bus Passengers to Benefit From £26 million Investment in Services
The Council has successfully bid for £26 million worth of investment in Reading bus services
Reading one of 31 local authorities nationwide awarded the DfT funding
Reading's Bus Service Improvement Plan will now be further developed
BUS passengers will benefit from even better travelling experience after the Council was provisionally awarded more than £26 million worth of funding to invest in Reading's bus services.
Reading Borough Council was one of 31 local authorities across the country to successfully bid for Department for Transport funding to develop and deliver its Bus Service Improvement Plan (BSIP), which has an integral role to play in helping Reading towards its net-zero carbon target by 2030 by encouraging more people to travel by bus.
The Council was this week awarded an indicative funding allocation of £26,263,600 million, nearly £16 million of which is earmarked for bus infrastructure improvements and more than £10 million of which will be spent on bus service enhancements.
Reading's BSIP was drawn up earlier this year after the Government committed to investing in local bus services to help patronage recover from the reduced levels of usage as a result of the ongoing Covid pandemic.
The Council will now develop its proposals further before submitting them for further consideration by the DfT in the summer, before final funding allocations are confirmed.
Reading's BSIP is a blueprint for improvements and major investment in Reading's bus services. It can be found at https://www.reading.gov.uk/BSIP/.
As well as outlining plans for future investment in infrastructure to serve the Reading Urban area - including benefits which extend beyond borough boundary lines - the BSIP lists a number of future ambitions to make bus services in Reading even better. These include:
Further investment on key bus corridors and routes that are easier for passengers to understand
Seamless and integrated local ticketing between operators and across all modes of transport
Significant increases in bus priority and the transformation of bus networks through bus rapid transit and other measures
Further decarbonisation of Reading's bus fleet
Bus services that are seen as safe by passengers
Simpler fares
Giving passengers more of a say through the creation of a 'Passenger Charter'
Reading's BSIP has been prepared with the active engagement of all local bus operators, including the Council-owned Reading Transport Limited, and all neighbouring local authorities in the Greater Reading urban area.
Frances Martin, the Council's Executive Director for Economic Growth and Neighbourhood Services, said:
"Our bus services in Reading are already acknowledged as some of the very best in the country with high passenger numbers putting us second in the country for bus trips per head of population, and a range of routes and priority corridors which serve existing bus passengers fantastically well.
"We won't stop there however and the announcement of this additional funding now allows the Council to work alongside our bus operators and neighbouring councils on initiatives to further enhance the travelling experience, and indeed attract new bus passengers to even faster, more reliable and better integrated bus services in Reading. Some of our key ambitions, such as integrated local ticketing between operators and simpler fares, require a high level of co-operation across operators and the Council, and we intend to develop those relationships further to benefit bus passengers and residents in Reading and beyond.
"The level of investment in our already excellent bus services is an essential component of the Council's wider strategy to create realistic and affordable travel alternatives, improving air quality and building towards our net zero ambitions by 2030. It sits alongside a range of sustainable travel investment by the Council which includes a brand new railway station at Green Park, opening later this year, and a refurbished one at Reading West, as well as key new Active Travel cycle lanes being built on Shinfield Road and on Bath Road.
"The Council will now spend some time talking to partners and developing our existing plans further ahead of submission of detailed plans, along with timelines for delivery, to the DfT in the summer."
Notes to editors
The National Bus Strategy was published in March 2021 as part of a £3 billion funding package. It sets out how the Government intends to deliver on its commitment to achieve ambitious and far-reaching reform of the bus services sector. The strategy requires each Local Transport Authority (LTA) to produce a BSIP for their area. It also requires all transport authorities, such as Reading Council's, to establish Enhanced Partnerships as a key element with local bus operators.