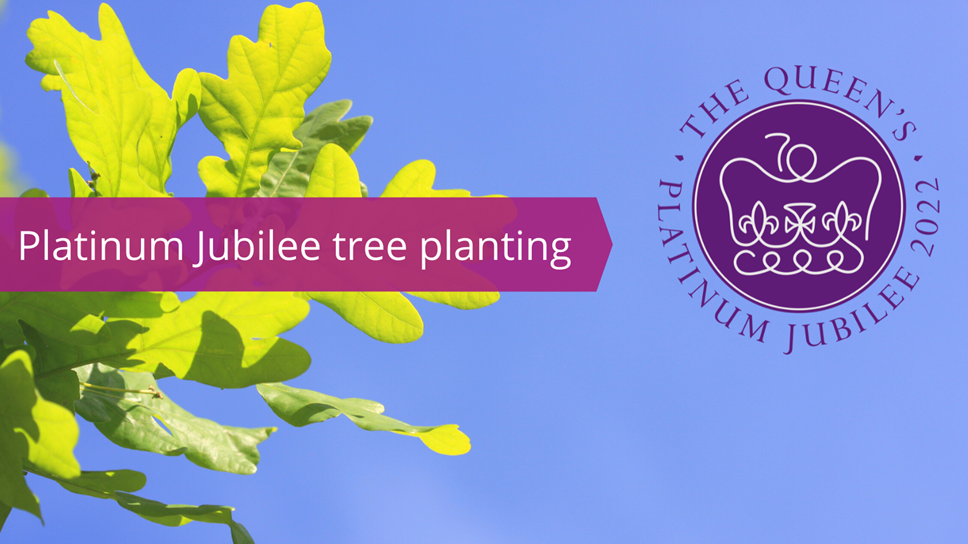 Reading adds to the Queen's Green Canopy in honour of her majesty's Platinum Jubilee
An oak tree will be planted at the Civic Offices
Further Reading Jubilee events announced
A NEW JUBILEE oak tree will take pride of place at the civic offices, with a tree planting ceremony taking place on Friday 11 March.
This year marks the Queen's Platinum Jubilee – when she becomes the first British monarch to reign for 70 years. And to mark this auspicious milestone, the Council is contributing to 'The Queen's Green Canopy: Plant a Tree for the Jubilee' campaign.
The planting ceremony, taking place at 1.30 pm, will be attended by Cllr Rachel Eden, Mayor of Reading; Cllr Karen Rowland, Reading's Lead Councillor for Culture, Heritage and Recreation; alongside children from Kennet Day nursery and representatives from local tree conservation groups.
An English Oak will be added to one of the planters outside the Civic Offices, at the corner of Fobney Street and Bridge Street, alongside a commemorative plaque marking the significance of the occasion. For more information on the Plant a Tree for the Jubilee campaign visit: https://queensgreencanopy.org
Cllr Rachel Eden, Reading's Mayor, said: "As we celebrate the Queen's lifetime of service as part of her Platinum Jubilee we'll plant a tree on 11 March for the Jubilee, adding Reading's contribution towards the Queen's Green Canopy. This is one symbolic act that represents Reading's much bigger commitment to sustainability.
"I'm also really excited that we're announcing activities for the Jubilee bank holiday, including the ever-popular Water Fest on 4 June, there will be numerous other events and activities announced over the coming months. For now, though, don't forget to get your free application in to hold a street party – the deadline is Friday 4 April."
Reading's Jubilee calendar
A whole host of Jubilee celebration events and activities will be taking place, including:
The flagship celebration event for Reading's Jubilee weekend, Water Fest, Saturday 4 June.
A specially created, augmented reality trail across Reading to link with our Mayor's charity-sponsored walk across Reading over the Jubilee weekend.
Trinity Concert Band children's concert in the Forbury Bandstand on Sunday 5 June
Jubilee exhibition at Berkshire Record Office from Thursday 26 May to Friday 26 August.
Reading Libraries Jubilee Rhymetime in the Forbury Gardens – Wednesday 3 August
A range of jubilee related activities at Reading Museum including a Platinum Pudding Trail and Jubilee Dress-Up
Jubilee Street Parties 2 to 5 June
Summer Jubilee street parties
Communities across Reading are also being invited to stage their Jubilee street parties this summer without having to pay the usual road closure fees. Residents can apply to host a street party during the special bank holiday in June - the Jubilee weekend - from 2 to 5 June 2022. Anyone who wishes to apply to hold a street party on any of the specified weekends should complete the form available at www.reading.gov.uk/streetparties
The deadline for applications is Friday 4 April 2022.