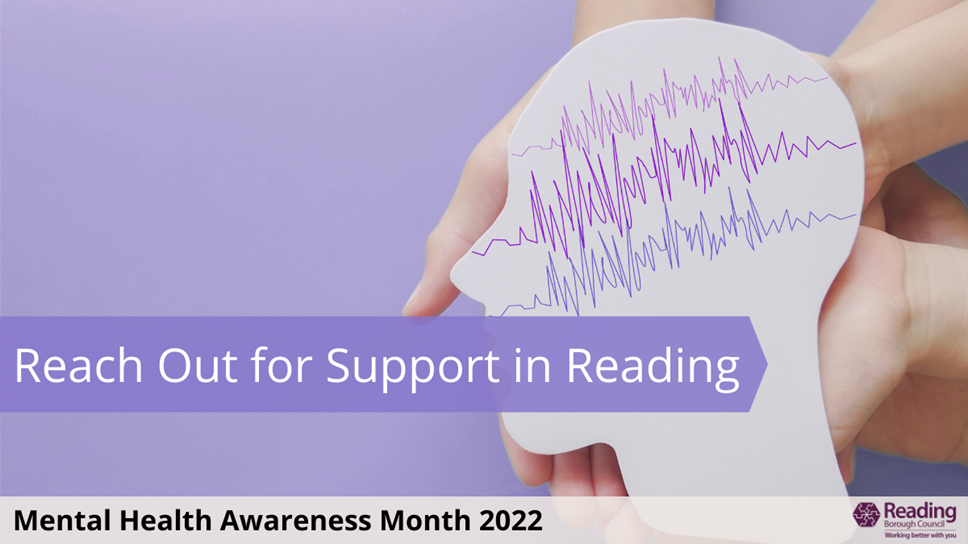 Reach Out for Support in Reading's Mental Health Awareness Month
More than two years of the COVID pandemic has resulted in many people everywhere experiencing a significant increase in stress and a deterioration in their normal coping mechanisms. Major disruption to social lives and human contact, anxiety about COVID, travel restrictions and work/home schooling have all combined to take their toll on people, contributing to poor mental health.
As Reading learns to live with COVID, the Council believes it is more important than ever to ensure people know where to turn for help and to empower residents to look for help they or those they love need.
The month-long campaign begins in national Mental Health Awareness Week and the Council will be sharing resources of the national campaign whose theme this year is 'Lift Someone out of Loneliness.'
Reading's Compass Recovery College - local health and wellbeing organisation will be running social sessions everyone is welcome to; Coffee and Chat at The Biscuit Factory and Walk-Talk-Walk, a gentle walk around Palmer Park.
Dementia Awareness Week is 15-21 May and locally AgeUK Berkshire is hosting a Dementia Walk on Thursday 19 May around the pitch at Reading Football Club.
Week three of the Council's campaign moves on to the signposting of more specialised support; Breathing Space on Friar Street for out of hours mental health support for struggling individuals. And week four will raise awareness of Berkshire Suicide Prevention website launch - which will include invaluable support and resources.
Housing, leisure and parks information will also all feature as part of the Council's campaign which can all contribute to positive wellbeing.
The final week of the campaign runs into Volunteers' Week 1-7 June - as well as helping others, volunteering has been shown to improve volunteers' wellbeing.
Throughout the month the campaign will additionally raise awareness of the Healthy Start Scheme for families; those more than 10 weeks pregnant and/or have a child under 4. Residents receiving benefits may be entitled to get help to buy healthy food and milk and receive Healthy Start vitamins.
Cllr Graeme Hoskin, Reading's Lead Councillor for Health, Wellbeing and Sport, said:
"The COVID pandemic has been one of a great many impacts but perhaps one of the biggest impacts of all is on people's mental health. The concern is that there are many individuals in our communities who are suffering in silence. We need to encourage those individuals to seek help where they need it and I hope that by shining a light on a number of local organisations, and the tremendous support they can provide, will encourage some people to do that.
"The mental health impact of COVID is still largely hidden and I fear it is something that could be with us for a very long time. If we are honest, I think nearly every one of us has had periods during the pandemic where we have suffered with our own mental health. I'd urge anyone struggling to attempt to have a conversation about it this month, whether that's with family, friends, colleagues or neighbours and to try and take some time to familiarise themselves with the local support which is readily available."