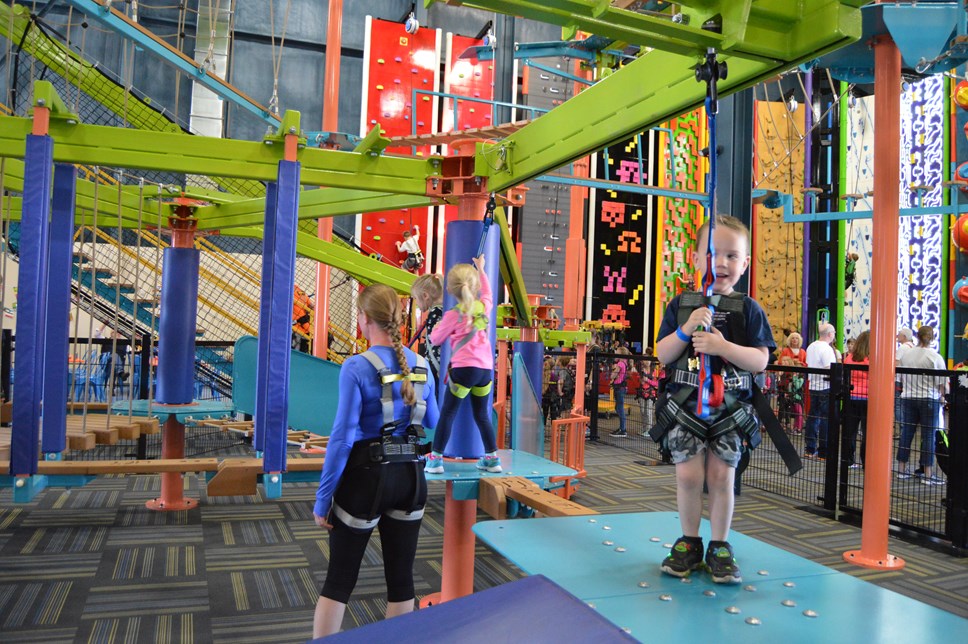 Prospect Park Play Transformation Begins
Exciting new play hub and activity centre coming soon to Prospect Park
Preparation work for the transformation will start this week
PREPARATION work gets underway this week (November 1) for an exciting new destination for activities, entertainment and learning for families and children from across Reading and beyond.
Reading Council is investing over £500k to build a new play hub and activity centre in part of the pavilion building at Prospect Park.
As part of the Council's ambition to improve health and drive up participation in outdoor and active play, the fantastic new facilities coming soon will include:
accessible outdoor family adventure 9-hole mini-golf;
an indoor 'Sky Tykes' low ropes course for younger children age 7 and under;
a café facility with indoor and outdoor seating;
new toilet facilities (including an accessible Changing Places facility);
multi-function room for parties, meetings and teaching, including those with special educational needs or disabilities (SEND) or excluded from mainstream education;
an outdoor education area that will also support Reading Play's educational outreach work which includes using play as a tool to improve particularly vulnerable young people's social skills and wellbeing.
From Monday 1 November, visitors to the park will notice works beginning around the pavilion site including the clearance of a large hedge and shrubbery to the rear of the pavilion. The removal of the hedge will make way for the new outdoor facilities. Clearing the overgrown Leylandii hedge will also help preserve the nearby veteran oak it has encroached on. The mature oak will also undergo protective tree maintenance work, as will the two oaks at the front of the pavilion. There will be a biodiversity gain with this development through further tree planting.
Work inside the pavilion starts in early December, with the new centre set to open in spring 2022.
The pavilion is the home of the Council's highly regarded and popular Play Service, and the new centre would also provide an outdoor enclosed education zone to support the team's educational outreach programmes, including a climbing wall and team building activities, such as den building, archery, an outdoor classroom and much more.
To find out more about the Play project visit www.reading.gov.uk/PlayTransformation
Cllr Karen Rowland, Reading's Lead Councillor for Culture, Heritage and Recreation, said: "It is fantastic to see work to build a major new destination for families across Reading and beyond from next week. The Council is investing over half a million in this exciting new play hub at Prospect Park and, like many people I have spoken to, I can't wait to see it become a reality. Not only will this benefit the local community, but it will attract a diverse range of visitors to one of our most prominent green spaces, enhancing its reputation both locally and regionally and befitting of our City Status bid.
"Prospect Park is our major destination park in west Reading, but people come from all around to enjoy it. This project will play beautifully in enhancing the assets we have in the park. Reading doesn't have a significant outdoor activity centre like Wokingham's Dinton Pastures or Bracknell's Go Ape. By providing a low ropes course, mini-golf and climbing walls Reading will have a unique mix of indoor and outdoor facilities for children and families. I personally can't wait for a mini-golf round amongst some of Reading's finest heritage buildings!
"Even more importantly, this development will allow our amazing Play Service to expand the important educational work they do with vulnerable children across the borough. This will be a significant and valuable extension to our provision for vulnerable and SEND children in a fun, safe and welcoming environment. Income generated through paid activities will crucially allow for this vital targeted work to continue.
"I'm also really pleased we have been able to include an accessible Changing Places facility within this development – which is a positive step in providing accessible-for-all facilities on the west side of town.
"The preparation works starting next week will protect the mature oak trees and begin to remove the overgrown hedges and shrubs, in anticipation for the outside facilities going in.
"The new activity centre is also just one aspect of the enhancement and investment we are making into Prospect Park. We have prioritised the playground for improvements, particularly free accessible equipment for children of all abilities."
Cllr Graeme Hoskin, Reading's Lead Councillor for Health, Wellbeing and Sport, said: "I'm thrilled to see this preparation work beginning, as will families and young people across the town.
"It is a key priority for us to drive an increase in activity, health and well-being across the borough, with targeted work in the community to reach those in most need, and work towards reducing health inequalities. Alongside the Council's major £40 million investment in modern new sports facilities at Rivermead and Palmer Park, both of which are underway, this development will help us increase leisure opportunities and in doing so significantly improve the health and wellbeing of our young people."
The project is being funded from money secured via Section 106 agreements and from the Community Infrastructure Levy (CIL) – which are both contributions developers make towards local facilities.
The new play hub and activity centre is just one aspect of the enhancement and investment being made within Prospect Park. The playground has been prioritised for improvements, particularly free accessible equipment for children of all abilities. Work is anticipated to start in spring 2022. Details for relocation and enhancements to the children's playground can be found here: www.reading.gov.uk/ProspectPlayground