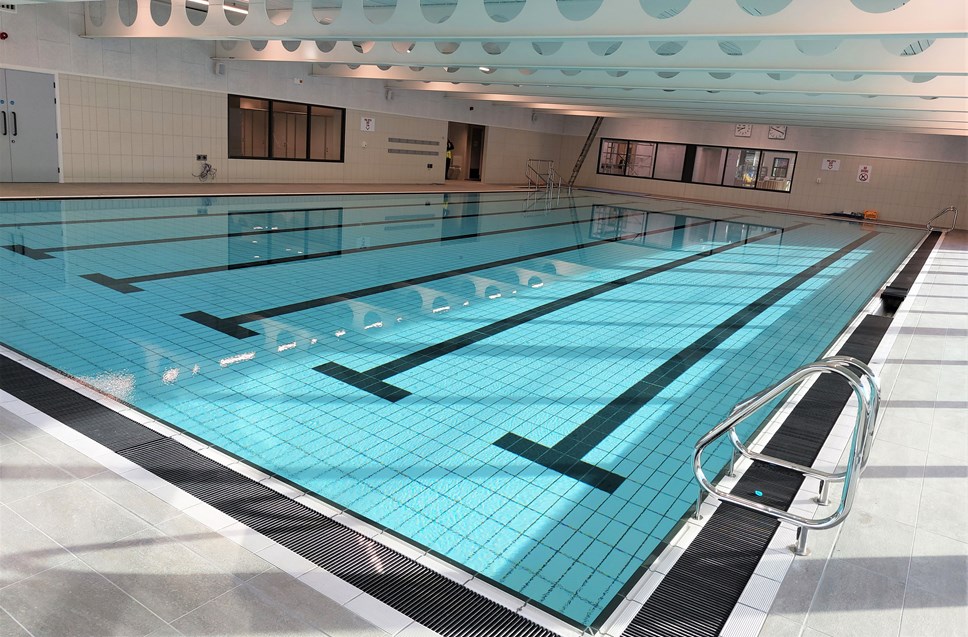 Paralympic swimmer, Graham Edmunds, to officially open Palmer Park Leisure Centre & Stadium
Paralympic Double Gold Medallist swimmer, Graham Edmunds will officially open the centre alongside the Mayor of Reading on 12 January
Syncro swimming performance by the Electric Eels
Free taster sessions are on offer throughout the day
Paralympic swimmer, Graham Edmunds will give Reading's brand-new Palmer Park Leisure Centre & Stadium, which includes a new 25m community pool, the official seal of approval on Thursday 12 January.
Double Gold Medallist Graham, who was born and grew up in Reading, will be joined by the Mayor of Reading, Cllr Rachel Eden and Adele Barnett-Ward, Reading's Lead Councillor for Culture and Leisure, alongside representatives from GLL, Reading's leisure partner running the new centre, and Pellikaan, the site's construction company, in officially celebrating the opening of the new facilities. Palmer Park Leisure Centre and Stadium opened to the public on 19 December 2022.
Following the unveiling of a commemorative plaque at 11am, there will be a synchronised swimming performance in the new community pool by the Electric Eels swimming club. Berkshire's Electric Eels, based in Windsor, work with children with Down Syndrome, from absolute beginners to swimming at a competitive level. They are the only Down Syndrome swimming club in the country with a synchronised swimming team and represent Great Britain at the European and World Championships for people with Down Syndrome.
Children from Alfred Sutton primary school, who helped officially fill the community pool in December, will also be in attendance and trying out the centre's soft play.
Take a virtual tour of the new facilities here:
Following the official opening ceremony, members of the public are invited to the centre to take advantage of free taster sessions throughout the day, including:
Community pool: Swim for Fitness, Aqua Fit, Family Fun, 50+, Swim School (non-swimmers, beginners, development), Swim Doctor (adult lessons) and Ladies only swim;
Studio: Yoga, Virtual class (Wexar), Legs Bums &Tums, Functional Fitness, 50+ Tai Chi, Women's Only Circuits;
Group cycle: Three sessions (morning, afternoon and evening);
Health MOTs: Healthwise facilitators will be carrying out health MOTs throughout the day, open to anyone to drop in. Reading's Community Alcohol Partnership officer will also be on hand to offer advice and support;
Gym: Inductions throughout the day;
Other opportunities: Meet the manager.
The taster sessions are open to anyone – no need to be a member. To find out more and book a free taster, visit the Palmer Park website at: https://www.better.org.uk/palmerpark
Graham Edmunds PLY, said: "Sport, exercise and activity are the key to both improving and maintaining good physical and mental health. After what the world has been through the last few years, it is paramount, now more than ever, for us to help ourselves take charge of looking after both of these. The new facility at Palmer Park is not only easy to access but so enjoyable and accessible for everyone.
"I was blown away by the whole facility. It is beautiful and functional for all levels of activity, exercise or sport depending on what you wish to do. The accessibility to all parts of the building as well as the different levels of activity or exercise really impressed me. I will always be biased wherever there is water because swimming for me is a life skill that can help you from cradle to grave as well as any hiccups on the way (as I found out). The pool here at Palmer Park has the ability to get wheelchair users in and out simply without fuss. The gym has so many different exercise stations that can be used for rehabilitation, coordination and high-level training/exercise.
"Having been in sports facilities all around the world, this one is up with the best I have seen for all-round capabilities. I would encourage everyone in the local area to make use of it because I can see this being the heart of the community for so many reasons."
Cllr Adele Barnett-Ward, Reading's Lead Councillor for Leisure and Culture, said: "We promised the residents of Reading a community pool at Palmer Park and we have delivered on that promise. I dropped by for a swim over Christmas and it was wonderful to see so many people enjoying the beautiful new pool, studio, soft play and café... and is there any other gym in Reading with such beautiful views?
"We are honoured to have Paralympian Graham Edmunds, who is originally from Reading, giving the centre the official seal of approval. The facilities have been designed for everyone in the community, catering to dedicated athletes as well as families looking to blow off some steam, which is why we are delighted and honoured to have a performance by the Electric Eels to celebrate the new community pool. The Electric Eels support swimmers at all levels and are ambassadors for inclusive sport not only in Berkshire, but on the world stage."
Craig Woodward, GLL's Partnership Manager for Reading said: "At Palmer Park we now have state-of-the-art leisure facilities for the people of Reading. The benefits of these new facilities for the local community are huge.
"As part of our official opening event, we'd like to invite members of the public to the centre for free taster sessions on 12 January. You can also book a free tour of the facilities and during January, people signing up for centre-only memberships at Palmer Park can take advantage of membership for £28 per month."
Gert-Jan Peeters, director of Pellikaan UK, said: "We are delighted to have delivered the new facilities at Palmer Park and we know the new centre will be a welcome addition for the local community for years to come."
In addition to the accessible new community pool and the refurbishment of the existing stadium building, visitors to the new centre can now enjoy:
A 100-station gym and functional training area;
A state-of-the-art group cycle studio;
A large exercise studio fitted with virtual technology for those members who want extra classes and/or who cannot attend programmed classes;
A soft play/ activity zone for children, with party rooms;
New changing rooms, toilets and accessible Changing Places facility;
A new café and information hub;
A pedestrianised plaza area surrounding the centre;
And a wayfinding route, to enable people with visual impairments to easily navigate the route across the park.
There are a range of pay-as-you-go options and memberships available. Reading residents can sign up for a free Resident Card, to access 30% of the standard pay-as-you-go prices (with 50% for concessions). For a limited time only, people signing up for centre-only memberships at Palmer Park can take advantage of membership for £28 per month. Visit: https://www.better.org.uk/palmer-park to find out more. For terms and conditions on this offer visit: https://www.better.org.uk/offer-terms#PalmerPark
Leisure facilities across the borough are being improved and modernised so that every resident can benefit. The new leisure centre at Rivermead, when it opens in 2023, will provide outstanding new facilities including a 25m 8-lane competition pool with dedicated diving provision.
South Reading Leisure Centre and Meadway Sports Centre both underwent significant overhauls earlier this year, with a fantastic new open plan gyms and revamped studios.
The new modern services will contribute to Reading's recovery from the pandemic helping improve the mental and physical health and wellbeing of residents. The new facilities are just one facet of the Council's investment, with a £450k of public health funding targeted towards activities to reduce health inequalities.
Alongside this, taking action on the climate emergency remains a top priority for and new facilities have integral measures to reduce carbon emissions, using renewables and improve environmental efficiency that will hopefully make Reading's leisure facilities as environmentally friendly as possible.
Visit https://www.better.org.uk/leisure-centre/reading or follow the Council on social media @ReadingCouncil Twitter, Facebook and Instagram or GLL at @Better_Reading
Ends
Notes to editors
Media opportunity: Members of the media are invited to attend the official opening event at Palmer Park Leisure Centre & Stadium on Thursday 12 January at 11am.
About Graham Edmunds PLY
Graham Edmunds is a British swimmer who has competed in three Paralympic Games, winning two gold medals in world record times. He was a member of the Reading Swimming Club where he was also a part-time lifeguard and coached the Cygnets, Reading's club for swimmers with learning difficulties.
Born in Reading in 1974, in October 2000, Edmunds was knocked off his motorcycle whilst riding to work on the A4. The accident resulted in permanent damage to his legs. He spent three months with his legs in casts before beginning swimming again as part of his physiotherapy routine. Because he had limited movement in his ankle joints, he qualified as a disabled swimmer in the S10 category.
Edmunds made his first appearance at the Summer Paralympics in 2004 in Athens. He competed in two individual S10 classification freestyle events as well as the 4×100m freestyle 34 pts relay team, in which he won a Gold Medal.
In 2008 Graham won a silver medal and set a new British record in the S10 50m freestyle at the British Swimming Championships on his way to qualifying for his second Paralympic appearance for Great Britain at the 2008 Summer Paralympics, held in Beijing, China. Graham raced in the same three events as in 2004 as well as the 4×100m medley 34 pts relay team. The freestyle relay quartet successfully defended the title they had won in Athens, setting a new world record of 3 minutes 51.43 seconds, on route to winning gold.
Following on from the London 2012 Paralympic Games, Edmunds announced that he was retiring from competitive swimming. In early 2013 Edmunds was appointed chairman of The Swimming Competitors Association, and therefore also appointed to the executive board of British Swimming as the Athletes Representative. Graham is the British Disability Swimming's Athlete Rep and he is also a Patron of the Electric Eels Swimming Club, the first competitive club for athletes with Down's Syndrome. Graham is also on the board of directors of the British Paralympic Association: https://paralympics.org.uk/articles/wafula-strike-and-rowbotham-re-elected-as-edmunds-joins-bpa
He has an Honours degree in Pharmacy from Portsmouth University, and is a registered practicing Pharmacist with the General Pharmaceutical council and is a member of the Royal Pharmaceutical society of Great Britain.
About the Electric Eels
Graham Edmund's mother, Pauline Walker founded Electric Eels Swimming and Synchro Club in 2008 with an ambition to break down barriers for all children and families living with Down Syndrome.
Now more than 10 years later, Electric Eels – based out of Windsor Leisure Centre – is the only club in the country taking children with Down Syndrome from being absolute beginners to swimming at a competitive level. Electric Eels teach both swimming and synchronised swimming, with many of their athletes competing nationally and internationally. They are supported by volunteers from The Reading Royals Synchronised Swimming Club. https://youtu.be/U1W-ClAcBzk and https://electriceels.org.uk/synchro-2
Taster session timings
Swimming Sessions (Taster Sessions):
Swim for Fitness - 7am to 9am
Aqua Fit - 9am to 10am
Family Swim - 12.30 to 1.30
Swim School Short Courses (Non-Swimmers) - 4pm to 4.30pm
Swim School Short Courses (Face in water >5m) - 4.30pm to 5pm
Swim School Short Courses (Development) - 5pm to 5.30pm
Swim Doctor (Adult learn to swim) - 7pm to 7.45pm
Ladies Only Swim - 8pm to 8.45pm
Fitness Classes (Taster Sessions):
Yoga - 9.30am to 10.15am
Legs, Bums & Tums - 10.45am to 11.15am
Functional Fitness - 12.15pm to 1pm
Virtual Class (Wexar) - 4.30pm to 5.30pm
Women's Only Circuits - 6.30pm to 7.30pm
Zumba - 8.15pm - 9pm
Group Cycle (Taster Sessions):
7am to 7.45am
12.15pm to 1pm
7pm to 7.45pm
Meet the Manager:
9am to 9.30am
6pm to 6.30pm
To find out more and book onto a free taster, visit the Palmer Park website at: https://www.better.org.uk/palmerpark