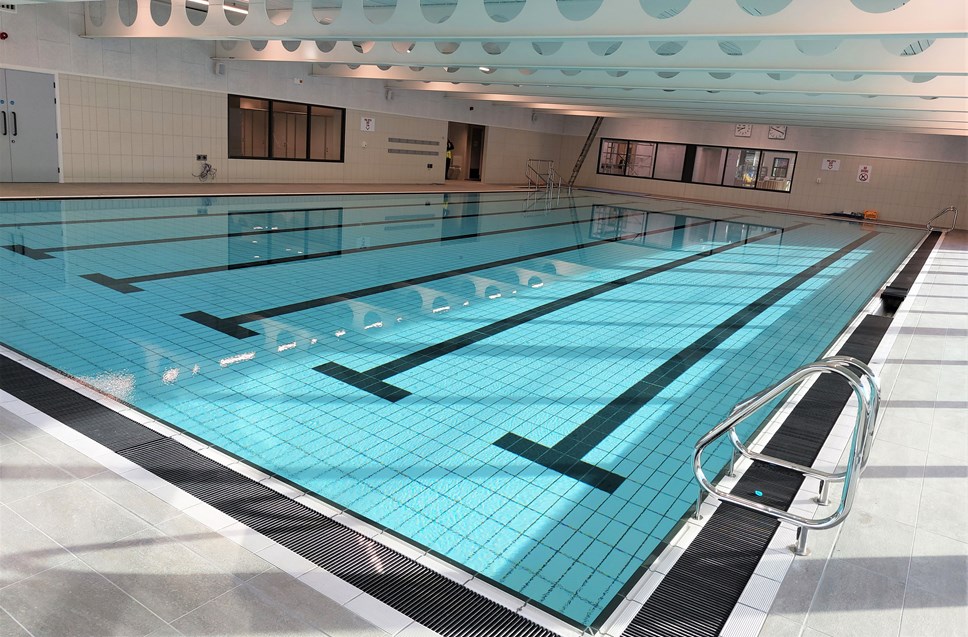 Palmer Park Leisure Centre & Stadium opens next week
From Monday 19 December, Reading will boast a brand new 25m 6-lane pool
Visitors to the new centre can also look forward to a 100-station gym, new soft play and café.
THE NEW 25-metre community swimming pool at the new Palmer Park Leisure Centre & Stadium opens to the public next week.
From Monday 19 December, Reading will boast a brand new 25m 6-lane pool, linked to existing sports facilities – combining the benefits of a swimming pool, velodrome and athletics stadium all in one accessible location – delivering a unique facility in the region and putting Reading firmly on the map as a top sports destination.
In addition to the accessible new community pool and the refurbishment of the existing stadium building, visitors to the new centre can look forward to:
A 100-station gym;
A soft play/ activity zone for children with party rooms;
New changing rooms, toilets and Changing Places facility;
A new café and information hub;
A new pedestrianised plaza area surrounding the centre;
And a new wayfinding route, to enable people with visual impairments to easily navigate the route across the park.
Above photos: Changing Places facility and accessible Pool Pod - submersible pool pod lifts to lower customers who need extra support into the pools in a safe, dignified and discreet manner, rather than traditional hoists.
Cllr Adele Barnett-Ward, Reading's Lead Councillor for Leisure and Culture, said: "We promised the residents of Reading a community pool at Palmer Park and we are now just days away from delivering on that promise. I am delighted residents will be able to enjoy the new and improved facilities over the Christmas break and those of us making New Year resolutions to go to the gym more often will also have a 100-station gym with beautiful views across the park. Just a few days now until we can open the doors and welcome the community in!"
Craig Woodward, GLL's Partnership Manager for Reading said: "At Palmer Park we now have state-of-the-art leisure facilities for the people of Reading. The benefits of these new facilities for the local community are huge.
"Reading's improved provision will offer an inviting and welcoming environment, for all local residents to enjoy, in addition to enabling us to provide dedicated courses and activities that encourage better health and wellbeing."
Gert-Jan Peeters, director of Pellikaan UK, said: "We are delighted to have delivered the new facilities at Palmer Park and we know the new centre will be a welcome addition for the local community for years to come."
There are a range of pay-as-you-go options and memberships available. Reading residents can sign up for a free Resident Card, to access 30% of the standard prices (with 50% for concessions). For a limited time only, people signing up for centre only memberships at Palmer Park can take advantage of membership for £24 per month. Visit: https://www.better.org.uk/palmer-park to find out more. For terms and conditions on this offer visit: https://www.better.org.uk/offer-terms#PalmerPark
Leisure facilities across the borough are being improved and modernised so that every resident can benefit. The new leisure centre at Rivermead, when it opens in 2023, will provide outstanding new facilities including a 25m 8-lane competition pool with dedicated diving provision.
This also includes major investments in Reading's parks and other leisure facilities, including a destination 'play' hub for Reading at Prospect Park, which opened earlier this year, with a 9 hole mini-golf and low ropes climbing for younger kids. A café and new play area will open in 2023.
South Reading Leisure Centre and Meadway Sports Centre both underwent significant overhauls earlier this year, with a fantastic new open plan gyms and revamped studios.
The new modern services will contribute to Reading's recovery from the pandemic helping improve the mental and physical health and wellbeing of residents. The new facilities are just one facet of the Council's investment, with a £450k of public health funding targeted towards activities to reduce health inequalities.
Alongside this, taking action on the climate emergency remains a top priority for and new facilities have integral measures to reduce carbon emissions, using renewables and improve environmental efficiency that will hopefully make Reading's leisure facilities as environmentally friendly as possible.
Visit https://www.better.org.uk/leisure-centre/reading or follow the Council on social media @ReadingCouncil Twitter, Facebook and Instagram or GLL at @Better_Reading
Ends