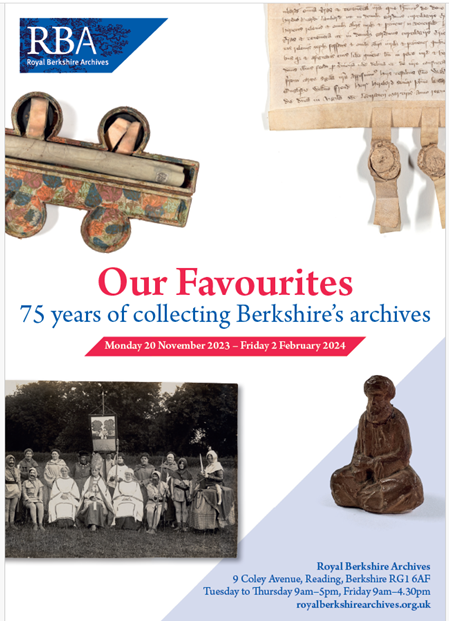 Our Favourites: highlights from 75 years of collecting at Royal Berkshire Archives
Free exhibition showing the breadth of Berkshire's history is open at the Royal Berkshire Archives, Coley Avenue, in Reading.
The 'Our Favourites' exhibition is made up of locally significant and relevant items favoured by Royal Berkshire Archives staff and their friends and delves into the rich repository of historical records and artifacts. The carefully curated exhibition not only showcases staff's personal passions but also tells compelling stories of the county's past - a captivating journey through local history.
Exhibition artifacts span centuries; the earliest items date from when the Black Death ravaged the county, two property deeds from 1349 show how the dying Adam Lambard, from the village of Binfield, placed his property in trust so that it could pass in full to his widow, Christina. Wives had virtually no rights in medieval law and, if Adam had not asked friends to help, Christina would only have inherited a fraction of his estate.
Altogether over 30 unique items are on display and other highlights include documents related to caring for plague victims in Reading, depictions of a parade over Windsor Bridge, and a pamphlet from the Greenham Common Peace Camp. More recent history is represented in a volume of the Yellow Pages for London interestingly the archives holds the national collection of these directories where many local people worked for Yell.
His Royal Highness the Duke of Gloucester visited the Royal Berkshire Archives on 13 November to honour and celebrate the recent name change from Berkshire Record Office and its anniversary of 75 years of preserving the unique history and heritage of the county. During his visit he was given a preview of the exhibition ahead of opening to the public today 20 November and unveiled a plaque with the new name.
Councillor Jason Brock, Reading Borough Council Leader "Our Favourites brings to light the hidden gems of Reading and Berkshire's past, and serves as a poignant reminder of the importance of the county throughout history. We are delighted to celebrate 75 years of the Royal Berkshire Archives"
"This exhibition is a must-visit for anyone interested in exploring the rich history and heritage of Berkshire. Don't miss this opportunity to connect with the past and celebrate 75 years of preserving Berkshire's historical treasures."
The exhibition is part of the Archives' events to mark its 75th year and runs until 2 February 2024. 'Our Favourites' includes personal selections from the Archives staff, each item has meaning for whoever chose it: it might make them happy or proud or reflect on the experience of the county's people.
Notes to editors
The exhibition is open at the Archives from Monday 20 November-Friday 24 November and thereafter Tuesday-Friday every week except between Christmas and New Year.
0118 937 5132