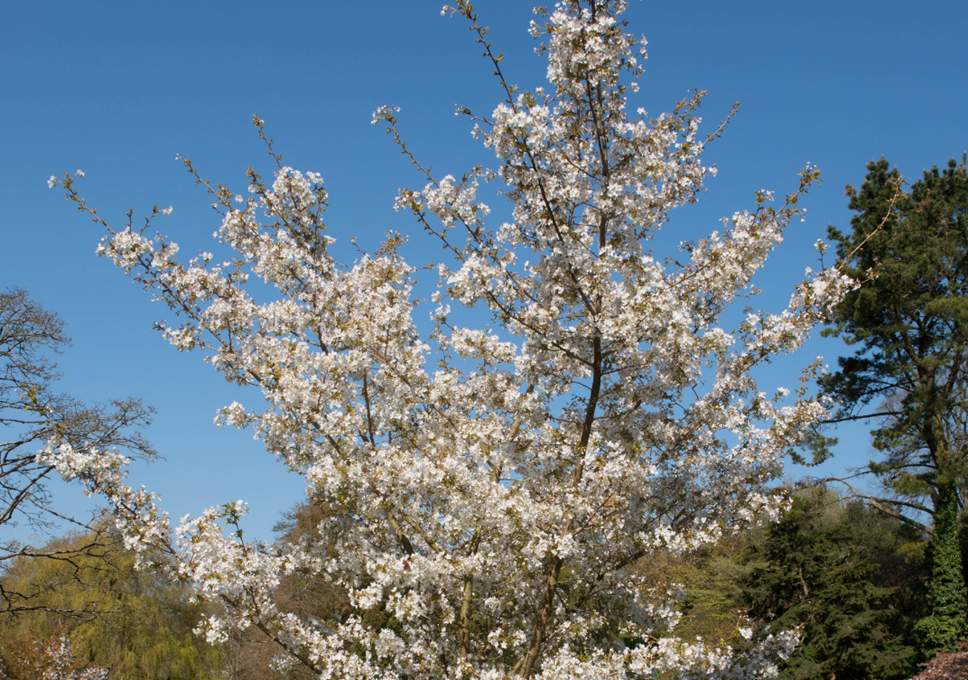 One Hundred Japanese Cherry Blossoms Gifted to Reading
Over 350 trees planted this season
Focus on increasing the diversity of the tree varieties across Reading
READING COUNCIL is planting 100 flowering cherry trees across Reading over the next month.
The beautiful 'sakura' trees have been gifted to Reading from Japan as part of the 'five thousand' being given to the UK to celebrate the friendship between the two countries. The cherry tree varieties include Prunus Tai Haku (a great white cherry tree) and P. Beni Yutaka (pink blossom). Planting began in January and continues throughout February.
Over the last year, the Council has planted over 200 new trees, with the final total for the season reaching 351 – which exceeds the 330 trees planted during the Queen's Jubilee year of 2012. On average, the council has planted around 200 semi-mature new trees a year, since 2010.
The tree planting has attempted to increase the diversity of the tree varieties across Reading – including trees ranging from oaks to rowans, and limes to pines. This is an important part of the Council's new Tree Strategy – and a crucial step in its response to tackling the climate emergency.
During 2020, Reading Tree Warden Network has provided invaluable assistance in identifying locations and species, and in arranging planting of most of the Japanese cherries. Other key planting taking place this season includes an elm 'Ulmus New Horizon', gifted by the UK Tree Council to the Reading Tree Wardens Network, which will be planted near Elm Park, on the wide verge off of the Tilehurst Road.
The Council also values its relationship with Ethical Reading, which seeks to encourage the funding of local tree planting by local businesses through its 'Trees for Reading' initiative. Trees for Reading is now also raising crowdfunding of trees, as each additional tree has benefits for residents and leaves a legacy for following generations. Trees for Reading has recently managed to facilitate the planting of 17 new trees in and around the town centre.
Additional trees will be planted as part of the Council's ongoing pavement resurfacing programme, with highways engineers working with the Council's tree experts to locate suitable planting sites where there is no conflict with underground utilities.
Cllr Karen Rowland, Reading's Lead Member for Culture, Heritage and Recreation, said: "I'm delighted that we will exceed planting 350 new trees across the borough by the end of this season. This is such a vital part of our work to increase biodiversity and response to tackling the climate emergency.
"I'd like to thank all our officers who have worked hard to make this happen. And a huge thank you goes to our wonderful Tree Warden Network – they have taken a lot of time and thought in working with the Council this year to support our efforts and we are very appreciative of their guidance and help. I'd also like to thank the efforts Ethical Reading is making to local tree planting. The Council is very appreciative of all the help and support we get from partners in planting and maintaining Reading's trees.
"Trees have the ability to improve our environment, enhance the beauty of our town and provide peace for our souls in our busy world. So, I am very excited by the cherry trees we've been gifted by Japan. Once established, we can all enjoy the art of 'Hanami' - the Japanese traditional custom of enjoying the transient beauty of cherry blossom."
Ends
Notes to editors
After they arrived in England, the Japanese cherry blossoms were further grown on in a nursery in England. As far as possible, the trees will be planted in groups, rows or avenues where they will give a good display during the flowering period. Suitable planting locations for clusters of between 6 and 25 trees include Overdown Road, Allcroft Road, Chiltern Road, Circuit Lane, Southcote Lane, Canterbury Road and Balmore Walk, and a few trees will be planted in other locations like on Tree Road and Tintern Avenue.