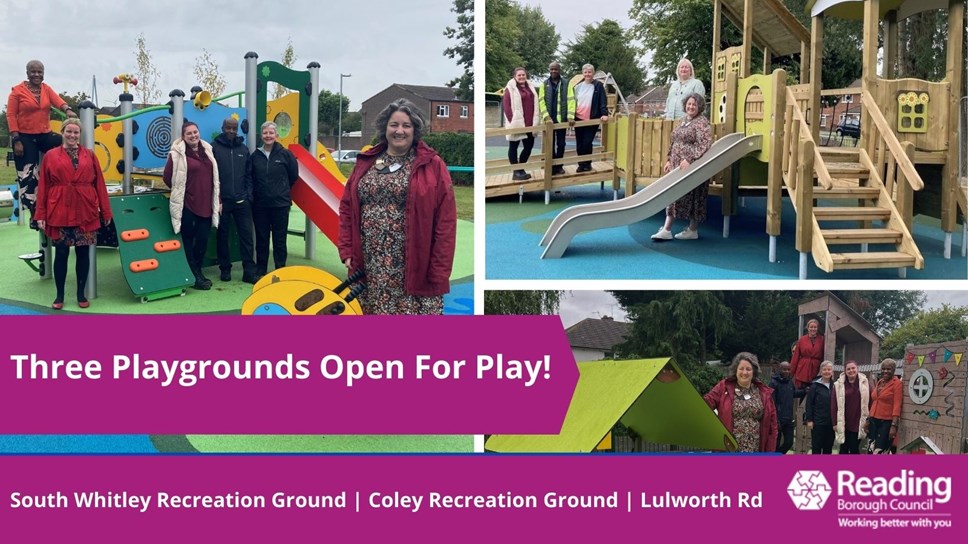 Not One, Not Two, But Three New Reading Playgrounds Open for Play!
READING COUNCIL'S ongoing major investment in children's play areas continues to deliver for communities across Reading.
Lulworth Road playground is now open: part of a £130,000 Community Infrastructure Levy (CIL) investment by Reading Borough Council in the area.
South Whitley Recreation Ground benefits from ball court renovations and a new toddlers play area, jointly funded by a Council CIL investment and a Government Levelling Up grant.
Coley Recreation Ground play area has been transformed thanks to a £200K Council CIL investment.
The Council continues to invest in services and facilities across the town to ensure residents in every part of the Borough have great fun, free and accessible play equipment in their local park. Whitley and Coley are the latest areas to benefit, with three new and improved sites opening this summer.
The new playgrounds are designed to be used by every child in Reading: the Council works closely with the Accessible Play Task and Finish Group to ensure new and upgraded playgrounds include a range of equipment for children of all abilities.
The new play area at Lulworth Road, Whitley, is designed for younger children and includes a multi-unit, play house, spring rides and play panels. The project also redesigned the approach to Lulworth Road bin store to deter fly-tipping, with new paths to the rear and front. There are more improvements to come, with the Council working with an artist to further improve the look and appeal of the area.
South Whitley Recreation Ground's new toddlers play area at Farmers Close includes swings, multi units, a toddler trim trail and slides - all on a safety surface. The much-loved concrete animals have benefited from a repaint and have had a new safety surface installed. Additional improvements in the park include re-surfacing of the ball court with new goal ends with sports markings for football or basketball, and new paths into the park. This work is in addition to the community orchard that was planted early this year.
In Coley local residents helped choose the design of the Council's £200,000 investment in the popular Coley Recreation Ground play area. It includes an exciting mix of equipment, including equipment accessible to all ages and mobility levels. The refurbished play area also has a new surface to enable access for children and carers using mobility aids. Equipment offers challenges for children of all abilities include swings, a toddler and junior multi play units, play panels, an accessible see-saw and a Base Climb play unit.
Reading Borough Council's investment for these exciting projects comes through the Community Infrastructure Levy (CIL) funding – which is from the contribution paid by developers as part of the conditions attached to the granting of new planning permissions.
Adele Barnett-Ward, Reading Borough Council's Lead Councillor for Leisure and Culture, said: "It's wonderful to see children and young people enjoying our three newest play areas in Whitley and Coley. Playgrounds are an important part of our communities which is why Reading Borough Council is committed to a widespread programme of improvements that has seen £890,000 invested in play so far this year".
"The provision of high-quality equipment that is as accessible as possible for all children and their carers remains a key priority for us. I am grateful to the Accessible Play Task and Finish Group for helping to ensure that Reading's new playgrounds are fun for everyone. I would also like to thank the residents who take the time to respond to our playground consultations. Your input ensures that each play area is tailored to the community it serves. A example is the innovative Base Climb unit in Coley, which is designed to enable young people to develop their Parkour skills!"
Micky Leng, Reading Borough Council's Lead Councillor for Planning, said "Community Infrastructure Levy (CIL) comes from contributions paid by developers as part of conditions attached to the grant of new planning permissions. CIL funding plays a vital role in enhancing our communities and improving public services. So, even if you're not familiar with CIL, know that it's working behind the scenes to make our town a better place to live and thrive."