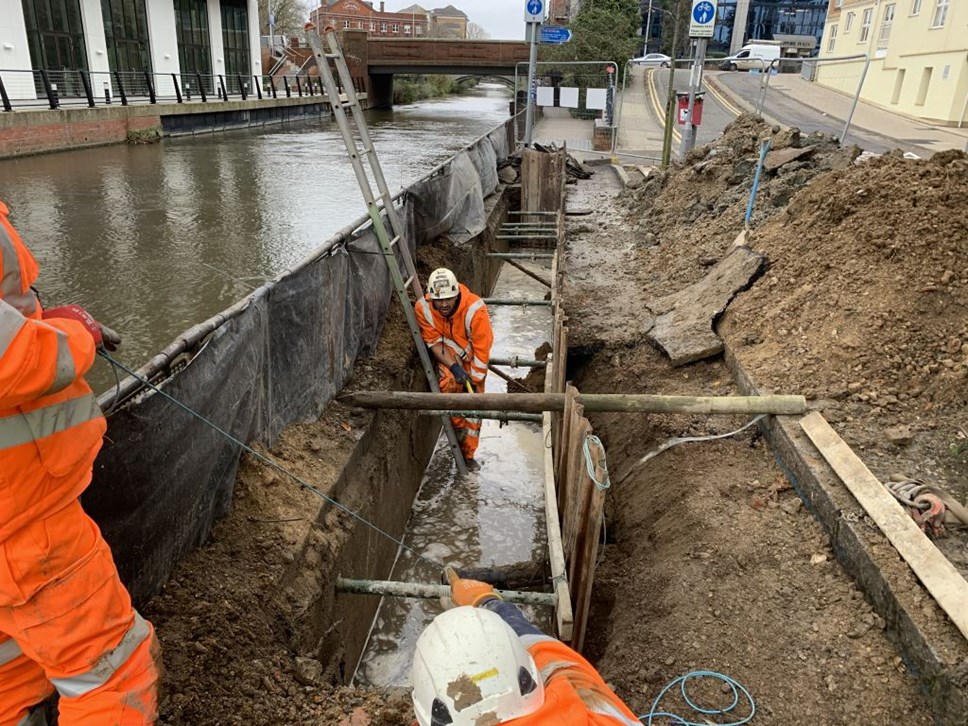 Next phase of Kennetside strengthening to begin next week
Vital work to strengthen part of the Kennetside retaining wall will begin on Monday
A diversion will be in place for pedestrians and cyclists
£575,000 investment in the engineering project is scheduled to finish on 2 August
A CRUCIAL engineering project to strengthen the Kennetside retaining wall restarts next week, to combat deterioration of the canal wall and protect the pedestrian and national cycle routes that run along the Kennet and Avon Canal into Reading.
A temporary diversion for pedestrians and cyclists will be in place during the work, with the section of foot / cycle way between Patriot Place and the east side of the Watlington Street bridge closed to enable the work to be carried out safely and protect residents.
The fifth phase of the project, which begins on Monday 11 April and is scheduled to finish on 2 August, will see a £575,000 investment including the excavation of parts of the footway and construction of a concrete anchor wall to the back of the existing retaining wall.
The wall is now more than 125 years old and has significantly deteriorated in parts, leaving some underground sections vulnerable to ingress of water from the river. The deterioration shows up with the formation of small scour holes on the canal side pathway and cracking and minor subsidence. In recent years, reactive maintenance works have involved filling the holes with concrete and reinstating the foot/cycle way surfacing.
The Council's long-term programme of strengthening works, prioritising stretches in the worst condition first, began in 2011 and has so far seen 250m of wall strengthened. Further sections of the retaining wall due to be strengthened at a later date.
Sam Shean, Reading Borough Council Highways & Traffic Services Manager, said:
"These strengthening works are vital to extend the life of the retaining wall which is well over 100 years old. This is a key piece of work to support active travel throughout the borough and will enable residents, pedestrians and cyclists to continue to use this popular route. We apologise to residents and path users for the inconvenience whilst this essential work takes place".