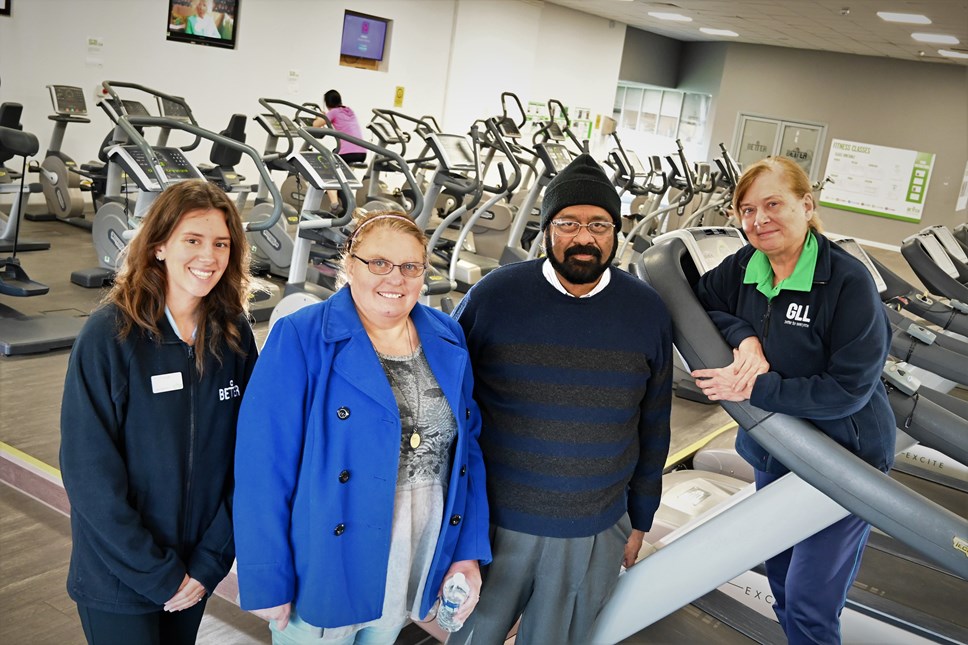 New Year drive to improve health and wellbeing across Reading
Council investment in targeted activities to reduce health inequalities
Free weight management courses are available
Physical activity referral scheme supports people back into keeping physically active
THIS JANUARY, Reading Council and its leisure partners, GLL, are encouraging residents to make good habits, with several free health focussed courses available, alongside new and improved leisure facilities across the borough.
In the wake of the new leisure facilities opening at Palmer Park and with Rivermead taking shape, and improvements to facilities complete at South Reading and Meadway leisure centres, Reading Council has invested public health funding in targeted activities, delivered by its leisure partners GLL, to help reduce health inequalities.
The Reading Healthwise scheme is on offer, including free adult weight management courses, GP referral and Phase IV Cardiac Rehab. Additionally, there are free seated movement to music (Love to Move) classes running until March 2023 for older people and those with dementia.
The 'Healthwise' Physical Activity Referral Scheme aims to support Reading residents with medical conditions preventing them from becoming physically inactive – such as high blood pressure, diabetes, asthma, circulatory diseases or depression and anxiety.
The Adult Weight Management courses are free to attend, and participants can access a free 12-week membership to access all centres in Reading, lasting for 12 weeks (in line with the course). Once the course ends, participants are able to take out the Healthwise membership which is £25 per month for up to 2 years and gives full access to all centres within Reading.
Steph Smith, GLL's Healthy Communities Manager, said: "As part of our Healthwise scheme, we have an adult weight management program that runs for twelve weeks.
"And each week you get to take part in a two-hour session which comprises of an educational component where you learn all about how to be healthy and what is the right food to eat. And then you are able to take part in an hour exercise session where you get involved in a variety of different exercises in the gym or in the sports hall.
"It can be really hard to lose weight and even harder to keep it off once you've lost the weight – which is why we're here to help. If you'd like to get involved, you can go and speak to your doctor and be referred into this program or you can self-refer online line at our website."
Jo-anna, age 55, and Buddy, age 66, are two residents who have greatly benefited from the free Healthwise 12-week healthy weight management program in 2022.
Jo-anna has so far managed to lose over 1 ½ stone by following the course's advice – she told us: "It's been really good because it motivates you to do more….I've retrained my brain to actually look at what I'm eating so I know what to eat and what not to - and the moderation of it."
Buddy agrees: "It just personally helped me by motivating me to reduce weight because there are other people also doing the same thing. You hear stories and then you feel you're not alone in trying to manage your weight and that's quite helpful."
Buddy now intends to make the most of the free membership the course gives him to continue with his exercise routine, with access to all four centres across Reading. He's really looking forward to using the new facilities at Palmer Park, which is closest to his home.
Cllr Adele Barnett-Ward, Reading's Lead Councillor for Leisure and Culture, said: "This January we want to encourage as many residents as possible to make good habits. As well as significant leisure discounts for young, older, and disabled people; we have invested in targeted work to reach those in most need and work towards reducing health inequalities.
"With all the challenges of the ongoing pandemic, it is more important than ever we inspire and support the communities we serve to lead healthier, more active lives. We know that regular activity can reduce the risk of major illnesses, such as heart disease, stroke, diabetes and cancer – as well as play a big role in reducing stress and anxiety.
"There is a great deal of support and activities on offer. If you think you would benefit from support in getting active again, speak to your GP or health provider for a referral. That small step can go a long way to improving your quality of life and overall health."
People who are interested in Healthwise can speak to their GP, practice nurse or social prescribing link worker, who can refer them. The next 12-week course starts in February.
For more information email Healthwise.Reading@GLL.ORG
or visit https://www.better.org.uk/leisure-centre/reading/rivermead-leisure-complex/healthwise-rivermead-leisure-complex-and-gym#
Notes to editors
Dementia seated movement to music (Tuesdays 11:00 – 12:30 at Coley Park Community Centre and Thursdays 11:00 – 12:30 at Meadway Sports Centre, FREE and include a social. Email DementiaExercise.Reading@GLL.org to sign up or turn up on the day).
Criteria for the course: Adult aged 18+, Body Mass Index of 30+ (27.5+ / Black, Asian and other minority ethnic groups).