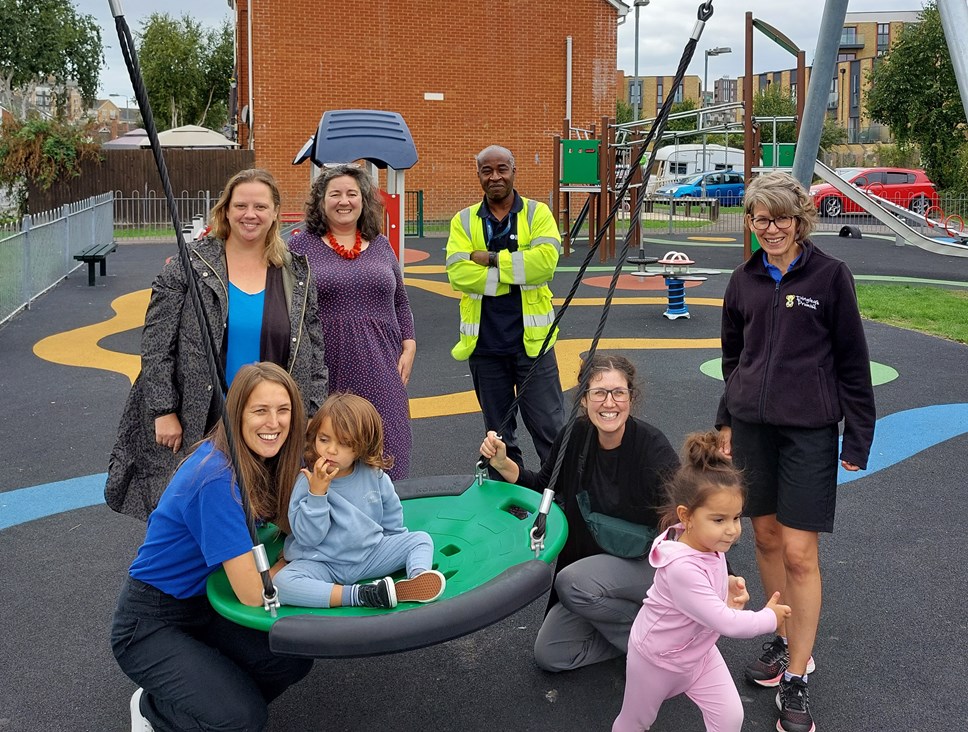 New playground at Kenavon Drive open for play
£102K investment in Kennet Walk /Kingsmead play area
Improvement and enlargement of the old playground now complete
THE NEW improved playground at Kenavon Drive is open for play.
The new Kingsmead development and its neighbouring Kennet Walk housing site to the east of the town centre, now has a new playground and enhanced landscaping, thanks to £102,000 from the developer of the new Kingsmead flats and houses - a condition attached to the original planning consent.
The new playground includes a mix of play facilities including equipment accessible to all abilities. The improvement and enlargement of this playground means it now benefits from new multi-units for children of all ages, a combination swing unit, play panels and a seesaw. There is also new surfacing and floor graphics.
Children and staff from nearby Dingley's Promise Reading Nursery helped celebrate the opening of the new play area this month:
View more photos here: https://flic.kr/s/aHBqjA7gsK
Louise White, Reading Centre Manager, Dingley's Promise, said: "We have been thrilled to see the beautiful play park opposite our nursery take shape over recent months. The park provides a safe space for many of our children to enjoy and explore outside of our nursery garden, providing a change of scenery and the opportunity to work with our children to improve their physical development. It has brightened up the local area and is sure to bring happiness to many local families and visitors. We have also been extremely grateful to have been consulted regarding potential additions to the park which may best suit the needs of our children, who have a wide range of educational needs and physical disabilities."
Adele Barnett-Ward, Reading Borough Council's Lead Councillor for Leisure and Culture, said: "I'm delighted to see this much-loved community facility now open and it was a delight to see how much the children from Dingley's Promise Reading Nursery enjoyed the new play facilities during our visit.
"This is an exciting portion of the overall vision for the site and it has delivered a play area that can be enjoyed by local neighbourhood children for years to come.
"The provision of high-quality equipment that is as accessible as possible for all children and their carers remains a key priority for us. I am therefore delighted that our Accessible Play Task and Finish Group and Dingley staff contributed their thoughts to the play area to ensure that even Reading's neighbourhood playgrounds are providing accessible opportunities for all. Thank you to everyone who took part in the public vote for the play area design - I hope you all enjoy the results!"
Alongside the new play area, the ball court is also due to be remarked. Further funding will see the nearby riverside enhanced with new landscaping, bulb and meadow planting, tree works which is programmed to start mid-October.
The Council invited several leading specialist companies to put forward their designs for the refurbishment, with the winning design and installation by Kompan UK Ltd. www.kompan.co.uk
The playground improvements are funded from the contributions of the Kingsmead developers and the riverside improvements from allocated CIL ( Community Infrastructure Levy) monies.
Ends