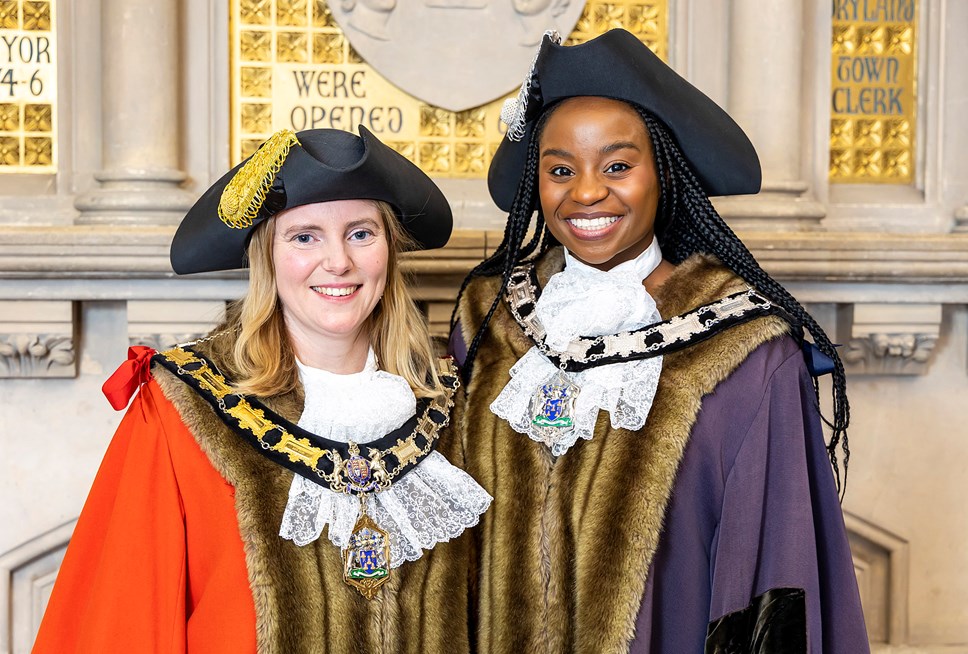 New Mayor of Reading and Deputy Confirmed
Councillor Rachel Eden became the new Mayor of Reading at a Town Hall mayor making ceremony last night
Councillor Ayo Sokale will be Deputy Mayor until May 2022
Councillor Rachel Eden has been confirmed as the new Mayor of Reading following a ceremony last night (Nov 17).
Exiting Mayor, Councillor David Stevens, handed over the Mayoral chain and mace to Cllr Eden in last night's Mayor Making Ceremony at Reading Town Hall. Councillor Eden will now serve as Mayor for a period of 18 months, until May 2023. She has chosen five themes to focus on during her Mayoralty, which are:
Sustainability and the drive to net zero
The best start in life for our young people
Improving the end of life for all
Getting through - and recovering from - the Covid pandemic together
Equality and Diversity
The Mayor's charities will reflect her chosen themes. They are:
Parenting Special Children (supporting families who have children with special needs)
The Alliance for Cohesion and Racial Equality (bringing diverse communities together)
The Sue Ryder, Duchess of Kent Hospice (supporting people coming to end of life, with specialist medical care alongside with other emotional, practical and spiritual support)
Rachel Eden has been a serving Whitley ward Councillor since 2010 and was previously a lead councillor for Housing and Neighbourhoods and Adult Social Care.
Rachel is a Director of Reading Community Energy Society and is outgoing Chair of West Reading Together.
Outside of politics, Cllr Eden is the founder of an accountancy firm that works with a range of small local businesses and charities. She's also a proud mum of two amazing children who attend school in Reading.
Councillor Eden said:
"Being Mayor of Reading is a huge privilege and honour. We are a truly great town and I hope to uphold the best traditions of the Reading Mayoralty in bringing our community together, whether in difficult times or when we have things to celebrate.
"Every Mayor has their own style and I hope to focus on encouraging a sustainable Reading with our push to net zero carbon; encouraging the best start in life for our young people and promoting better support for people at end of life, as well as of course celebrating our town's amazing diversity and pushing for equality for all as we get through the pandemic."
Also confirmed at the Mayor Making Ceremony last night was Councillor Ayo Sokale as Deputy Mayor of Reading until May 2022.
Cllr Sokale has served as a Caversham Ward Councillor since 2019. She is a Chartered Civil Engineer and Professionally Qualified Project Manager at the Environment Agency, as well as a TV presenter. She presents science for BBC Bitesize.

Ayo is a keen sustainability advocate and co-founded and runs a Plastic Free Group in Caversham. She is one of the ICE's Water Superheroes aptly named Eco Warrior (previously Angel). She was nominated one of the Top 50 Women in Engineering under 35 in June 2017.She is a Supervising Civil Engineer & member of the ICE Thames Valley, ICE Policy and External Affairs and ICE Communication Committees. She becomes one of the youngest Deputy Mayors in the history of the borough, and the youngest in recent years.

Councillor Sokale said:
"I am honoured to represent Reading as Deputy Mayor, a place I have made my home since graduating from university. I am excited to embark on this journey and supporting the Mayor and her agenda. These are worthy causes that I am thoroughly honoured to support in this role. I am pleased to be a positive role model for the brilliant town that is Reading, a place we all love."
Notes to editors
The Council's annual Mayor Making usually takes place in late May but was postponed this year due the heavily disrupted Mayoral year in 2020-21, which meant the Council chose to extend the Mayoralty of exiting Mayor Councillor David Stevens until November. Cllr Eden will now serve for the remainder of current municipal year and then for a full year from May 2022 to May 2023 – 18 months in total. Under the revised arrangements, a new Deputy Mayor will be elected in May 2022 for a full Municipal Year in 2022-23.