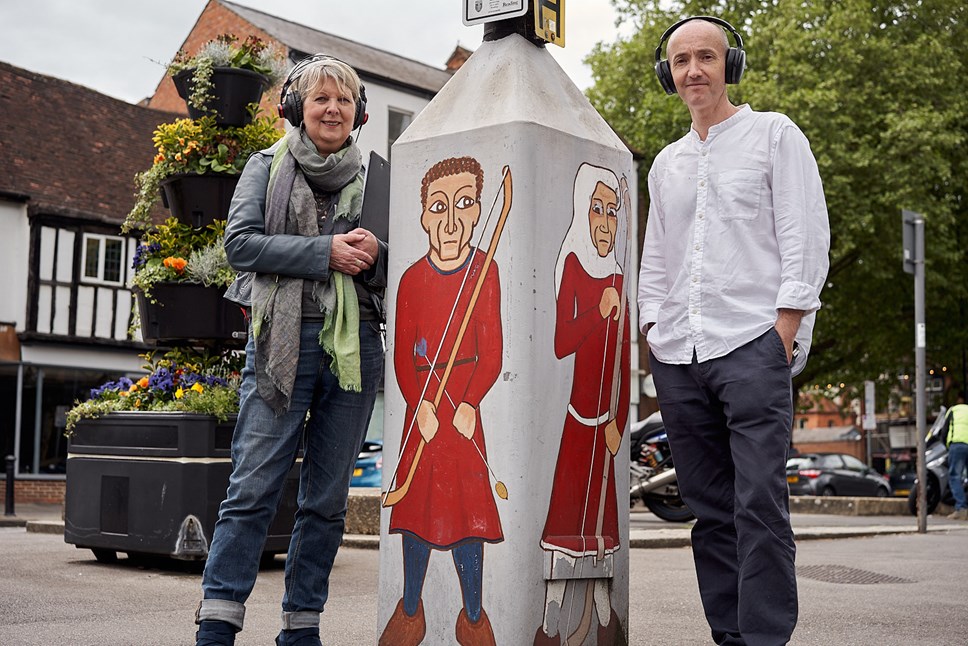 New audio trails bring Reading's hidden histories to life
June 21 launch of two self-guided audio trails around the town centre's heritage sites
Created as part of Reading's High Street Heritage Action Zone (HSHAZ)
TWO NEW audio trails launch on 21 June, offering to take listeners on an exciting journey of discovery into Reading's past.
Reading Borough Council's High Street Heritage Action Zone (HSHAZ) team is working in partnership with Sound UK to create two self-guided audio trails around the town centre's heritage sites.
Created by local artists Aundre Goddard, Fiona Talkington and Richard Bentley, each trail will take listeners on a journey celebrating Reading's heritage and revealing hidden histories along the two routes.
The new audio trails include:
No ifs, No buts, Only Gingernuts: Huntley & Palmers Journey
Market Place & London Street: Huntley & Palmers themed trail - take a journey through time and the world of biscuits with this fascinating audio trail from Market Place to London Street by Aundre Goddard and Richard Bentley. Inspired by women workers and tour guides from Huntley and Palmers, listen to the stories of those who gave this world-famous biscuit factory its sense of family. Learn about the people, its history and processes that went into creating and distributing biscuits worldwide to make Huntley & Palmers of Reading's London Street the company we all know and love.
Pies, pints and protest - the hidden worlds of Castle Street & St Mary's Butts: Join BBC presenter and long-term Reading resident Fiona Talkington and sound artist Richard Bentley on an engaging audio walk that brings the rich history of St Mary's Butts and Castle Street to life. This self-guided journey reveals often hidden histories from up to 500 years ago and celebrates iconic local buildings, people and even animals.
The audio trails are free and will be available to listen from 21 June onwards and members of the public will be able to walk the trail using their smartphones and personal headphones:
Cllr Adele Barnett-Ward, Reading's Lead Councillor for Leisure and Culture, said: "With the summer on its way there is no better way to spend an afternoon than having a wander around Reading's historic streets, discovering fascinating hidden histories of our town centre. The Huntley & Palmers-themed trail is timely as the world-renowned biscuit maker marks its 200-year anniversary. Both tours offer an engaging and atmospheric historical feast for your ears and I encourage everyone to have a listen. These free audio tours are the perfect complement to the other exciting art projects we've launched along the Oxford Road in west Reading as part of our wider High Streets Heritage Action Zone (HSHAZ) cultural programme. I would also like to take this opportunity to thank Historic England – without their generous funding, these wonderful projects could not happen."
Maija Handover, Director, Sound UK, said: "Aundre Goddard, Fiona Talkington and Richard Bentley are three amazing local artists that have done Reading proud in creating two wonderfully engaging new experiences accessible to all. These two audio trails give local people the chance to see their town in a new light, discovering the magic behind the everyday, for free and whenever they want. I urge everyone to grab their smartphones and headphones and venture out to enjoy them!"
Aundre Goddard, Artist said: "Although Huntley & Palmers were world-renowned, they still had a local air about them. The company was known for its sense of community and speaking to employees and their family members. I got to feel that sense of community first-hand; that is a real privilege. My grandma worked for Huntley & Palmers, and she loved a ginger nut biscuit, therefore, I would like to dedicate this piece to her and all workers of this amazing company."
Fiona Talkington, Artist, said: "Castle Street and St Mary's Butts are busy traffic routes today, but swap the cars, lorries and buses for the sounds of horses, carts and wagons and you step into an area which was right at the heart of a constantly evolving Reading over hundreds of years. Although I'm Reading born and bred, I have learned so much more and am so grateful to the people who shared their stories with me and brought this area alive in so many more ways."
Richard Bentley, Artist, said "It's easy to take Reading's soundscapes for granted, particularly when you've lived here all of your life. Working on the recording and sound design for this project has reminded me to pay attention to the many intricate layers of sound that make up, even seemingly simple, soundscapes. I hope that as you are being guided by Fiona and Aundre's fascinating tours, you'll also take a moment to listen beyond the words and let yourself get lost in Reading's soundscapes, letting the familiar become unfamiliar again."
The audio trails are produced by Sound UK in association with local arts organisations Readipop and Berserk Productions, commissioned by Reading Council and funded by Historic England as part of the wider national High Street Heritage Action Zone (HSHAZ) project.
These new audio trails add to the London Street audio trail produced in 2021 by Aundre Goddard and Richard Bentley with Sound UK: HistoricEngland.org.uk/ReadingSoundWalk
Ends
Notes to editors
Notes
Photo Opportunity: The media are invited to a photo and filming opportunity on Tuesday 21 June location outside Reading Minster.
Attending: Cllr Adele Barnett-Ward, Reading's Lead Councillor for Leisure and Culture, alongside artists Aundre, Richard and Fiona and actors who feature in the audio trails.
About Sound UK
Sound UK creates extraordinary musical encounters. It works with artists and partner organisations to produce and commission brilliant new music, from shows in major concert halls to intimate performances on village greens, audio trails, sound installations in museums to digital works online. The music it presents in these places embraces all musical genres, from jazz to sound art, electronic to contemporary classical and all points in between.

Sound UK works with the world's most creative artists to create memorable performances that excite and move audiences across the UK and beyond. www.sounduk.net
About Aundre Goddard:
Aundre Goddard is a Reading-based artist who explores interactive, immersive practices. Much of his content examines the role popular culture plays in our understanding of performance and the construction of identity. Creating performances that utilise the imagination, he aims to transport audiences to a surreal place where audio performance can be enjoyed to its fullest extent. He wrote and co-created A Reading of London Street and is the Creative Director of Berzerk Productions.
About Fiona Talkington:
Fiona Talkington is a broadcaster, writer, presenter, and curator best known in the UK for her work on BBC Radio 3 where she has been a presenter since 1989. She is best known today as a founding presenter (1999) of the Sony Gold award-winning programme Late Junction, and is internationally recognised for her wide-ranging knowledge of music including classical, world, traditional, jazz, experimental, electronica and choral music.
About Richard Bentley:
Richard Bentley is a sound artist, lecturer and researcher with a passion for arts and health. Listening is at the heart of what he does, to uncover the extraordinary in the mundane. With this as a starting point, he aspires to create beautiful and engaging sound works, plus successful training experiences, centred around the wellbeing of people and the environment at their heart. Richard has developed bespoke audio products for The Woodland Trust, Crisis, Heath Wallace, Intelligent Health, The Roald Dahl Museum, Nature Nurture and a host of community arts organisations. anoisysilence.com
About High Streets Heritage Action Zones
The High Streets Heritage Action Zones is a £95 million government-funded programme led by Historic England, designed to secure lasting improvements and help breathe new life into our historic high streets for the communities and businesses that use them. Historic England is working with local people and partners to unlock the rich heritage on these high streets, through repair and improvement works as well as arts and cultural programmes, making them more attractive to residents, businesses, tourists and investors.
https://historicengland.org.uk/services-skills/heritage-action-zones/regenerating-historic-high-streets/
About Reading's HSHAZ project
Reading is one of 68 areas of England to receive a share of a £95 million High Street Heritage Action Zone (HSHAZ) fund having secured High Street Heritage Action Zone (HSHAZ) status for three conservation areas in the centre of the town.
Reading's HSHAZ programme is focused on high streets in three Conservation Areas: Castle Hill/Russell Street/Oxford Road; St Mary's Butts/Castle Street and Market Place/London Street. The major project aims to deliver across three key themes:
Physical improvements to buildings: including repairs, reinstating lost features, supporting the conversion of historic buildings for new uses and improvement of shared spaces.
Community engagement: giving local communities a key role in deciding what works they want to see happening on their high street and what sort of place they want it to be.
Cultural programme: activities and events celebrating the history of the high street and its importance to local communities.
About HSHAZ Cultural Programme
Reading Council was awarded an £85,000 grant in May 2021 from Historic England as part of the Reading High Streets Heritage Action Zone (HSHAZ) to create and deliver community-led cultural activities within the HSHAZ area high streets over the next three years.
Planned activities include an open call for cultural community projects in the Oxford Road area, continuing the work of a recent pilot project 'Re-imagining the high street through your stories' which concluded with three exciting art projects courtesy of local artists Baker Street Productions, Gemma Anusa and Caroline Streatfield.
With the new funding, work can be continued from the pilot project on Oxford Road; grass roots community groups and cultural organisations will have the opportunity to lead cultural activities as well as having access to a mentoring scheme that aims to support groups to access funding in the future.
The project continues with the audio trails launching in June in the St Mary's Butts/Castle Street and Market Place/London Street heritage areas, with the theme of exploring and telling the hidden histories of these historic high streets areas through community co-produced research and resulting in art installations in the local area.
This is part of the four-year-long High Streets Heritage Action Zones' Cultural Programme, led by Historic England, in partnership with Arts Council England and the National Lottery Heritage Fund. The Cultural Programme aims to make our high streets more attractive, engaging and vibrant places for people to live, work and spend time. The Council's wider High Streets Heritage Action Zone programme will run for 3 years until 31 March 2024. The project aims to breathe new life into the radial high street areas of Reading off of the immediate town centre.
Connect with the project via social media:
About Historic England
We are Historic England the public body that helps people care for, enjoy and celebrate England's spectacular historic environment, from beaches and battlefields to parks and pie shops. We protect, champion and save the places that define who we are and where we've come from as a nation.
We care passionately about the stories these places tell, the ideas they represent and the people who live, work and play among them. Working with communities and specialists we share our passion, knowledge and skills to inspire interest, care and conservation, so everyone can keep enjoying and looking after the history that surrounds us all.