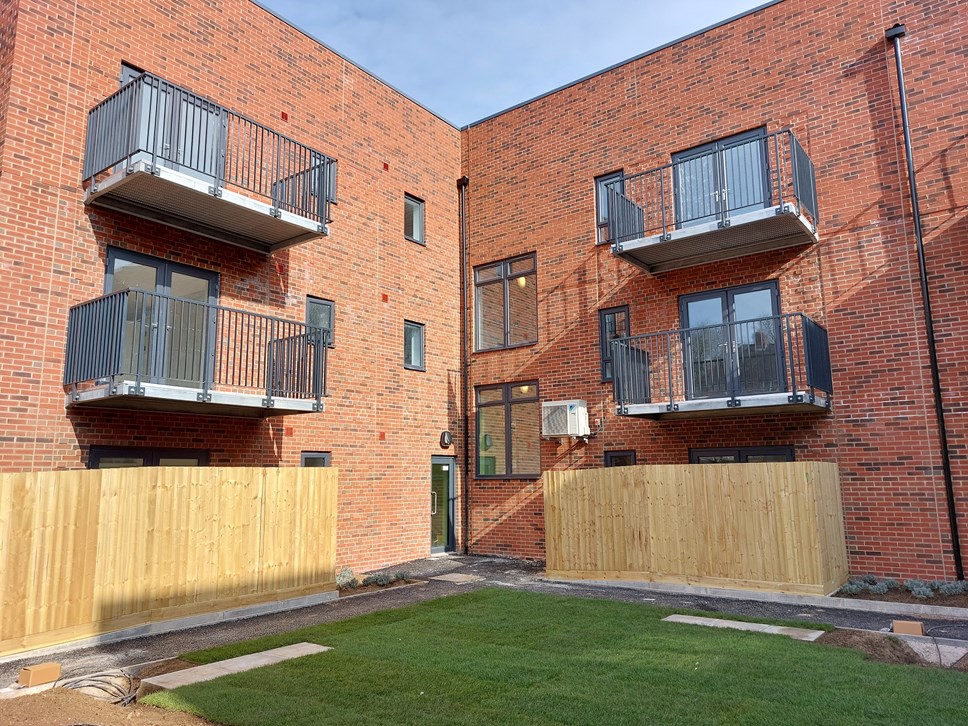 More affordable housing for Reading's residents as Council prepares to get keys to new flats
Council tenants are set to move into 18 new affordable flats before the summer with Reading Borough Council set to receive the keys soon
Site makes use of disused land along with five other infill sites being developed for tenants later this year
The energy efficient homes are helping to reduce Reading's carbon footprint and keep utility bills as low as possible
18 BRAND NEW affordable flats in Lyndhurst Road will be handed over to Reading Borough Council in the next few weeks, with tenants set to move in before the summer.
Eight 1-bed and ten 2-bed flats over three floors and with a communal courtyard garden, 19 parking spaces and a community centre, have been built where the disused Norcot Youth and Community Centre once stood. The ground floor flats are accessible and feature level access showers.
Several prospective tenants enjoyed a visit to the site on 10 March to look around the completed flats. Mrs Bird, who is currently a Council tenant and came along to preview the homes available, said:
"The flats are lovely. The upstairs one I saw was great, with nice views and a really good bathroom. I can picture myself in here. My current house is lovely but the garden is big and getting unmanageable so I'm interested in downsizing".
The Lyndhurst Road flats provide a key example of the Council's strategy to make use of disused land and derelict areas within the borough. This plan is also progressing in five other areas where infill sites are seeing imaginative use of small pockets of land to help provide homes for those on the housing waiting list.
Three homes in Foxhays Road, two in Wentworth Avenue, and further homes in Ian Mikardo Way, Circuit Lane and Camelford Close, are all progressing and will see tenants take possession later this year.
These developments form part of Reading Borough Council's significant £80m investment in over 300 new affordable homes by 2025 to help reduce the waiting list and also provide accommodation for key workers and the flexibility for current tenants to move to bigger homes as their families grow.
Responding to Reading's climate emergency, all new homes are also being built to passivhaus principles to reduce carbon footprint. Triple glazing, air source heat pumps and solar panels are some of the techniques being used to be more sustainable, and just one of the reasons Reading Borough Council was crowned Homebuilder of the Year at the 2021 UK Housing Awards. Building energy efficient homes ensures that bills are kept as low as possible for the residents who live there.
Reading Borough Council's Lead Member for Housing, Cllr Ellie Emberson, said:
"Our Housing team are working tirelessly to create the affordable new homes that the people of Reading need and deserve. We have our larger developments underway and I am excited to see the Lyndhurst Road flats finished for residents to move in. We are creative with all land and the innovative and resourceful use of infill sites at other locations means we can build council homes in places that aren't obvious candidates for development. The new community centre in Dee Park will be a fantastic space for local residents to make use of and highlights, along with the enhancing of Wensley Road High Rises, our commitment to enhancing existing Council housing as well as building new homes".
Whilst creating new build housing forms part of Reading Borough Council's housing strategy, improvement to existing estates is also a key goal. Last week councillors attended a topping out ceremony for a new community centre in Dee Park, being created in partnership with Catalyst Housing. The building will combine a new hall with facilities to support new and existing community groups, a children's centre, office workspace and a wellbeing hub to offer advice and support. It is hoped that the community centre will open in the summer.
This follows the recent opening of a new playground in Courage Park for Wensley Road estate tenants to use, who will also see better landscaping and enhancements to the blocks there including new garages, triple-glazed windows, new external fabric and reconfigured entrances, in addition to 46 new homes.
Reading Borough Council is inviting tenants living in a council home that is bigger than they need, and who are interested in downsizing, to contact the Voids and Lettings Team on 01189 372628 to discuss the options available to them.