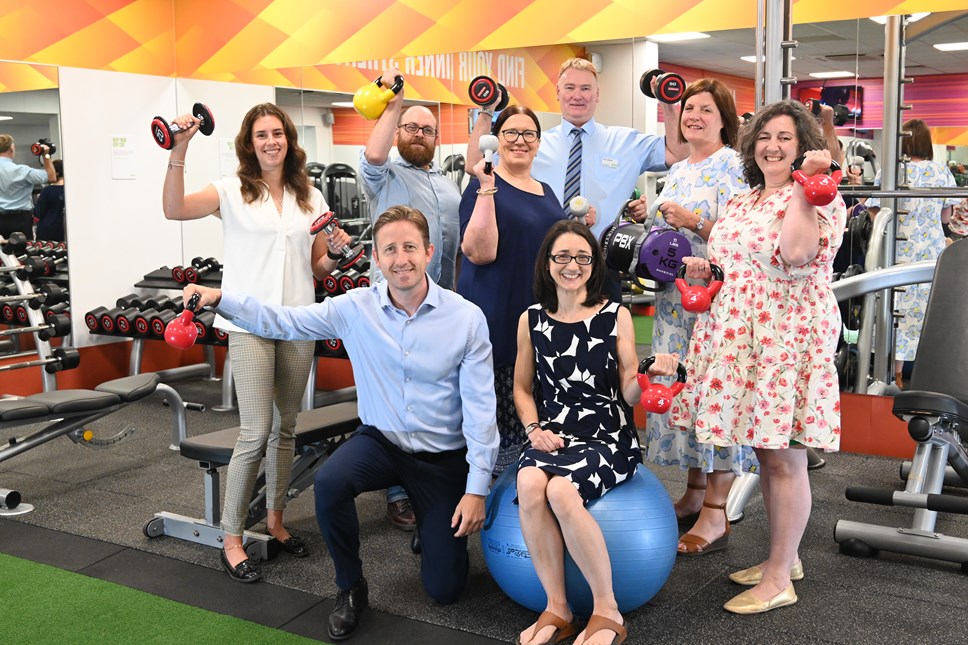 Meadway Leisure Centre showcases improved facilities
Improvements at Meadway Leisure Centre include refurbishment of the gym, studios, and changing rooms
The centre's reception has been significantly revamped
The gym has been extended with improved equipment
The Council's £40 million investment in modern leisure facilities across the town includes improvements for users of Meadway Leisure Centre.
Hot on the heels of improvement works completed at South Reading Leisure Centre earlier this year, and with work well underway on new swimming pools and facilities at both Rivermead and Palmer Park work at Meadway Leisure Centre in Tilehurst, is now finished. Users of the centre, which is run by GLL on behalf of the Council, will now benefit from:
A larger gym area with improved equipment
New dedicated studio space
Refreshed dry side changing rooms
Revamped reception and circulation areas
Phase 2 of the works will deliver refurbished squash courts and wet side changing rooms at a later date.
View more photos of the improvements here: https://flic.kr/s/aHBqjzZpFv
Local resident, Desmond Kelly, said: "I'm a regular user of the gym and the swimming pool. I've been coming here to Meadway for the best part of ten years. The old gym was very tired and a bit run down and it's super now. There really is a great advantage to staying fit for your own wellbeing - mental as well as physical because it's social as well as exercise. It helped me recover from an accident very quickly."
Cllr Adele Barnett-Ward, Lead Councillor for Leisure and Culture, said: "There has, rightly, been a focus on the new leisure facilities we're delivering at Rivermead and Palmer Park, but I am just as excited about the improvements to the Meadway and South Reading Leisure Centres. The council's investment in these popular centres demonstrates our commitment to providing high-quality leisure facilities across the borough.
"The Commonwealth Games start later this week and are a reminder that high quality, affordable leisure and sporting facilities aren't just about having fun and keeping fit, important though that is. Our improved leisure centres will help develop Reading's sporting stars of the future.
"At the end of this year, the new Palmer Park Centre will open, becoming the only leisure centre in the region to offer a 25m 6-lane community pool alongside a velodrome and athletics stadium. The new Rivermead centre will follow in 2023 with a 25m 8-lane competition pool with dedicated diving provision.
"As well as the improved facilities across all our leisure sites we are also working to increase physical activity, health and wellbeing across the borough. Weight management courses, cardiac and cancer rehabilitation and targeted work in the community is reaching out to those in most need and working to reduce health inequalities."
Craig Woodward, GLL's Partnership Manager for Reading said: "The improved Meadway Leisure Centre is further great news for local people.
"The benefits these updated facilities will offer the local community are invaluable. The pandemic has highlighted the importance of keeping physically active and maintaining a healthy weight.
"Reading's new and upgraded leisure provision will offer an inviting and welcoming environment, for all local residents to enjoy, in addition to enabling us to provide dedicated courses and activities that encourage better health and wellbeing."
For regular updates on the leisure project visit www.better.org.uk/new-reading-leisure or follow the Council on social media @ReadingCouncil Twitter, Facebook and Instagram or GLL at @Better_Reading
Ends