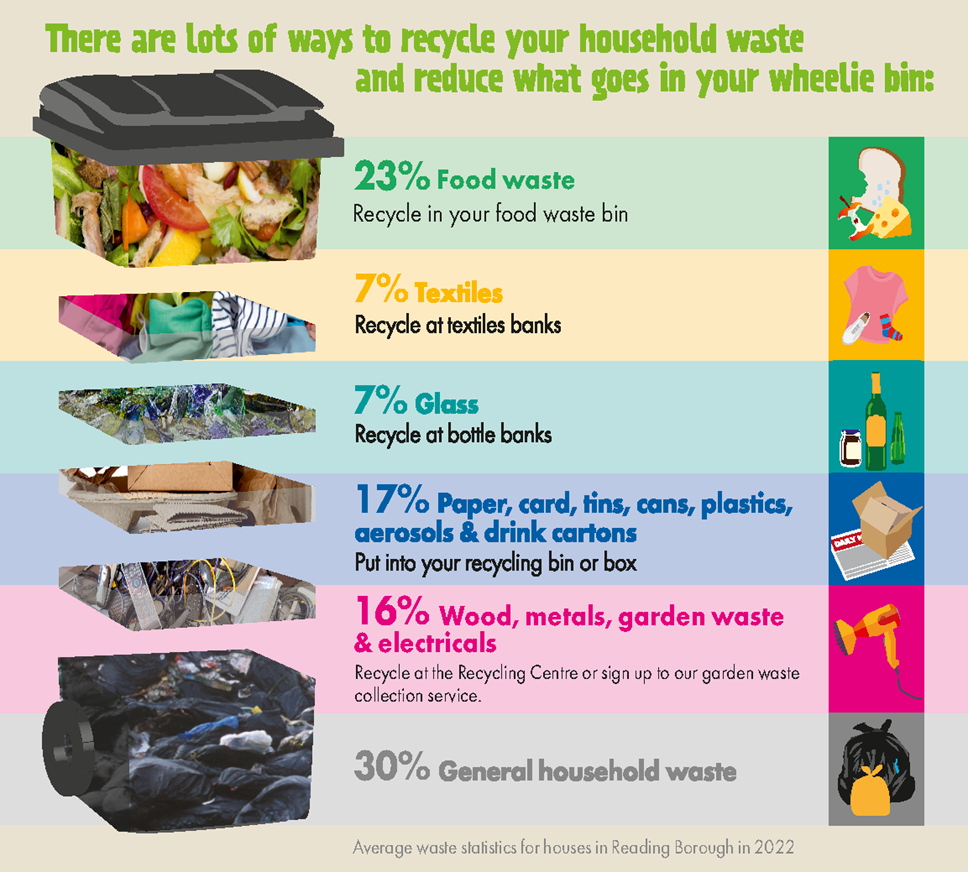 Large reduction in food waste sent to landfill in Reading thanks to recycling initiative
Food waste collections have seen overall recycling rates rise from 32% to 50%
Proportion of grey bin waste made up of food has fallen from 41% to 23%
Tips offered to help residents recycle even more
THE AMOUNT of food waste being sent to landfill by Reading residents has dramatically reduced since October 2019, Reading Borough Council has confirmed during National Recycle Week. This initiative has helped take Reading's recycling rate up from 32% to over 50%.
The news demonstrates the high value of food waste collections in reducing landfill waste. Reading introduced the programme in 2020 and the proportion of food waste found in grey bins has dropped from 41% to 23% since its introduction.
The reduction in food waste being sent to landfill has thus seen other still-remaining recyclable items in grey bins rise as a proportion of what is put into grey bins. However opportunities exist for residents to bring those amounts down as well. Tips from Reading Borough Council to help achieve this include:
Make use of Reading's 200 glass banks at over 50 locations in the borough. Residents can now put glass bottles and jars of any colour into any glass recycling bank, and lids and caps can be left on.
Small electrical items, such as toasters, kettles and hairdryers, don't need to go to landfill – they will be collected by the Council if you place them in a bag next to your red wheelie bin on recycling collection day.
Some supermarkets now recycle soft plastics – such as crisp packets, fruit and veg bags and carrier bags – so you don't need to put them in your grey waste bin. Just check the supermarket's website to see if they have a soft plastics recycling point.
You can order an extra kerbside recycling bin or box to help you recycle more – these are available online if you go to reading.gov.uk/waste-and-recycling/order-a-bin-or-bag. This will give you even more capacity to put your plastic bottles, trays and tubs, paper and card, clean foil, tins and cans in instead of in your grey waste bin.
Residents can also go to reading.gov.uk/waste-and-recycling or download the free re3cyclopedia app from their phone's app store for more recycling help.
The confirmation of the reduction of food waste going into our landfill waste coincides with National Recycle Week 2022. This year the theme is "Let's Get Real", looking to debunk recycling myths and the ways in which our communities can help to drive up recycling together and reduce waste that goes to landfill. Residents are encouraged to rinse items before recycling them and avoid contamination of recycling by putting the wrong items in the recycling bin which can see large quantities of recycling contaminated and thus deemed unrecyclable.
Advice to avoid contamination includes:
Place recyclable items loose in your recycling bins, not in carrier bags or black bags – these are not recyclable and will disrupt and delay the recycling process.
Don't put glass in your recycling – these must be taken to bottle banks.
Ensure plastic containers, bottles and jars are rinsed clean of liquid or food before recycling them.
Don't recycle black plastic trays – these are often made from a variety of toxic materials and can be difficult to recycle.
Don't put wet cardboard or paper into your red bin or box – this can't be recycled and can also contaminate other items in your recycling.
Cllr Karen Rowland, Lead Member for Neighbourhoods and Communities, said:
"The figures confirmed this week are great news and show exactly why giving the people of Reading the chance to recycle food waste was such a critical move in ensuring Reading's recycling rate sees improvements year on year.

"Together we have reduced food waste in our grey bin rubbish from 41% to 23% of the total mix in our grey bins. This has given us an even greater platform to now drill down on reducing other areas where we have recycling still in our grey bins by letting our wonderful residents know how they can do more!

"I'd like to thank everyone in Reading who has worked hard to drive down our recycling numbers by jumping on board with the food recycling programme and by ensuring that everything that they are able to recycle gets recycled.

"Take a look at Reading's collective grey bin infographic and reflect on how much of your grey bin items may still be recyclable. Let's drive these numbers down together, Reading!"