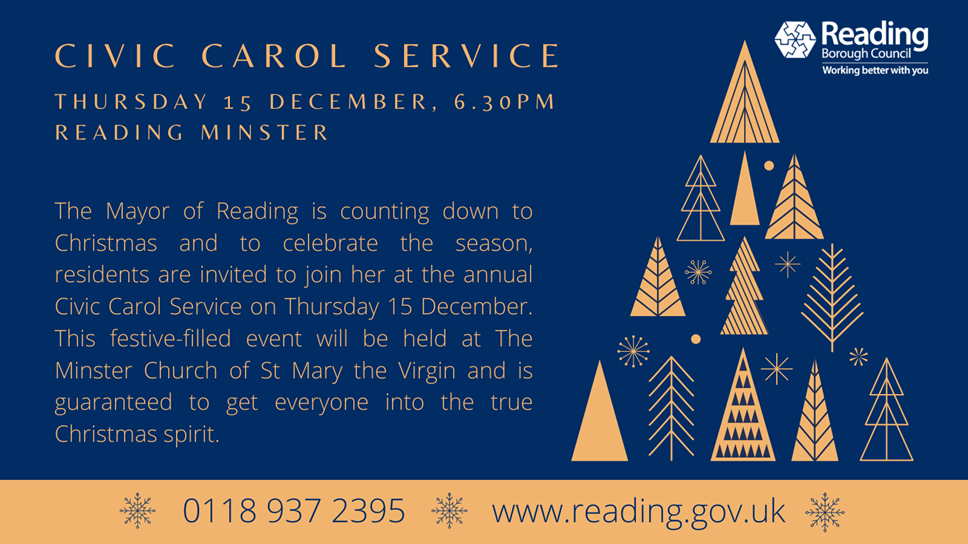 Invitation to the Civic Carol Service 2022
Free Civic Carol Service to be held at Reading Minster of St Mary the Virgin, 15 Dcember, 6.30pm
Readings throughout from Mayor of Reading, Deputy Lieutenant of Berkshire, Reading Youth Council, and more
This year will see the return of the International Peace Light to Reading
READING Minster will again throw open its doors for the Civic Carol Service on Thursday 15 December.
An evening of carols and lessons retelling the story of the Nativity is again being hosted by Reading Minster of St Mary the Virgin, in St Mary's Butts, at 6.30pm.
The free Civic Service is a highlight of the town's festive season, and members of the public are welcome to join.
The service includes carols for the whole congregation to join in with, including 'O Come all ye Faithful' and 'Silent Night', as well as performances from the Minster Choir.
There will also be traditional readings throughout, from The Mayor of Reading, Cllr Rachel Eden, Dr. Peter Durrant MBE, Deputy Lieutenant of Berkshire, David Stevens, chair of the Reading Dusseldorf Association (RDA), Amendeep Mavi, chair of Reading Youth Council, and Jamie Dewson, Casework Supervisor, SupportU Reading.
Rev. Sonya Wratten will welcome the congregation to the Minster and invite members to enjoy mulled wine, kindly provided by Blue Collar Street Food, based at Blue Collar Corner, and mince pies after the service.
This year will also see the return of the International Peace Light to Reading. Kindled from the Grotto of the Nativity, by a child who has done something notable in his or her community, the light is distributed at a Service of Dedication to delegations from across Europe. British Scouts collect the Light from French Scouts, & it is carried by P&O ferries and distributed throughout Britain.
The Peace Light will travel through Kent, Surrey, Sussex, Berkshire, Wiltshire, Dorset, Somerset, Devon, Cornwall & South Wales, whilst other distributors share it throughout England, Scotland, Ireland and the Isle of Man, to churches, schools, public buildings and individual homes, as a gift, in the name of Peace.
Mayor of Reading, Cllr Rachel Eden, said:
"The Civic Carol Service is a much-loved part of Christmas in Reading. There are so many magical events taking place across the town this year and the carol service, in particular, is a great way for people to come together and celebrate the festive season.

"I'm looking forward to seeing as many people as possible at the Minster on Thursday 13th December. Join in with the festive cheer and enjoy some delicious mulled wine and a mince pie after the service!

"As well as all the fun and excitement the festive season brings, Christmas is also a time for giving and thinking of others. My Mayor of Reading Christmas cards will be available for sale at the service and people will be donating much-needed cash to my chosen local charities and the Reading Minster Music Outreach Project, helping to make a real difference to people's lives."
ENDS