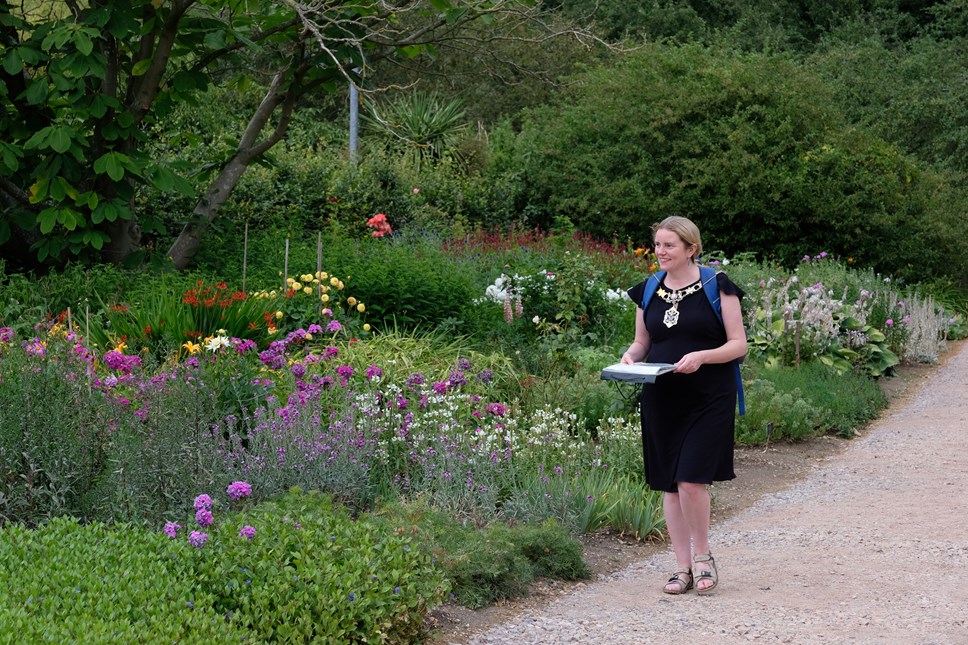 Invitation to 'Beat the Bounds' with the Mayor of Reading for charity
Mayor of Reading, Rachel Eden, will walk the boundaries of Reading for this year's Mayoral Charities
Residents invited to purchase specially created map and join in the walk at their leisure to raise money
Last boundary walk took place in 1912, with then-mayor John Wessley
A CENTURIES-OLD tradition of 'Beating of the Bounds' will be observed in Reading this summer for the first time since 1912, to raise money for this year's Mayoral charities.
Traditionally, the beating of the bounds involves swatting local landmarks with branches to maintain a shared mental map of parish boundaries. This year, the Mayor of Reading, Cllr Rachel Eden, will be walking a specially mapped route, designed by the Mayor with input from Alice Norman, Terry Dixon and Caroline Gratrix, based on the original 1912 map, using public rights of way. Find out more at: https://images.reading.gov.uk/2022/08/Beating-the-Borough-Boundary-in-1912.pdf
Residents, their families, and friends are invited to take part to help raise funds for good causes. Copies of the map to help plan your journey will be available to purchase for £3 via Reading Town Hall and Museum, The Hexagon, and Central, Tilehurst, Battle, Caversham, Palmer Park, Whitley, and Southcote libraries, from 24 August. It includes some of Reading's most interesting and iconic sights including the home of Reading FC, the University campus, Clayfield Copse, the Thames Path and the Kennet and Avon Canal.
Cllr Eden's walk will begin in The Harris Garden at the University of Reading on 30 August. The walk can be broken down into four shorter legs and will take walkers around the borough, starting in Whiteknights, through Whitley, Southcote, Tilehurst, along the River Thames, heading up towards Caversham, through Emmer Green, and back down into town, to finish again on the University campus. There are no set start times and dates meaning the walk can be completed at participants' own leisure.
Eleven QR checkpoints will be dotted along the route, which can be scanned to reveal interesting facts about Reading's history. A full route description, as well as fundraising information, can be found at: www.reading.gov.uk/mayorsboundarywalk.
The last 'Beating of the Bounds' took place over 100 years ago. Following the borough extension act of 1911, Tilehurst and Caversham became part of the borough of Reading. To mark this, in November 1912, then-Mayor, John Wessley Martin, joined by other councillors, Aldermen, and pupils from Blue Coat School walked the boundaries of the borough.
Cllr Rachel Eden, Mayor of Reading, said:
"I'm very excited about this 'Beating of the Bounds' walk around Reading and raising money for charity.

"The route we have mapped should give people an opportunity for a lovely couple of days out. None of us know every corner of Reading, so it's likely that there will be parts of this route you've not visited before. The walk will be the first time a Mayoral party has beat the bounds since 1912, which means it's never been done on the current boundaries.

"I hope many other people will give it a go. It should be a great way get your steps up, improve your fitness and have fun with family or friends at the same time as learning more about Reading and its history.

"To sponsor the Mayor's team, please visit www.reading.gov.uk/mayorsboundarywalk."
All funds raised are being donated to the Mayor's charities, which are Parenting Special Children, The Alliance for Cohesion and Racial Equality and Sue Ryder Duchess of Kent Hospice.
ENDS