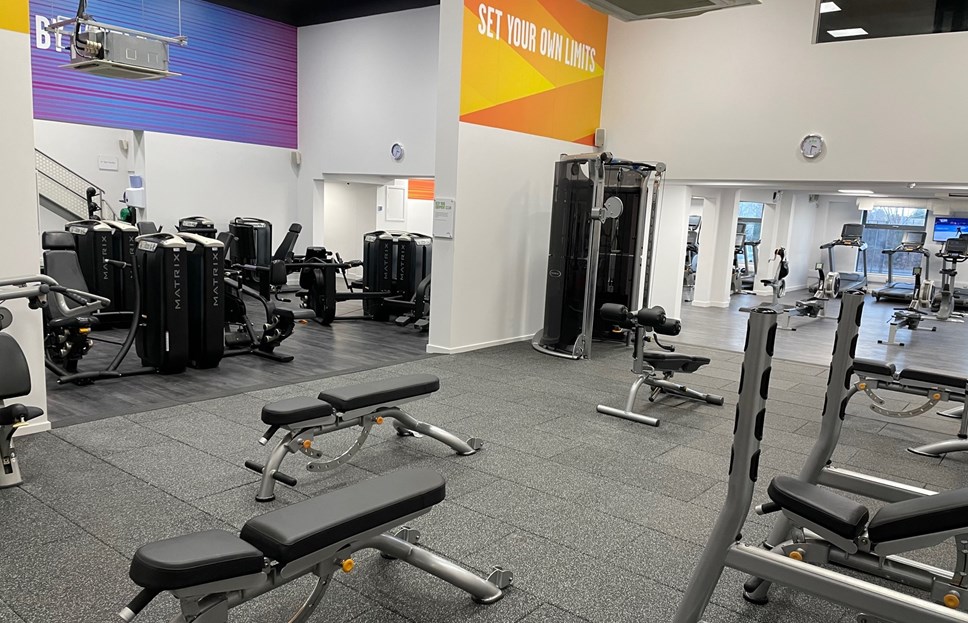 Improvement works complete at South Reading Leisure Centre
Improvements at South Reading Leisure Centre include refurbishment of the gym, studios and changing rooms
The centre's reception has been significantly revamped
Improved equipment and facilities for gym users
IMPROVEMENTS for users of South Reading Leisure Centre, part of the Council's £40M investment in modern leisure facilities for the town, have completed this month.
Hot on the heels of works progressing on modern new swimming pools and facilities at both Rivermead and Palmer Park, work at South Reading, run by GLL on behalf of the Council, started in November last year and completed on time this month.
Users of the centre can now benefit from:
An improved gym area
Gym changing room refurbishments
Class studio redecoration and improvements, including the Group Cycle Studio
New air conditioning
A new reception
Gym users can look forward to the following improved equipment and facilities:
Total resistance exercise (TRX) training
Functional training space
Core bags & battle ropes
Refurbished equipment including a Dual Adjustable Pulley (DAP) and bench press
Cllr Graeme Hoskin, Reading Borough Council's Lead Councillor for Sport, said: "I'm delighted that alongside the work on the new leisure facilities at Rivermead and Palmer Park, improvements are happening at our other centres.
"The improvements to the gym, studio, changing rooms and reception at South Reading are looking great and will make a big difference for the centre's users.
"It is exciting times to see these improvements and the building of our new pools and leisure centre progressing. This continues to provide residents with tangible evidence of our commitment to delivering the new facilities.
"Despite the unprecedented challenges of the past year, the Council and our leisure partners, GLL, remain fully committed to delivering the modern leisure facilities a town of our size and status deserves.
"As well as the improved facilities across all leisure sites being delivered over the next 18 months, there will also be a drive to increase activity, health and wellbeing across the borough, with weight management courses, cardiac and cancer rehabilitation and targeted work in the community to reach those in most need and work towards reducing health inequalities."
Craig Woodward, GLL's Partnership Manager for Reading said: "The improvement work at South Reading Leisure Centre is great news for local people.
"The benefits these updated facilities will offer the local community are invaluable. The pandemic has highlighted the importance of keeping physically active and maintaining a healthy weight.
"Reading's new and upgraded leisure provision will offer an inviting and welcoming environment, for all local residents to enjoy, in addition to enabling us to provide dedicated courses and activities that encourage better health and wellbeing."
Work started on the Rivermead site last August. The new Rivermead facilities will include a 25m 8-lane competition pool alongside a combined teaching and diving pool, due to open in spring 2023.
At Palmer Park, in addition to the refurbishment of the existing stadium building, there will be a new 25 metre, 6-lane community pool. The new community pool and facilities will open to the public in late 2022.
Work will start in mid-March on improvements at Meadway Leisure Centre in Tilehurst.
For regular updates on the leisure project visit www.better.org.uk/new-reading-leisure or follow the Council on social media @ReadingCouncil Twitter, Facebook and Instagram or GLL at @Better_Reading
Ends
Notes to editors
Photo opportunity: The media are invited to a celebration event at South Reading Leisure Centre on Wednesday 16 February at 10 am.