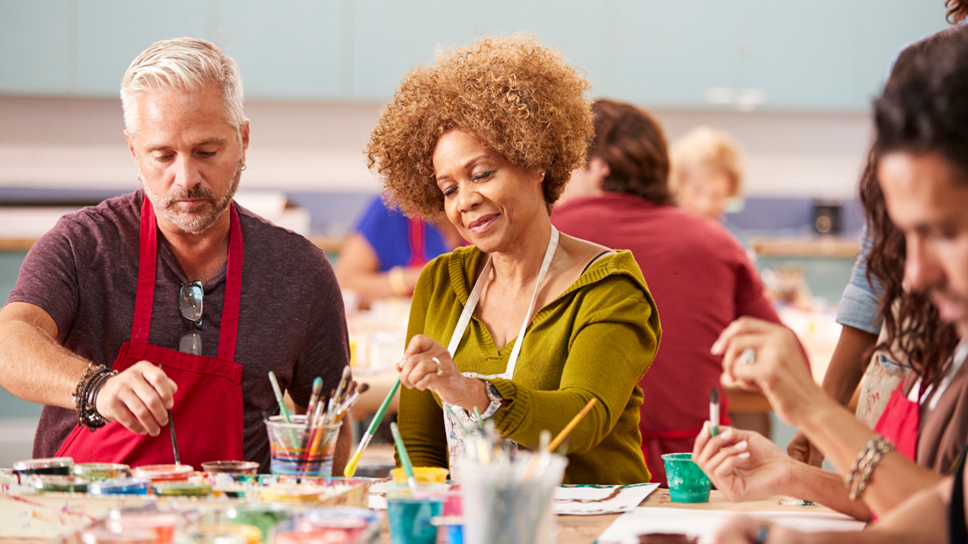 High Street Heritage Action Zone announces three new cultural programme projects on Oxford Road
Next stage of cultural projects celebrating Oxford Road announced
The Council has awarded three £4k grants, to the Alliance for Cohesion and Racial Equality (ACRE), Change Grow Live, and Real Time Video
A NEW stage of cultural projects celebrating the history of Reading's high streets has begun, with funding being awarded to three local organisations.
Following two successful rounds of High Street Heritage Action Zone (HSHAZ) projects in 2021/22, applications opened for funding for local artists and arts organisations to apply to run creative and cultural activities with the communities of the Oxford Road between January 2023 to summer 2023.
The Council has awarded three £4k grants, to the Alliance for Cohesion and Racial Equality (ACRE), Change Grow Live, and Real Time Video, for their proposed projects celebrating through art, participation, and community engagement what is unique and important about life on the Oxford Road.
ACRE has been selected to pilot the 'Oxford Road Youth Collective', a safe space for young people to meet, talk and be creative. The project, led by two Reading-based artists, will include a series of free photography and writing workshops, along with two creative mentorship opportunities.
The workshops will explore personal and collective stories of life and culture on the Oxford Road, through a range of photographic and creative writing methods.
Victor Koroma, Acre CEO, said:
"We are pleased to be involved in a project that is designed not only to work with young people, but that will also create the opportunity for them to investigate, record and present images about their environment. What makes it even more exciting is that the project will help unlock some of the gems that contribute to the cultural diversity of Reading."
'Inspired By Recovery' from Change Grow Live aims to celebrate the culture, history, and community within the Oxford Road area through a lens of recovery. Inviting local artists of multiple disciplines to work with representatives that use or are affiliated with Change Grow Live substance misuse service, as well as the wider community of the Oxford Road. The project will use the walls of the Change Grow Live Group Room as a canvas to showcase the artwork produced over a six-month period.
It's hoped that as a by-product of having service users and non-service users working together to celebrate the culture and history of the local area, this project will help to destigmatise substance use issues and encourage people within recovery to connect positively to their community.
Jason Helstrip, Recovery Coordinator and Group Facilitator at Change Grow Live, said:
"This project is an excellent opportunity to bring together the community of Oxford Road. I am excited to see how members of the community express the culture and history of the area through multiple art mediums. From a perspective of recovery and growth, I am most looking forward to seeing individuals gain confidence in artistic self-expression.

"I believe that the social and creative nature of this project will have a meaningful positive impact upon members of the community, our service users, the creative practitioners and involved professionals alike."
Real Time Video's 'Imagine Belonging' project will provide vulnerable participants, particularly the homeless, adults and young people with mental health issues, and young people not in employment, training, or education (NEETs) with the opportunity to use digital media, art, and creative storytelling to explore the heritage action zone.
They will use video to explore the Oxford Road today and use old photos, historical information and Real Time video archive from previous Oxford Road projects will be used to start a creative journey. Participants can work both individually and in groups to produce digital multimedia artwork that reflects their experiences and discoveries.
Clive Robertson, Creative Director of Real Time, said:
"Understanding the heritage of where you live is a key factor to believing you are part of that community. Many marginalised people often feel excluded, Real Time targets its work to those with fewer opportunities and is pleased to be able to work in partnership with the HSHAZ to deliver a project that will use creative collaborative digital media to engage with some of the most disadvantaged people living on the Oxford Rd. Imagining and sharing new stories of engagement and belonging."
Cllr Adele Barnett-Ward, Lead Councillor for Leisure and Culture, said:
"I'm delighted that our High Street Heritage action programme continues to go from strength to strength, as we continue to unpick and shine a light on the fascinating stories our town has to tell.

"The Oxford Road has so much to offer, and by championing the voices of those people who know the area best, we can ensure the regeneration and longevity of one of our most important cultural and historical high streets."
ENDS
Notes to editors
Notes:
About High Streets Heritage Action Zones:
The High Streets Heritage Action Zones is a £95 million government-funded programme led by Historic England, designed to secure lasting improvements and help breathe new life into our historic high streets for the communities and businesses that use them. Historic England is working with local people and partners to unlock the rich heritage on these high streets, through repair and improvement works as well as arts and cultural programmes, making them more attractive to residents, businesses, tourists and investors.
https://historicengland.org.uk/services-skills/heritage-action-zones/regenerating-historic-high-streets/
About HSHAZ Cultural Programme:
Reading Council was awarded an £85,000 grant in May 2021 from Historic England as part of the Reading High Streets Heritage Action Zone (HSHAZ) to create and deliver community-led cultural activities within the HSHAZ area high streets over the next three years.
Reading is one of more than 60 towns within the HSHAZ national programme to receive a share of £6 million for their cultural work within the scheme. Grants of up to £120,000 have been awarded to local arts organisations for cultural activity on each high street. Reading's High Streets Heritage Action Zone team, led by Reading Borough Council and other partners, including The Museums Partnership Reading, will run a programme of exciting new cultural activities to complement the wider project over the next 3 years in three historic areas of Reading.
Planned activities include an open call for cultural community projects in the Oxford Road area, continuing the work of a recent pilot project 'Re-imagining the high street through your stories' which concluded with three exciting art projects courtesy of local artists Baker Street Productions, Gemma Anusa and Caroline Streatfield.
With the new funding, work can be continued from the pilot project on Oxford Road; grassroots community groups and cultural organisations will have the opportunity to lead cultural activities as well as having access to a mentoring scheme that aims to support groups to access funding in the future.
Other activities will be focused on the St Mary's Butts/Castle Street and Market Place/London Street heritage areas, with the theme of exploring and telling the hidden histories of these historic high street areas through community co-produced research and resulting in art installations in the local area.
This is part of the four-year-long High Streets Heritage Action Zones' Cultural Programme, led by Historic England, in partnership with Arts Council England and the National Lottery Heritage Fund. The Cultural Programme aims to make our high streets more attractive, engaging and vibrant places for people to live, work and spend time. The Council's wider High Streets Heritage Action Zone programme will run for 3 years until 31 March 2024. The project aims to breathe new life into the radial high street areas of Reading off of the immediate town centre.
About Historic England:
We are Historic England the public body that helps people care for, enjoy and celebrate England's spectacular historic environment, from beaches and battlefields to parks and pie shops. We protect, champion and save the places that define who we are and where we've come from as a nation.
We care passionately about the stories these places tell, the ideas they represent and the people who live, work and play among them. Working with communities and specialists we share our passion, knowledge and skills to inspire interest, care and conservation, so everyone can keep enjoying and looking after the history that surrounds us all.
Connect with the project via social media:
@hshaz_reading Instagram
@hshaz_reading Twitter
@hshazreading Facebook
You can also follow @HistoricEngland
#HistoricHighStreets
ACRE:
Website: https://acrereading.org/
Instagram: https://www.instagram.com/acrereading/
Twitter: https://twitter.com/acrereading
Facebook: https://www.facebook.com/ACRE.Reading.org
CGL:
Website: https://changegrowlive.org
Twitter: https://twitter.com/cglreading
Facebook: https://www.facebook.com/profile.php?id=100064111320324
Instagram: https://www.instagram.com/changegrowlive_reading/
Real Time:
Website: www.real-time.org.uk
Instagram: instagram.com/realtimevideo
Twitter: twitter.com/RealTimeVideoUK
Facebook: facebook.com/RealTimeVideo