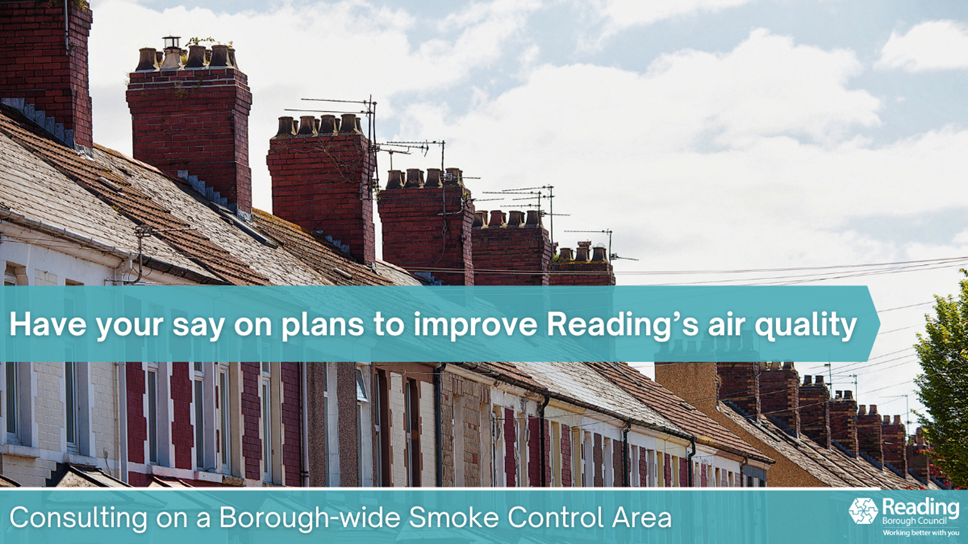 Have Your Say on Plans to Improve Air Quality Across Reading
Public consultation begins on proposals to create a boroughwide smoke control area for Reading
Residents have until October 16 to have their say
READING COUNCIL is inviting people to have their say on proposals to create a boroughwide smoke control area (SCA), as part of its ongoing drive to improve air quality and create a healthier Reading for residents.
SCA's allow local councils to take enforcement action to prevent smoke being emitted from the chimney of any building, furnace or industrial plant.
Solid fuel can be burned provided an appliance on the Defra approved list is used, or an authorised smokeless fuel.
Authorised fuel is easy to identify by the 'Ready to Burn' logo and is available to buy from reputable suppliers. It is an offence to sell unauthorised fuel for use in a SCA unless it is for use in a Defra approved appliance.
The local authority can issue a financial penalty of between £175 and £300 to the responsible person where smoke is emitted from a chimney within a SCA.
Households using an exempt appliance or authorised 'smokeless' fuel should not produce significant amounts of smoke and would therefore not be subject to enforcement action.
Currently, 62% of Reading already falls under an SCA. The new proposals will see the patchwork of SCA's replaced with a single Smoke Control Area covering the whole of Reading.
It is hoped this will make it simpler for residents to understand what the requirements are, contributing to the reduction of the harmful particulate emissions (PM2.5) and providing cleaner air and health benefits for those who live and work in the borough.
Reading residents are now being invited to feedback their views on plans to revoke the existing SCA's in Reading and replace them with a single SCA which covers the whole borough.
The statutory consultation began yesterday (4 Sep) and runs until 16 October. It can be viewed at: https://consult.reading.gov.uk/dens/the-reading-borough-council-smoke-control-order-20/
All comments will be considered before a final decision is then made by Councillors.
John Ennis, Lead Councillor Climate Strategy and Transport, said:

"This is an important step in protecting air quality in Reading and beyond, to limit the damaging effect on people's health.

"The consolidation of the smoke control orders currently in place will make it easier for households burning authorised fuels to understand the rules and, where necessary, help officers take enforcement action to tackle those whose smoke emissions have a detrimental effect on those around them.

"Whether you currently live in an active SCA or not, I would encourage all residents to have their say on these important proposals before the consultation closes in the Autumn."