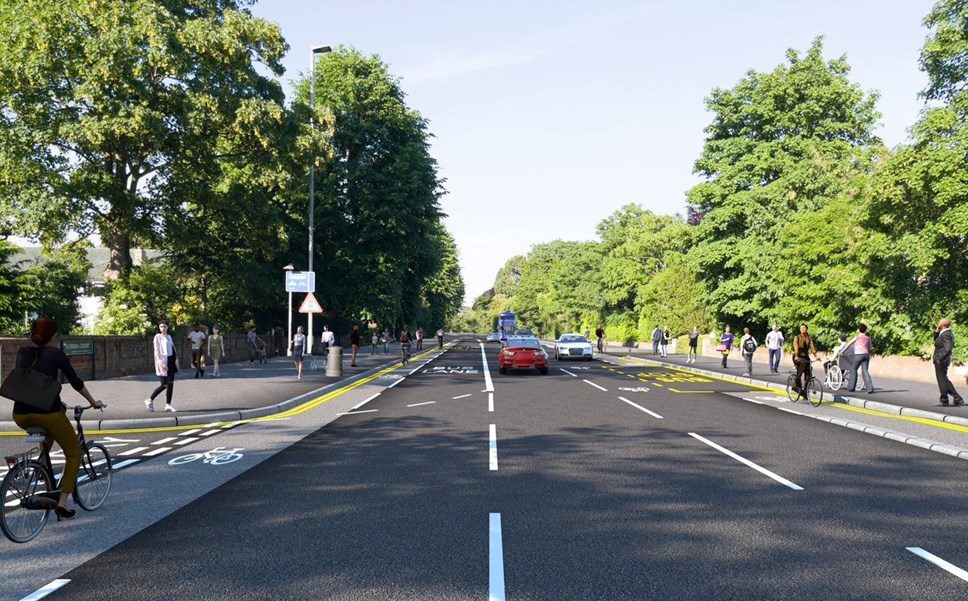 Have your say on Bath Road walking and cycling improvements
Proposed improvements to cycling and walking links on Bath Road between Berkeley Avenue and Castle Hill, running over the IDR to Castle Street.
Public consultation on the proposals launching on 7 July until 1 August 2022
Have your say at a consultation session at Walford Hall on 13 July
PEOPLE are encouraged to have their say on proposals for better cycling and walking routes on the Bath Road and Castle Hill - including fully segregated cycle lanes - as part of the next stage of Reading's Active Travel schemes.
The Council is looking at ways to improve cycling, walking and public transport on the Bath Road between Berkeley Avenue and Castle Hill/IDR roundabout; including the provision of safe, dedicated cycle lanes and new pedestrian crossing facilities.
We are undertaking a further consultation to seek feedback on the initial ideas for this scheme, which will help shape more detailed proposals.
The consultation is open from today, Thursday 7 July, until 5pm on Monday 1 August 2022. You can have your say online at: https://consult.reading.gov.uk/dens/bath-road-castle-hill
Visit a consultation drop-in at Walford Hall, Carey Street, Reading RG1 7JS, on Wednesday 13 July 2022 between 3:30pm and 7:30pm where you can talk to members of the project team and provide feedback in person.
Feedback from previous consultations relating to this scheme will be added to the current scheme response we are gathering.
Find out more about this scheme on the project page and on Reading's Active Travel programme here: www.reading.gov.uk/activetravel
View examples of before and after here:
Councillor Tony Page, Reading Borough Council's Lead Councillor for Climate Strategy and Transport, said:
"It has never been more important to promote realistic alternatives to the private car, so as to tackle congestion and improve air quality for the residents and local communities who live on these key routes. As part of our wider Climate Emergency Strategy, these proposals underline the Council's full commitment to tackling the poor air quality which we know exists in parts of Reading.
"By making these improvements we want to encourage more people towards active travel - leaving their car at home and travelling in by cycling, walking or catching the bus. Not only is this better for our environment, but it will also be better for people's pockets – reducing their travel expenses.
"Following our public consultation in 2021, over 60% supported or strongly supported the proposed mostly segregated cycle lanes from Southcote Road to the IDR. The Bath Road / Castle Hill scheme very much delivers a key 'missing link' which would allow cyclists to travel more safely to and from the Town Centre and across the busy IDR.
"It is important to note that the proposals for the Bath Rd/Castle Hill route are still early concept designs. We are keen to gather feedback from local residents, businesses and commuters on our proposals. I'd like to reassure anyone who took part in our previous consultations that their feedback will be added to this scheme response, so your valuable input will not be lost.
"Please take the time to share your comments online or drop in at our consultation session at Walford Hall on 13 July from 3.30pm."
Last year the Council undertook an initial engagement exercise on four proposals around Reading, and has now been awarded funding to deliver the Bath Road - Castle Hill scheme.
Earlier this year The Department for Transport (DfT) confirmed that Reading will receive 100% of its funding, a total of £1,300,000, as part of the national Active Travel Fund scheme.
The investment will add an important further 'missing link' in Reading's existing cycle network. It follows the cycling and walking improvements due to be implemented from the summer along the Shinfield Road in South Reading.
The outline scheme for Bath Rd/Castle Hill includes major improvements stretching from Berkeley Avenue, along the Bath Road to Castle Hill, then running over the IDR to Castle Street. It proposes reallocation of road space from general traffic to create segregated lanes for cyclists to and from the town centre.
These improvements will include the Bath Road / Castle Hill roundabout across the busy IDR junction and into and out of the town centre, alongside enhancements to facilities for pedestrians
Feedback will be vital in helping to shape the detailed designs. The aim is to deliver the scheme next Summer 2023.
Ends