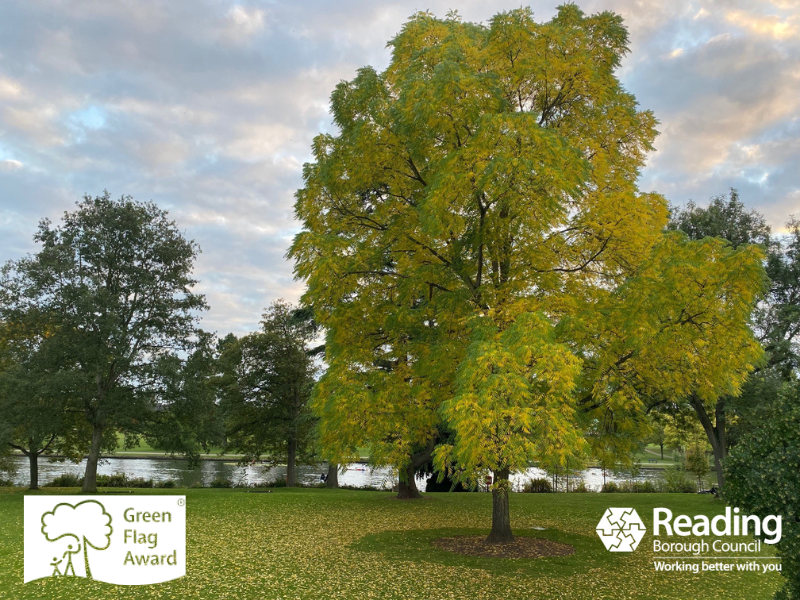 Green Flag Award 2021 recognition for two of Reading's most popular green spaces
The Forbury Gardens and Caversham Court Gardens have both received Green Flag Awards
Both sites have also received a Green Heritage Site award
A record-breaking year for the Green Flag Award, as the scheme marks its Silver Jubilee
TWO of Reading's most popular open spaces have once again been recognised as among the best in the country after receiving Green Flag and Green Heritage Site awards.
The Forbury Gardens and Caversham Court Gardens have both received Green Flag Awards.
In a record-breaking year for the Green Flag Award, as the scheme marks its Silver Jubilee, The Forbury Gardens and Caversham Court Gardens are two parks of 2,127 celebrating success this month.
The Green Flag recognises high-quality maintenance and excellent wildlife-and climate-friendly practices. This month, parks and green spaces across the country will be raising their Green Flag Award with pride in a time when millions of people have seen the value of having great quality green spaces on their doorstep.
As well as a Green Flag, both sites have also received a Green Heritage Site award, which is awarded for parks that have conserved their historical features to a high standard and maintain their historic character and appearance. Green Heritage Site awards are made to sites that have particular local or national historic interest.
To be recognised with a Green Flag award, parks or open spaces have to demonstrate not only that standard is maintained but that continuous improvements are being achieved.
Cllr Karen Rowland, Lead Member for Culture, Heritage and Recreation, said: "I am delighted that yet again, two of our most popular open spaces have been recognised by Green Flag. It is a clear reflection of the hard work put in by both the Council and from voluntary organisations throughout the year to keep these parks in such good condition.
"I would like to extend my congratulations to all of those involved in the maintenance of these open spaces for their achievement.
"More than ever, people are valuing our precious outdoor spaces. Spending time in our beautiful parks and open spaces is incredibly beneficial for everyone's physical and mental wellbeing."
"I'm particularly pleased at this award for the Forbury Gardens and Abbey Ruins, during the major anniversary year for this important site. 2021 is an incredibly auspicious year for Reading - marking 900 years since Reading Abbey, originally one of Europe's largest royal monasteries was founded by King Henry I of England. The Green Flag Award is a further string to the bow for the jewel in our town's heritage crown.
"This award also coincides with Reading's announcement of its Bid for City status, to mark the Queen's Platinum Jubilee in 2022. Our bid highlights Reading's wealth of culture, heritage and green spaces, of which the Green Flag and Green Award Heritage Site awards are testament to what great open spaces we have to offer."
Commenting on the news that two of Reading's parks have achieved the Green Flag Award standard, Green Flag Award Scheme Manager Paul Todd said: "I would like to congratulate everyone involved in making these Reading parks worthy of a Green Flag Award."
"To meet the requirements demanded by the scheme is testament to the hard work of the staff and volunteers who do so much to ensure that The Forbury Gardens and Abbey Ruins and Caversham Court Gardens have high standards of horticulture, safety and environmental management and is a place that supports people to live healthy lives."
The Green Flag Award scheme, managed by environmental charity Keep Britain Tidy under licence from the Department for Levelling Up, Housing and Communities, recognises and rewards well-managed parks and green spaces, setting the benchmark standard for the management of green spaces across the United Kingdom and around the world.
Ends
Notes to editors
About the Green Fag Awards
The Green Flag Award Scheme (http://greenflagaward.org/) is run by the environmental charity Keep Britain Tidy, under licence from the Department for Levelling Up, Housing and Communities, in partnership with Keep Scotland Beautiful, Keep Wales Tidy and Keep Northern Ireland Beautiful.
Keep Britain Tidy is a leading environmental charity. We set the standard for the management of parks and beaches, inspire people to be litter-free, to waste less and live more sustainably. We run campaigns and programmes including the Great British Spring Clean, Eco-Schools, Love Parks, Eco-Schools, the Green Flag Award for parks and green spaces and the Blue Flag/ Seaside Awards for beaches. To find out more about Keep Britain Tidy, our campaigns and programmes visit www.keepbritaintidy.org.
Any green space that is freely accessible to the public is eligible to enter for a Green Flag Award. Awards are given on an annual basis and winners must apply each year to renew their Green Flag Award status. A Green Flag Community Award recognises quality sites managed by voluntary and community groups. Green Heritage Site Accreditation is judged on the treatment of the site's historic features and the standard of conservation.