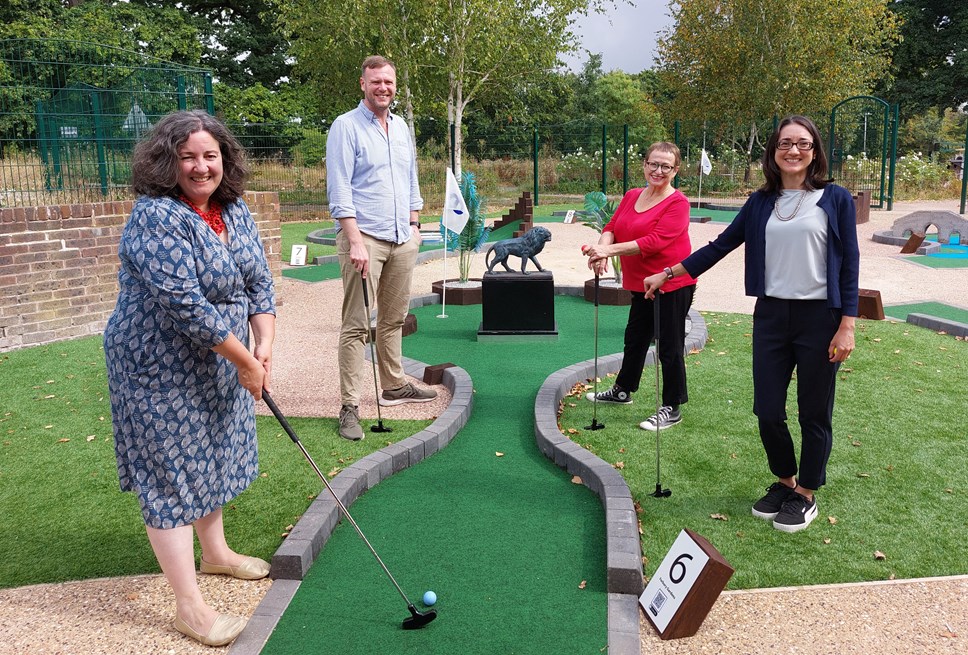 Get set for a hole-in-one at the Prospect Park Ranger Station
Exciting new play activity centre at Prospect Park
Mini-golf and Sky Tykes low ropes now open for play
THE RANGER STATION - a new destination for activities, entertainment and learning for families and children from across Reading and beyond - is now open and offering two exciting new activities.
Alongside the Council's £40 million investment in new leisure centres, sports facilities and swimming pools, it has also invested over £500k in a new play hub and activity centre in part of the pavilion building at Prospect Park.
The Council wants to drive-up participation in outdoor and active play, and the fantastic new facilities on offer now include mini-golf and Sky Tykes low ropes.
The unique Reading-themed outdoor family 9-hole mini-golf course is now open and ready for play 7 days a week with holes featuring Reading Abbey, the Blade, Reading Festival, and other iconic local landmarks. The attraction has been designed to be enjoyed by players of all ages and abilities: wheelchair access and specialist accessible putting equipment means everyone can join in and have fun. The mini-golf is open from 10am to 6pm weekdays and 10am to 4pm weekends. Find out more at www.reading.gov.uk/minigolf Prices start at £4.50 per person or £20 for family or group of 5, with no charge for children age 2 and under. Players are welcome to play through the course twice per session, making it a great value family activity.
The indoor 'Sky Tykes' low ropes course for younger children aged between two and seven, will be open from the 22 August. Sky Tykes is a fun, safe way for younger children to get active, develop their physical confidence and coordination skills. Prices start at £4.50 per child, for a 45-minute session, which includes entry for a responsible adult to chaperone them during the session (a chaperone can supervise a maximum of two children). Children can go around the course as many times as they like during the session.
The pavilion building now offers new accessible toilet facilities (including an accessible Changing Places facility) with access available on request at the kiosk. Ela's Coffee Bar offers refreshments from Tuesday to Sunday and can be found opposite the mini golf.
Coming later this year:
a café with indoor and outdoor seating;
a multi-function room for parties and meetings;
specialist teaching offer, including for those with special educational needs or disabilities (SEND) or excluded from mainstream education;
an outdoor education area including a climbing wall and team building activities, such as den building, archery, an outdoor classroom and much more to support Reading Play's educational outreach work with vulnerable young people. These activities will be used term time for Reading Play's educational support, group games and school visits. Public sessions will also be available.
Find out more about the Ranger Station here: www.reading.gov.uk/leisure/active-reading
View photos of the Ranger Station: https://flic.kr/s/aHBqjzW71d
Cllr Adele Barnett-Ward, Lead Councillor for Leisure and Culture, said: "I'm delighted to see our new Ranger Station at Prospect Park now open for play. It offers a new destination for families across Reading and beyond.
"We are delivering on increasing physical activity, health and well-being across the borough, with targeted work in the community to reach those in most need, and work towards reducing health inequalities. Alongside our major £40 million investment in modern new leisure facilities and swimming pools, all of which are well underway or completed, this development will help us increase leisure opportunities and in doing so significantly improve the health and wellbeing of our young people.
"We want everyone to feel welcome and have fun in our parks and sports centres, which is why the mini-golf has been designed to include people using wheelchairs and other mobility aids and we now have a Changing Places facility – a positive step in improving the accessible facilities for all users of Prospect Park.
"This development will allow our amazing Reading Play Service to expand the important educational work they do with vulnerable children from across the borough, providing a significant and valuable extension to our provision for vulnerable and SEND children in a fun, safe and welcoming environment. Income generated through paid activities will help support this vital work.
"I'm really looking forward to when our new café and other great facilities open, but it doesn't end there. The new activity centre is just one aspect of the enhancement and investment we are making into Prospect Park. This autumn we will begin construction on an exciting new playground with a solid focus on accessible equipment for children of all abilities. The winning £530,000 design was voted for by residents and will be open in time for the 2023 summer holidays, making Prospect Park a great destination for a family day out.
"I really enjoyed trying out the mini-golf amongst some of Reading's finest heritage buildings today, although sadly I didn't manage any holes-in-one. Why not head over to Prospect Park and give it a go?!"
The new play hub and activity centre is just one aspect of the enhancement and investment being made within Prospect Park. The playground has been prioritised for £530,000 improvements, particularly free accessible equipment for children of all abilities. The winning design for the play area was announced in July, with work on the new play area will start in the autumn this year and the play area open for the summer holidays in 2023.
Details for relocation and enhancements to the children's playground can be found here: www.reading.gov.uk/ProspectPlayground
The project is being funded from money secured via Section 106 agreements and from the Community Infrastructure Levy (CIL) – which are both contributions developers make towards local facilities.
Ends
Notes to editors
About Reading Play
Reading Play encourage learning opportunities and social experiences for 0 to 13 years olds through play. The team support vulnerable children with respite and use play as a tool to improve particularly vulnerable young people's social skills and wellbeing. Children's lives are enhanced by playing creatively, allowing for learning and development as individuals.
Targeted educational support includes:
Supporting young people with behaviour and development issues
Playground games and sport to encourage physical activity
Transition support – into new schools/classrooms
Special Educational Needs and Disability (SEND) support with educational attainment
Running out of school play-based learning programmes for children and young people who have no educational placement
School travel training service
Early years and schools training courses for organisations
Respite provision – young carers
Mentoring young people through play.
The team also provides Holiday Play Clubs.
This new development will allow the Play team to target work with children and young people by providing alternative learning experiences for children with special educational needs and disabilities, and activities aimed at reducing school exclusions and their impact. Income generated by public activities will be invested into targeted services offered to vulnerable children both on-site and in school.