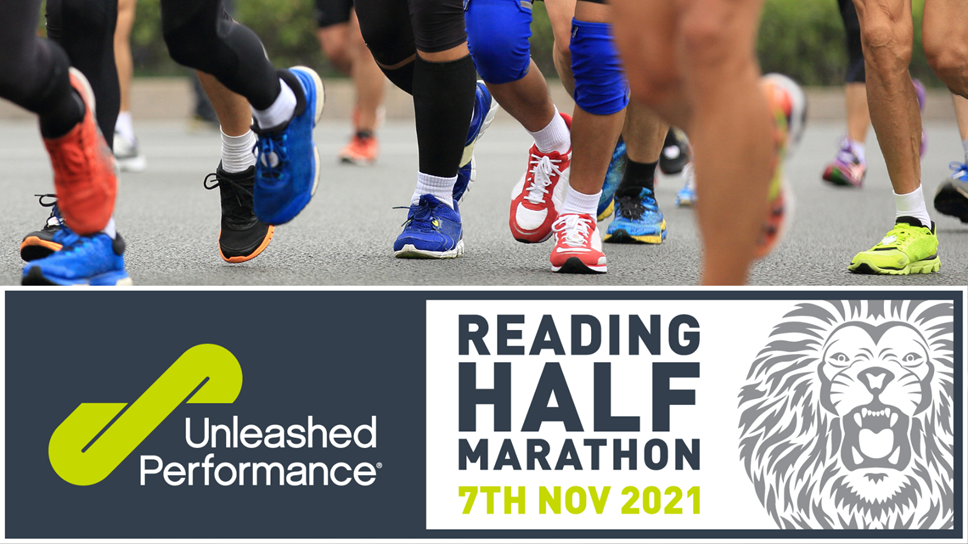 Get ready for the Unleashed Performance Reading Half Marathon
Unleashed Performance Reading Half Marathon returns on Sunday 7 November 2021
Residents and visitors are being asked to plan ahead and allow extra time for any journeys
THE STREETS of Reading will be taken over by thousands of runners on Sunday 7 November when the Unleashed Performance Reading Half Marathon returns.
As a result of the pandemic, the annual event has been scheduled for November 2021, compared to its usual date in April.
Participants taking part on the day range from elite athletes to enthusiastic amateur runners. Thousands of people are expected to run in the 13.1 mile half-marathon course which finishes in front of a huge crowd inside Select Car Leasing (formally the Madejski) Stadium. A further 1K will be taking part in the shorter Green Park Challenge.
As always there will be a number of road closures around the route of the half marathon throughout the day and these can be viewed at: www.reading.gov.uk/halfmarathon
The race organisers have worked closely with the Council to agree a full traffic management system to cause the minimum amount of disruption to residents and other road users.
Participants in the main race are due to gather at Green Park for a 10.00 am start when they will then embark on a route around Reading which takes in the University campus before they make their way into the town centre.
The runners will then travel westwards before heading south to the finishing line via the A33 Relief Road. A full route map can be found at www.readinghalfmarathon.com/pages/reading-half-marathon
A series of rolling road closures and diversions will be in place at a variety of times between 7 am and 4 pm. Roads will be re-opened as soon as runners have passed through and it is safe to do so.
Residents and visitors are being asked to plan ahead and allow extra time for any journeys they intend to make on the day.
Cllr Graeme Hoskin, Reading's Lead Councillor for Health, Wellbeing and Sport, said: "The Unleashed Performance Reading Half Marathon is a landmark event for Reading, as well as being one of the largest Half Marathons in the country. It is recognised as being one of the key annual events for runners nationally and brings huge numbers of visitors into the town.
"However, it is also very popular among enthusiastic amateurs locally who help raise thousands of pounds for good causes as they pound the streets of Reading. There is always a great atmosphere helped by the crowds of people who line the route to cheer on the participants.
"As always, there will be a number of road closures throughout the day. This is necessary to host such a large road race and residents are asked for patience and cooperation during the short time the race will be passing around Reading. I would encourage residents and visitors to check their journey plans ahead of Sunday 7 November. There is a residents' helpline available on the day on 0118 937 2771."
Judith Manson, Race Director, said: "There is no community quite like the running community. We cannot wait to be back together on race day - to not only celebrate our strength in overcoming one of the most challenging and unsettling times we've faced, but the incredible effort of our runners to continue their training and charity fundraising through the pandemic. We are working tirelessly for our come-back race, in collaboration with Reading Borough Council, partner agencies and stakeholders. Now is the time for Reading, and the rest of the UK, to light up with the magic of running, once again!"
On race day there will be around 700 people manning the route who play a vital role in making the race happen.
For up to date information and full details of all affected roads please visit www.readinghalfmarathon.com or call the Residents' helpline on 0118 937 2771.
Main arterial routes in the town centre will remain open:
North: A4074 Woodcote Rd to A4155 to IDR and A4155 Henley Rd to IDR. East: J10 – A329 Wokingham Rd – London Rd – Sidmouth St – Queen's Rd – IDR. West: J12 – Bath Rd – Honey End Lane – Tilehurst Rd – Water Rd & Grovelands Rd – Oxford Rd – Chatham St –IDR.
Access from the South will be restricted as runners get underway. Visitors travelling into Reading on the M4 are advised to use junctions 10 and 12 until 2 pm to avoid delays
Access to Hospitals: Royal Berkshire Hospital: Access from London Road ; Berkshire Independent Hospital : access from Bath Rd/Berkeley Avenue; Dunedin Hospital: access from IDR – Castle Hill – Bath Rd access lane (allow for delay). Circle Hospital: access via Basingstoke Rd and Manor Farm Road.
All Town Centre car parks will open as normal, apart from Oracle Riverside, which will open at 12.40 pm – use Oracle Holy Brook. Smallmead Household Waste Recycling Centre and access to Link Retail Park will open around 2.30 pm.
Ends
Notes to editors
The following roads can be closed at any point between 7am and 3pm, but as a guideline the closures will go on at the times stated below and will be removed as soon as it is safe to do so. Diversion routes will be in effect, but please allow extra time for your journey.
ROAD CLOSED (approx) AREA
A33 (southbound) 9.45am - 11.30am entire Bennet Rd gyratory system
Bennet Road 9.50am - 3.00pm entire length
Basingstoke Road 9.50am - 11.25am between Imperial Way & Callington Road
Island Road 9.30am - 2.35pm entire length
Hartland Road 9.30am - 11.40am entire length
Whitley Wood Road 9.30am - 12.00pm between Hartland Road & Shinfield Road
Shinfield Road 9.30am - 12.30pm between Whitley Wood Road & Christchurch Road
Pepper Lane 9.30am - 12.30pm entire length
Christchurch Road 9.30am - 12.30pm entire length
Kendrick Road 9.30am - 1.00pm entire length
London Road 9.45am - 12.40pm between Sidmouth Street & Crown Street
London Street 9.00am - 12.40pm entire length
Mill Lane (north & southbound) 7.00am - 12.40pm entire length
Duke Street 9.30am - 12.40pm entire length
Thorn Lane 9.30am - 12.40pm entire length
Yield Hall Place 9.30am - 12.40pm entire length
Minster Street 9.30am - 12.40pm entire length
Gun Street 9.30am - 12.40pm entire length
King Street 9.30am - 12.40pm entire length
King's Road 9.30am - 12.40pm between Abbey Street and King Street
Abbey Square 9.30am - 12.45pm entire length
Abbey Street 9.30am - 12.45pm entire length
Abbots Walk 9.30am - 12.45pm entire length
The Forbury 9.30am - 12.45pm entire length
Butter Market 9.30am - 12.45pm entire length
High Street 9.30am - 12.45pm entire length
Market Place 9.30am - 12.45pm entire length
Blagrave Street 9.30am - 12.45pm between Valpy Street and Friar Street
Valpy Street 9.30am - 12.45pm entire length
Friar Street 9.00am - 12.50pm between Blagrave Street and West Street
Station Road 9.30am - 12.50pm entire length
West Street 9.00am - 12.50pm entire length
Oxford Road 9.30am - 1.05pm between West Street and Bedford Road (restricted access from 9am)Russell Street 9.30am - 1.00pm entire length
Tilehurst Road 9.30am - 1.15pm between Russell Street and Liebenrood Road
Liebenrood Road 9.30am - 2.00pm entire length
Bath Road 9.30am - 1.50pm between Circuit Lane and Coley Avenue
Castle Hill 9.30am - 1.50pm entire length
Coley Avenue 9.30am - 1.40pm between Bath Road and Berkeley Avenue
Berkeley Avenue 9.30am - 1.55pm between Elgar Road and Shaw Road
Rose Kiln Lane (northbound) 9.30am - 1.55pm between Berkeley Avenue and junction with A33
A33 (northbound) 9.30am - 3.00pm between Bennet Road and IDR
Lindisfarne Way 9.45am - 11.30am westbound - no access to A33
Longwater Avenue 7.00am - 3.00pm entire length
Brook Drive 7.00am - 3.00pm entire length
Northern Way 7.00am - 4.00pm entire length
Hoops Way 7.00am - 4.00pm entire length
Shooters Way 7.00am - 4.00pm entire length