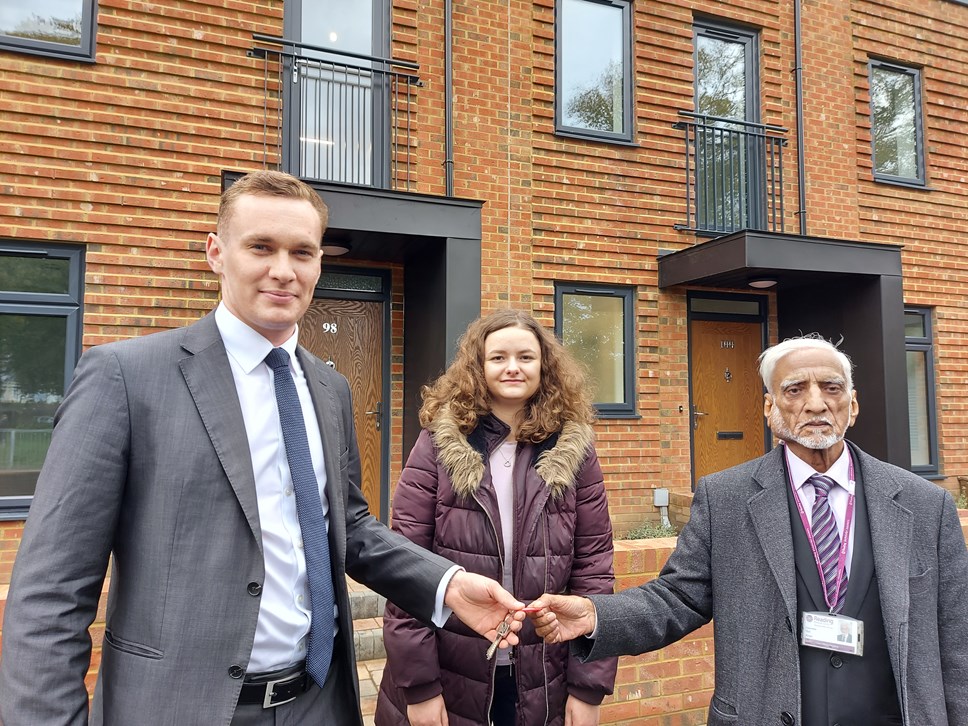 George Street affordable housing heralds new era of high quality, environmentally friendly council homes
Four new high quality affordable homes built in George Street will go to residents on Reading's housing register
Development marks the start of an £80m Council investment in over 300 affordable new homes in Reading over four years
Council new build homes combine environmentally friendly features such as triple glazing and solar panels with high quality finishes
FAMILIES on the housing register in Reading are preparing to move in to the council's highest quality and most environmentally friendly affordable housing yet, after it took possession of four new properties on George Street.
Reading's Lead Member for Housing, Ellie Emberson, and Battle ward councillor Gul Khan, received the keys from Richard Hibbert, Contracts Manager for NFC Homes who built the new houses.
The development of two ground floor flats and two 2-bed maisonettes marks the beginning of an ambitious new build housing plan from Reading Borough Council that will see over 300 new affordable homes built over the next four years. This £80m investment in home building will help reduce the housing waiting list and provide affordable rent properties to Reading's residents, including provision for adult social care, sheltered housing, key workers and those on the housing register.
The construction of the George Street development, and future Council homes, will provide a new benchmark for council housing standards. The homes have quality carpet and vinyl flooring throughout, acrylic splashbacks, fitted kitchens, built in wardrobes and towel rails amongst the improved look and feel available to council tenants.
The environmental aspect of the George Street development and future housing stock is also at the heart of the Council's plans as it responds to the climate emergency by leading in ways to become carbon neutral. The George Street homes include renewable energy solar panels on roofs, triple glazing and mechanical ventilation to reduce the amount of energy needed to heat homes via heat recovery, all leading to lower bills for tenants. There are also low energy water systems in place.
The George Street homes also highlight the Council's objective of looking for innovative ways to make use of derelict buildings or unused land to provide affordable housing that the people of Reading can call home. The four properties have been created on an unused piece of land which formerly had just one house on it, making the most of a small pocket of land to benefit those on the housing register.
Councillor Ellie Emberson, Lead Member for Housing, said:
"I am hugely impressed by the quality of the George Street development. We want to provide high standard, affordable homes that those on our housing register can take great pride in calling home and George Street achieves that. With over 300 new homes being built to such a high standard but that also fit with our environmental goals and make use of derelict or disused land around the borough, there is an exciting future for social housing and our tenants in Reading".
The Council's new build programme, which currently also has builds in progress on North Street and King's Road amongst others, will next see 18 families move in to new homes in a brand new development on Lyndhurst Road early next year.