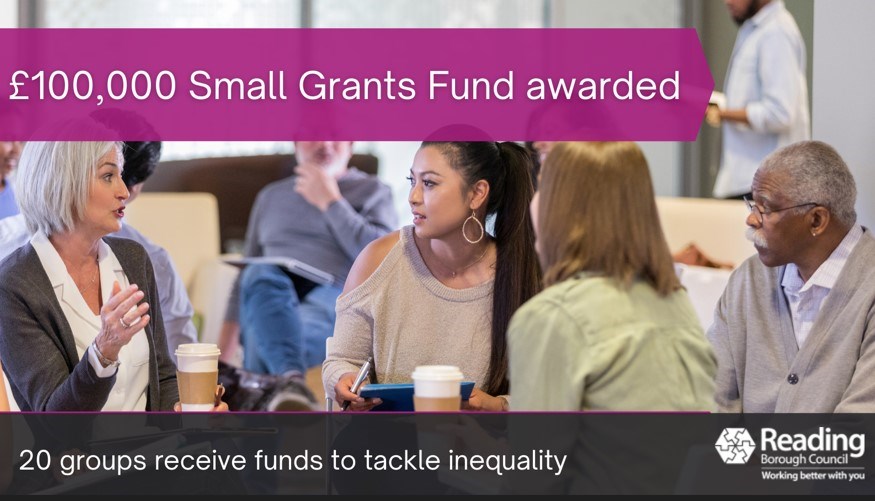 £100,000 in Council Grants Awarded to Help Our Communities
Twenty organisations share £100,000 to help residents across Reading
Projects to help people gain skills, education and employment – full list below
TWENTY organisations have been awarded Council grants totalling £100,000 to run activities tackling inequality encountered by some of Reading's residents, including vulnerable adults and children.
The Small Grants Fund will help community and voluntary organisations play an active role in giving people opportunities making Reading a more equal place to live for everyone.
This year, the Council invited bids with the theme of tackling inequality through community-led projects and activities which drive attainment of skills, education, training, and access to employment. Groups were invited to bid for grants of £5,000 each or £10,000 for partnership bids.
In total 95 applications were received and assessed against the set criteria and 20 were selected to receive the funding. The grants are part of Reading Borough Council's commitment to do all it can to ensure every resident can share in the town's success, no matter what challenges they face or their background. The Council also wants to support the area's voluntary and community sector's projects and activities to encourage more grassroot and innovative initiatives.
Councillor Jason Brock, Reading Borough Council Leader, said:
"Many residents will benefit from this injection of funding. The selected organisations work directly with people facing a variety of barriers in their lives and provides the opportunity to build the skills needed to get into education and employment.
"Giving people the chances, and the choices, they need to up-skill or get into employment contributes to making our town an incredible place. This is why the Small Grants Fund is so important – it supports projects at grassroots level across our community.
"It is also encouraging to receive so many applications for funding. It shows the range of ideas and opportunities within the local voluntary and community sector, and we'll work with unsuccessful bidders to help them refine their projects."
Councillor Liz Terry, Lead Councillor for Corporate Services and Resources, said:
"We are committed to helping community and voluntary groups of all sizes to tackle inequality in Reading. The benefits to people this money will bring is just fantastic. We are dedicated to giving people access to skills and learning in areas where it is needed the most, so they can contribute and enjoy our town along with everyone else.
"We look forward to hearing back from our community and voluntary groups who receive Small Fund Grants to tell us about the residents who have benefitted them.
"We would also like to thank Reading Voluntary Action, among other organisations, who helped to spread the word about the grants and held a network meeting helping organisations apply."
A second round of applications for the Small Grants Fund - again totalling £100,000 – will open to organisations in the autumn.
The successful bidders in the first round of the 2023 Small Grants Fund are outlined below and in this Decision Book :
Age UK Reading: Creation of a new dementia club in north Reading for up to nine people with the disease and their carers. Includes recruiting and training staff and volunteers to run the club.
Baker Street Area Neighbourhood Association (BSANA): Annual Street party specifically targeted to increase knowledge and awareness of the climate emergency though a fun and engaging event.
Becoming Mums-partnership with Alana House: A community project run by PACT which provides a holistic and trauma-informed approach to support and empower post-natal women facing multiple disadvantages through creative workshops and peer-on-peer support.
Berkshire Women's Aid (BWA): Providing one-to-one and group work to support the most vulnerable children at a crucial stage of development. Reaching families from diverse communities who are less likely to engage with mainstream services, and where domestic abuse, in all its forms, is often hidden and not talked about.
Browns Community Services CIC: Creating a support worker and project manager for the 4Es to Employment programme which builds self-confidence and self-esteem so individuals can access volunteering, training, and employment.
Caversham Muslim Association (CMA): Recruiting a Community Development Coordinator and the provision of youth activities and education as well as sessions specifically for women.
Dance Reading: Vocational training for 15 young people experiencing socio-economic disadvantage and disability. To give the opportunity to carry out tailor-made work experience and the opportunity to gain UCAS points to assist with their future.
Dingley's Promise: Providing dedicated small group support for up to four children over 24 weeks using new resources and techniques to address emotional and social needs. Contributing to the sensory library and holiday play schemes working with 50 outreach families and to giving respite to carers.
Double Okay – Partnership with Rising Sun Arts Centre: To continue collaboration with the Rising Sun Arts to run creative, arts-based activity sessions for the LGBTQIA+ community and provide a Queer Social Team to facilitate socialising for those at risk of isolation, health and social inequalities, discrimination, and loneliness.
First Days Children's Charity: Part-funding the Safe Place to Sleep Project to ensure children in Reading get a bed, bedding, or a mattress if parents cannot afford it.
Grassrootz: Launching youth provision in the Dee Road area giving opportunities, positive experiences and activities to the young people living there.
Lynn Everett (St Matthews): Providing food, utilities and running costs, friendship, and support to the residents of Southcote through the winter.
Me2 Club: Continuing support for 28 children with additional needs and disabilities in the Reading area and expanding the program by recruiting 10 volunteers to serve a greater number of children.
No 5 Young People: Providing urgent support to vulnerable and distressed children and young people through specialist counselling so they can go on to thrive and achieve in all areas of their lives.
Parenting Special Children: Providing a specialist triage service for families facing complex challenges. Enabling the provision of advice, referrals and information about partners who can also provide immediate assistance.
Parents And Children Together, PACT: Providing funding towards an additional Bounce Back 4 Kids Support Worker to support more than 10 domestically abused children and adults to heal from trauma.
Rank & File Theatre: To assist with providing weekly access to theatre studio rehearsal rooms at South Street Arts Centre and transport costs for disabled participants with access needs.
Reading Welfare Rights: Running one-to-one sessions to advise and empower parents, guardians, or carers of adults with learning disabilities to be able to submit good quality benefit applications on behalf of the adults they are caring for.
South Reading Over 50s Social Club: Providing social opportunities for vulnerable older people in Whitley Wood and South Reading. This includes providing a once-a-month hot meal delivery, and volunteer recruitment.
Sport in Mind: Providing a weekly football session for 12 students or refugees with English as a second language for an academic year and 10 sport, exercise, and mental health workshops across south Reading giving 300 young people a greater understanding of mental health and the benefits sport and physical activity can have on wellbeing.