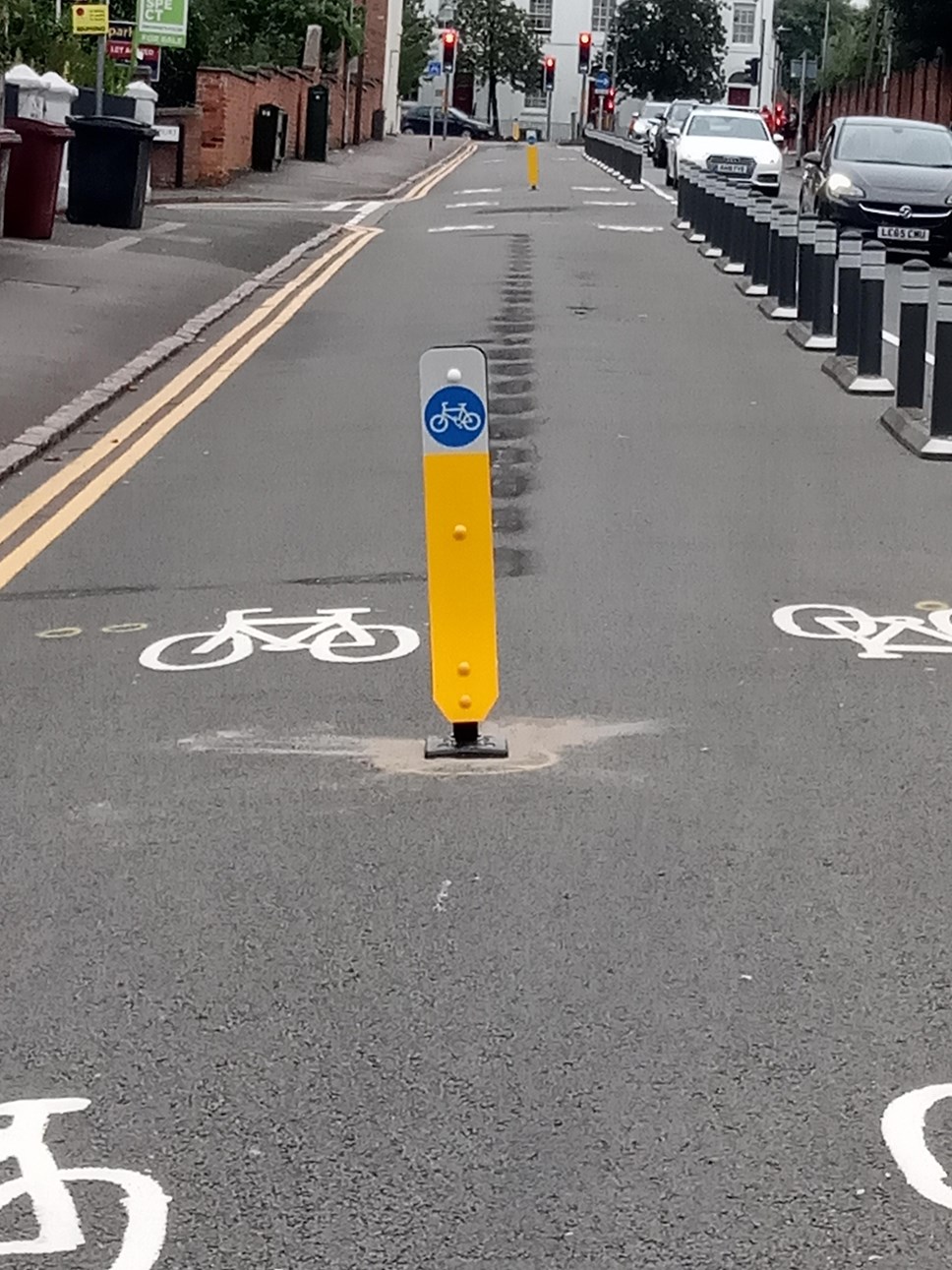 Future of Sidmouth Street Cycle Lane to be Considered Next Week
Recommendation to make the fully segregated cycle lane at Sidmouth Street permanent
Cycle lane is a stepping stone to improved cycle links in the area when funding becomes available
Councillors will discuss the recommendation next week
A RECOMMENDATION to make the segregated two-way cycle lane on Sidmouth Street permanent, as part of a plan to link it to an expanded and much-improved future local cycle network, will be considered by Councillors next week.
Whilst acknowledging that, seen solely in isolation, the Sidmouth Street scheme is not ideal, Council officers believe it forms an important foundation for future bids for funding for new cycle lanes linking to Sidmouth Street. These include improving cycling links to the Kennet tow path and making enhancements to where it joins with the existing shared-use cycle path on London Road and Wokingham Road.
The cost of delivering these important links exceeds the Council's current Active Travel funding envelope, but officers believe Reading will be able to present a much more credible and powerful case for future funding opportunities if the Sidmouth Street cycle lane remains in situ, rather than being removed at this time.
The fully segregated Sidmouth Street cycle lane already links to shared-use cycle lanes along London Road and Wokingham Road. It will also shortly provide a key link to the permanent new Active Travel cycle lane which will be built by the Council along the Shinfield Road. Physical work is due to begin on this key strategic cycle link imminently which, when complete, will extend between Christchurch Green and Whitley Wood Road, linking south Reading and the Royal Berkshire Hospital, the University of Reading, local centres and Reading Town Centre.
Councillors will consider the results of a recent statutory consultation on the future of the Sidmouth Street cycle lane, alongside the officer recommendation to make it permanent, at a meeting of the Council's Traffic Management Sub-Committee on Wednesday September 14. The TMSC report can be found at https://democracy.reading.gov.uk/documents/s23306/07%20Results%20of%20Stat%20Consult%20-%20SidmouthSt%20ActiveTravel.pdf
Tony Page, Reading Borough Council's Lead Councillor for Climate Strategy and Transport, said:
"The Sidmouth Street cycle lane has been the subject of some understandable discussion since its introduction, which is reflected in the published consultation results.
"Nobody is claiming that the current facility viewed in isolation is ideal, but the piecemeal nature of Government funding opportunities for cycling infrastructure means that we must consider not only the current position, but also the impact on possible bidding opportunities which may present themselves in the future. Officers acknowledge Sidmouth Street is an important building block towards an expanded local cycle network in the areas which will link to it. The fact remains that removal of the scheme at this time would undoubtedly weaken our position in relation to future bids for funding.
"We remain wholly committed as a Council to delivering realistic alternatives to the private car, benefitting local air quality, people's health and our target of net-zero carbon by 2030. In that context, it is also important to recognise the present day benefits of a fully segregated cycle land on Sidmouth Street, which links to shared-use cycle lanes along London Road and Wokingham Road. Those benefits will increase further once the new Shinfield Road cycle lane is complete, which we expect will further encourage use of the Sidmouth Street lane by cyclists.
"I'd like to thank every individual and organisation for taking the time to respond to this important consultation. It is worth noting the final decision is not based on numbers of responses. Councillors will need to take into consideration the arguments made for and against in those responses, alongside the wider context of possible future improvements to the local cycle network."
The fully segregated two-way cycle lane on Sidmouth Street was first introduced in the summer of 2020 under emergency measures in the early part of the Covid 19 pandemic. As part of the funding rules, the Government directed local councils to install and promote new active travel options quickly, and without any public consultation, to help with social distancing. The cycle lane has subsequently remained in place, albeit with temporary status until this time, pending the Council's recent statutory consultation.
Should a permanent scheme be agreed, officers have committed to undertaking investigations into options that will facilitate greater linking to the surrounding cycle network and aim to enhance the use of the Sidmouth Street facility. These works will be costed, designed and funding sources investigated and reported to an appropriate subsequent committee.
A permanent Sidmouth Street scheme would benefit future cycling initiatives within the Council's already approved Local Cycling and Walking Infrastructure Plan, and the more recent Bus Service Improvement Plan. More information about both of these can be found here: https://www.reading.gov.uk/vehicles-roads-and-transport/transport-strategy/