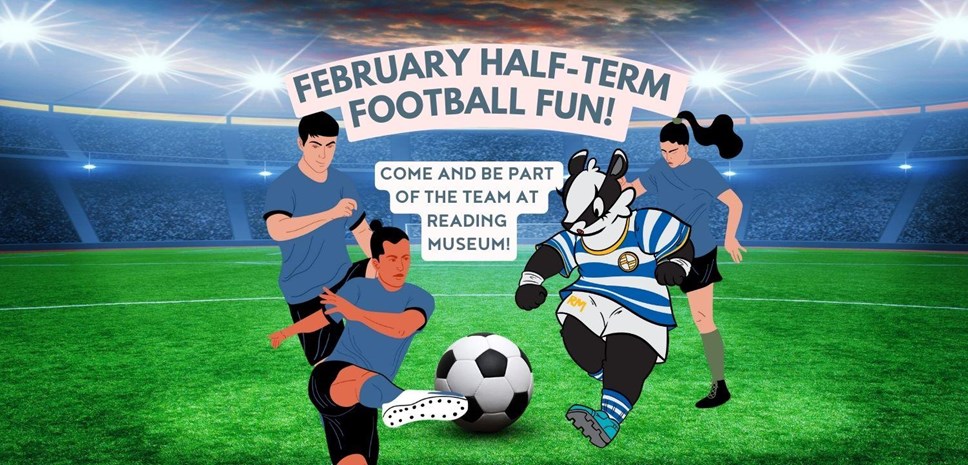 Fun-packed half-term for families in February
Free and low-cost activities on offer this February half-term across Reading
Theatres, crafts, arts and activities to keep the kids entertained, offerings for children of all needs and abilities
FAMILIES can look forward to a treat this February half-term, with plenty of exciting creative activities on offer across Reading.
Reading Arts is hosting lots of great theatre and spoken word experiences at South Street. World record-breaking beatboxer SK Shlomo is bringing his Beatboxing Adventure for Kids to Reading on Tuesday 22 February at 11:30am and 2pm! Join the sonic superhero in a world of funny sounds, brilliant noises and cool music, tickets £12.
Half Moon Theatre is throwing a birthday party to remember at South Street on Wednesday 23 February. 'PARTY' features striking, colourful designs and a glorious contemporary soundtrack for children ages 2-5 years and their families. 11:3 am and 2pm.
Visit the What's On at South Street page for more information and to book your tickets at https://whatsonreading.com/venues/south-street/whats-on/.
Over at the Hexagon, the Royal Philharmonic Orchestra's out-of-this-world 'It Came From Outer Space' Noisy Kids concert is landing, featuring music inspired by galaxies far, far away. These fun and accessible performances are designed for families to discover their new, favourite orchestral music, with fancy dress encouraged! On Saturday 26 February at 11:30, to find out more and to book visit the What's On at the Hexagon page at https://whatsonreading.com/hexagon/whats-on/.
Check out the What's On Reading website at https://whatsonreading.com/ – the one-stop-shop for listings and bookings for the town's arts, culture and heritage events.
There's football fun to be had at Reading Museum in celebration of Reading FC's 150th Anniversary, including a special Monday opening! The Big Football Hunt is on all week during half-term, families are challenged to find all of the hidden colourful footballs around the museum galleries to claim a prize. Saturday 19 February to Saturday 26 February, tickets £1. Visit the museum's website at www.readingmuseum.org.uk for more information.
Half-term holiday club booking available at The Hill Primary School at Peppard Road, Emmer Green, between 21 and 25 February. Bookings can be made direct on Kids Club accounts. Contact reading.play@reading.gov.uk for more information.
Chance to Dance Stars CIC is offering Short Break Activity Days for young people aged 5 to 25 with SEND, during the half-term and beyond! The all-singing, all-dancing days include Zumba Kids, Yoga, and Generation POUND workouts. Half-term sessions are available on 20 and 27 February.
SEN Theatre workshops with Make/Sense Theatre are fun and inclusive drama and movement workshops for young people with learning disabilities and/or autism. Hosted at the Avenue School on 24 - 26 February.
Both the Chance to Dance and Make/Sense theatre activities for children and young people with SEND are part-funded by Brighter Futures for Children.
Check out the Reading Services Guide at http://search3.openobjects.com/kb5/reading/directory/service.page?id=91dKVfbNOnE&familychannel=3 to book or for more information on local half-term offerings for young people with SEND.
Cllr Karen Rowland, Lead Member Culture, Heritage and Recreation, said:
"If you're looking for something to keep the kids entertained this February half-term, I'd thoroughly recommend checking out all the great activities we have on offer at some of the brilliant venues across Reading - many of which are free or very low cost!
"The football-themed fun at Reading Museum will be a brilliant way to spend the afternoon to have fun and learn about the fascinating history of our town's club. We're honoured as ever to be welcoming the Royal Philharmonic Orchestra back to the Hexagon, for a bit of fancy-dress activity and a chance to shoot to the stars!
"Additionally, we're thrilled to be able to offer brilliant theatre opportunities for children and young people with accessibility needs thanks to Make Sense Theatre and Chance to Dance Stars. This half-term, there's truly something to suit everyone!"
ENDS