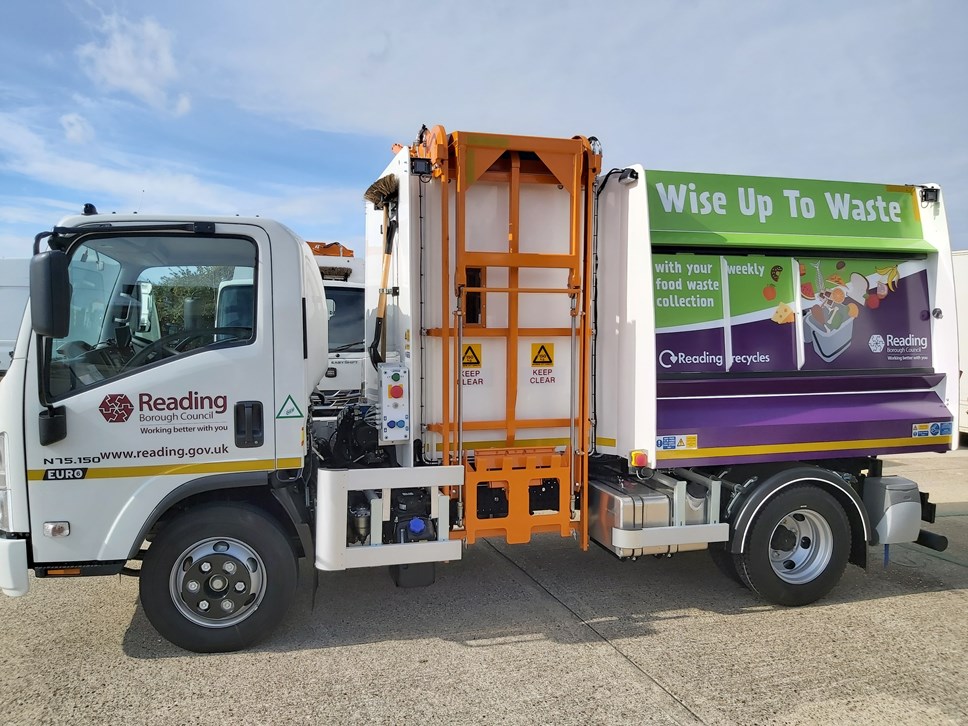 Food Waste Recycling Starts In Reading This Week: Most Residents Will Also Get A New Collection Day
Around 80% of residents will have a change in their waste and recycling collection day from this week
Change comes in alongside new weekly food waste collections
240l grey bins to be swapped for 140l bins to encourage participation in the scheme and greater recycling
Food waste recycling collections have begun in Reading this week for most residents, along with a change to their waste and recycling day.
Collection days have changed for around 80% of residents, starting this week, and you can find out your new day here: www.reading.gov.uk/bin-calendar. The changes have been made to allow food waste collections to take place on the same day as recycling and household waste collections. The food waste will be collected by a separate food waste crew and truck so food waste bins will not be emptied at the same time as recycling or household bins.
Throughout January waste crews have been delivering indoor 5 litre kitchen caddies and outside 23 litre food waste bins, along with rolls of caddy liners, to help over 50,000 households to make full use of the free new weekly service.
It means that plate scrapings, stale bread, mouldy food, tea and coffee bags, meat and fish bones and everything food, except for packaging, can now be recycled instead of being sent to landfill. 3,000 'early adopter' households have been trialling the scheme since October, which successfully tested the logistics and communications to residents. You can see one resident's reaction to the scheme and how it is working for him here: https://www.youtube.com/watch?v=LGUPU66ug4I
With up to 41% of the weight in household waste collections being food waste, the new service will help residents to boost their recycling rate, and that of the Borough in general. To ensure residents get behind the scheme and make use of their caddies to recycle more, over the next few months 240 litre grey bins will be replaced by smaller black 140 litre bins, with the old ones reused or recycled into new bins.
A further 18% of the average grey bin waste could go in the red mixed recycling bins which are collected from properties, or be taken to bottle and textile banks around the Borough. To help residents manage the change, additional red recycling bins can be ordered here.
By engaging with the scheme, residents can help stop food waste going to landfill where it rots and releases methane, a harmful greenhouse gas. It is also cheaper to recycle food waste, with every lorry load of food composted instead of being sent to landfill saving £100. Recycled food waste can then be turned into fertiliser for farming, and electricity to power homes.
The food waste scheme adds to the range of recycling options available to help raise the town's recycling rates beyond its target of 50%, along with mixed recycling collections, the re3 recycling centre in Island Road and many bottle and textile banks around the Borough.
Reading Borough Council's Lead Member for Neighbourhoods and Communities, Adele Barnett-Ward, said: "We are asking residents to make sure they are aware of their waste and recycling collection day as the majority of them will see a change. That day will also be the one on which they can recycle their food waste every week, an exciting and very beneficial addition to our recycling services to help make Reading more environmentally-friendly".