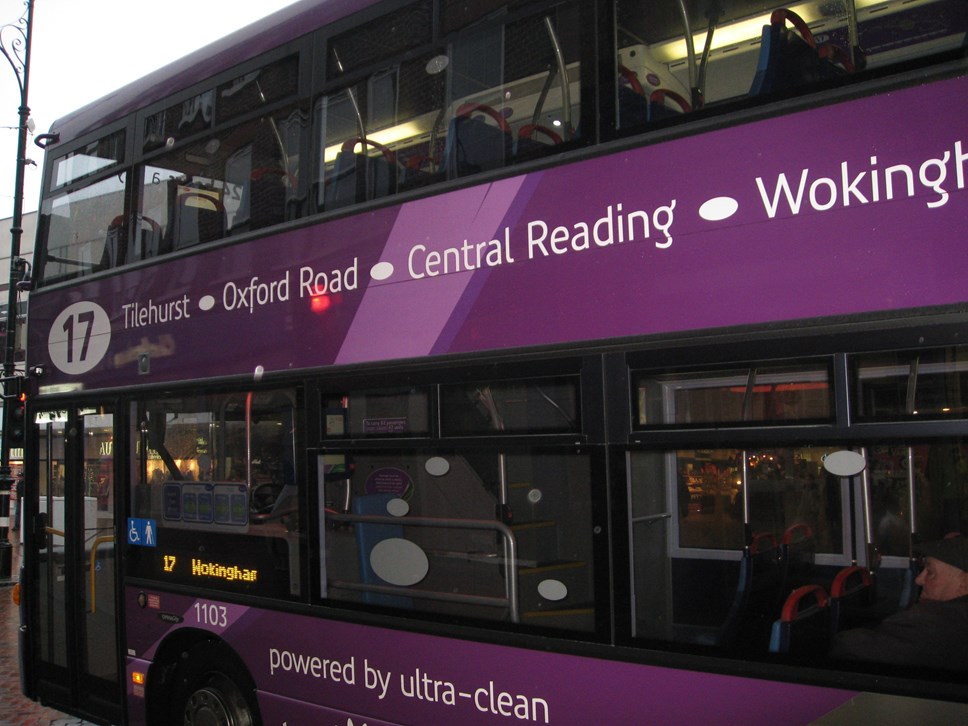 Five-Year Blueprint for Improvements and Major Investment in Reading's Bus Services
The Council has published a five-year blueprint for bus services in Reading
The plan underpins a powerful case for Government investment
A FIVE-YEAR BLUEPRINT for further enhancing Reading's award-winning bus services for passengers has been published by the Council.
Reading's Bus Service Improvement Plan (BSIP) outlines how the Borough Council and local bus operators will work in partnership to deliver an even better experience for passengers boarding buses in Reading. The Government has committed to investing in local bus services to help patronage recover from the reduced levels of usage as a result of the health pandemic. The BSIP is the strategy document that will now underpin the Council's strong case for central Government investment in bus services in Reading.
Reading's BSIP can be found at https://www.reading.gov.uk/BSIP/ and will be discussed at a meeting of the Council's Strategic Environment, Planning and Transport Committee on Tuesday November 16 (https://democracy.reading.gov.uk/documents/s19989/11%20Bus%20Service%20Improvement%20Plan%20-%20SEPT%20Report%20Nov%202021.pdf)
The document outlines the context of bus services in the town, with details of high passenger numbers and satisfaction which grew for seven consecutive years prior to the pandemic. Reading now boasts the second highest bus use per head of population in England outside of London, prior to the pandemic, with over 20 million passenger journeys every year.
It details routes and frequencies of current bus services across the town and highlights the existing network of bus priority measures already successfully implemented in Reading including; bus lanes; bus gates and signal priority junctions; the town centre bus loop restrictions; initial phases of the South Reading BRT (Bus Rapid Transit) scheme on the A33 growth corridor; and the introduction of the first red route outside of London on the town's busiest bus route, purple 17.
As well as outlining plans for future investment in infrastructure to serve the Reading Urban area, including benefits which extend beyond borough boundary lines, the BSIP goes on to list a number of future ambitions to make bus services in Reading even better. These include:
Further investment on key bus corridors and routes that are easier for passengers to understand
Seamless and integrated local ticketing between operators and across all modes of transport
Significant increases in bus priority and the transformation of bus networks through bus rapid transit and other measures
Further decarbonisation of Reading's bus fleet
Bus services that are seen as safe by passengers
Lower and simpler fares
Giving passengers more of a say through the creation of a 'Passenger Charter'
Tony Page, Reading Borough Council's Lead Councillor for Strategic Environment, Planning and Transport, said:
"Bus services in Reading are widely acknowledged as some of the very best in the country with over 20 million passenger journeys every year putting us second in the country outside of London for bus trips per head of population. The range of routes available provide easy and quick access to key destinations like the Royal Berks Hospital, the University of Reading and the Town Centre, and bus services are supported by important bus priority corridors across the town, which minimise delays for passengers and increase reliability.
"The Government's commitment to invest in local bus services has never been more essential and we believe our strong track record of delivering high quality and reliable bus services makes Reading an ideal candidate for significant investment.
"A key thread through our strategy is working in partnership with all of Reading's bus operators and neighbouring local authorities. Indeed a number of the future ambitions outlined in the document - such as integrated local ticketing between operators and lower and simpler fares – require a level of co-operation across operators and the Council.
"We firmly believe investment in Reading's bus services is a priority if we hope to recover patronage which has been lost due to the health emergency. Current usage rates in Reading stand at 64% of what they were before the pandemic. It is essential in terms of air quality, congestion and public health that we attract back those lost passengers in the short term, and in the longer term grow passenger numbers beyond what they were pre-Covid. The only way to achieve that is to make further improvements to services, whether that be investing in more bus routes, better bus frequency, quicker and more reliable journey times, an even greener fleet and easy and integrated ticketing across all forms of public transport.
"All of these ambitions are laid out in Reading's BSIP published today. I hope the Government will respond with positive funding announcements on future investment in Reading's bus services."
The National Bus Strategy was published in March 2021 as part of a £3 billion funding package. It sets out how the Government intends to deliver on its commitment to achieve ambitious and far-reaching reform of the bus services sector. The strategy requires each Local Transport Authority (LTA) to produce a BSIP for their area, which must be published by October 31st. It also requires all transport authorities, such as Reading Council's, to establish Enhanced Partnerships as a key element with local bus operators.
Published BSIPs will provide an early basis for Government funding decisions in the autumn and winter in preparation for the financial year 2022/23 when new funding arrangements are due to begin.
Reading's BSIP has been prepared with the active engagement of all local bus operators, including the Council-owned Reading Transport Limited, and all neighbouring local authorities in the Greater Reading urban area.