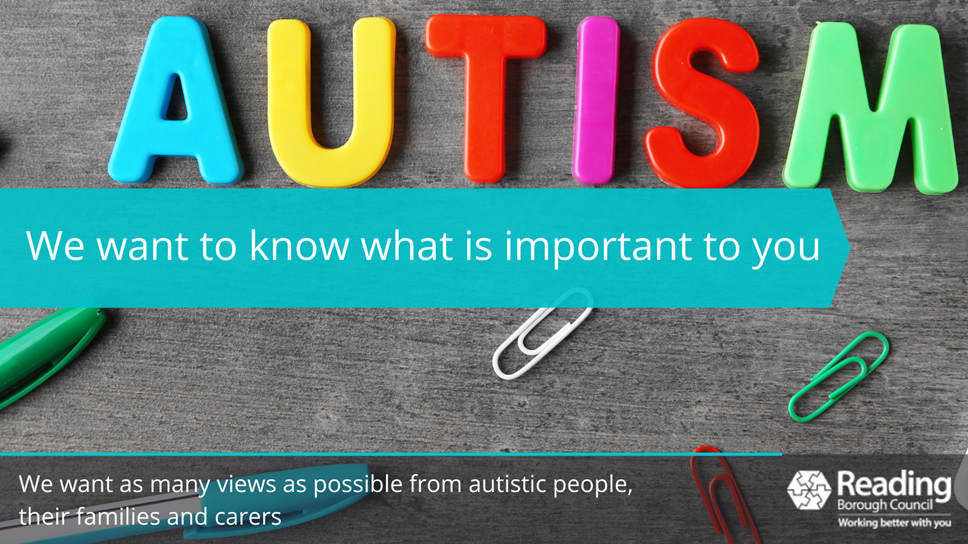 Feedback Needed on New Reading All-Age Autism Strategy
THE Council is asking for feedback on the new borough-wide Reading All-Age Autism Strategy to ensure all partners and organisations are doing everything they can to help autistic people in Reading.
Reading's All-Age Autism Needs Assessment informed the 2022-26 Strategy, designed by autistic residents, parent carers, carers, professionals working with autistic children and adults, local partners and statutory services. It has identified a number of key priorities that matter to the life and wellbeing of autistic people in Reading.
A public consultation has now been launched to gather feedback ahead of finalising identified priorities which autistic people in Reading have said they want addressed over the next four year period.
The seven key priority areas identified in the Reading All-Age Autism Strategy are:
Improving awareness, understanding and acceptance of autism
Improving support and access to early years, education and supporting positive transitions and preparing for adulthood
Increasing employment, vocation and training opportunities for autistic people
Better lives for autistic people - tackling health and care inequalities and building the right support in the community and supporting people in inpatient care
Housing and Independent Living
Keeping safe and the Criminal and Youth Justice System
Supporting families and carers of autistic people
A 60 day consultation began on 20 July and runs until 18 September and can be found at https://consult.reading.gov.uk/dachs/draft-reading-all-age-autism-strategy-2022-2026/
There will be a public event, focus groups, an Easy Read version of the strategy and additional support available on request where needed to complete the consultation.
John Ennis, Reading's Lead Councillor for Adult Social Care said "We are determined that Reading becomes an autism friendly town where residents get all the support they need. Autistic people should be able to live fulfilling and rewarding lives in a society that accepts and understands them and where they are given the opportunity to reach their full potential.
"The Reading All-Age Strategy is about helping us drill down to priorities which can help make that a reality. We need people's views to shape how advice, information, services and support for autistic people is provided in the future – what is important, what works and the things that would make life easier for autistic residents in Reading. We want to get as many views as possible from autistic people, their families and carers on the services and support available to them in the borough."
"I'd also encourage people without any knowledge of autism to make some time to look at the consultation and the draft strategy. Our goal is to raise awareness of autism and work towards more autism-friendly communities.
"I really look forward to seeing the difference this will make to families across Reading."
Cllr Ruth McEwan, Lead Councillor for Education and Public Health, said: "The number of autistic children and young people in Reading is increasing and we want to make sure the support being offered to them and their families is the best possible.
"We believe autism is a difference, not a deficit, and recognise that the lived experience of some autistic people in our town is not yet good enough, or equal to their peers who are not autistic. Our ambition is for autistic children and young people to attend education settings that better meet their needs and enable them to grow as confident, productive and independent people alongside their peers.
"Our education team at Brighter Futures for Children has a growth approach to autism and are a training hub for the award winning Autism Education Trust. The team are also committed to ensuring parents have access to the information, support and advice needed to help their children when they encounter barriers to learning.
"It is vital that we receive feedback from children, young people and parents to make sure we can provide the services required and so I would encourage as many people as possible to take part in the autism strategy consultation."
Reading Borough Council in partnership with key local stakeholders, including Voluntary Sector Organisations, Education, the NHS and Criminal Justice System, are leading on the development of a Reading All-Age Autism Strategy.