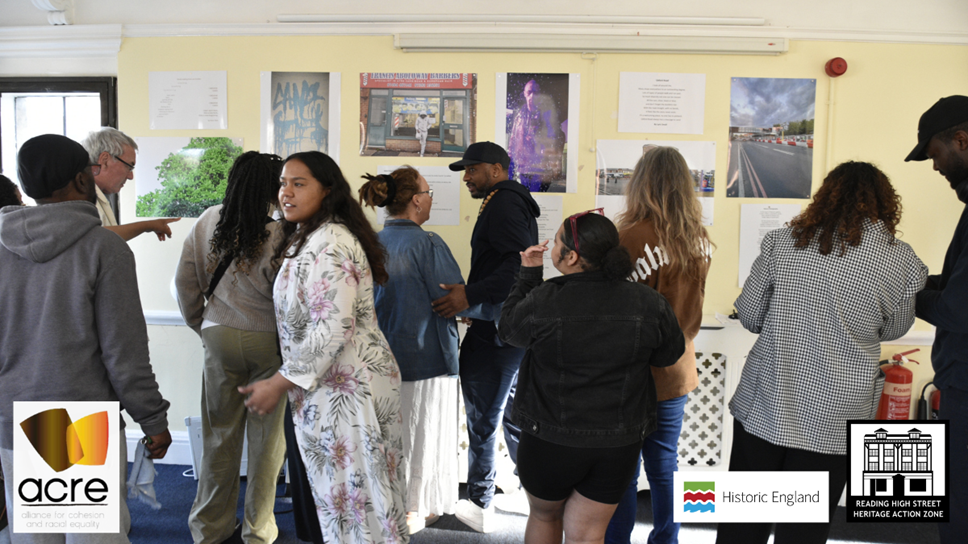 Exploring life and culture on the Oxford Road in new exhibition 'Occy Road – Episode 1'
New round of High Street Heritage Action Zone projects includes exhibiton of photographs and poetry celebrating life on Oxford Road
A COLLECTION of photographs and poetry from twenty contributing artists has been unveiled by the Alliance for Cohesion and Racial Equality (ACRE), Oxford Road, Reading.
'Occy Road – Episode 1' celebrates the work by participants of ACRE's recent creative workshop series supported by the Council's High Street Heritage Action Zone Cultural Programme (HSHAZ), and Historic England.
Occy Road explores the personal and collective stories of life and culture on the Oxford Road, through photography and poetry, including many voices, stories and lived experiences that represent just a fraction of the makeup of Oxford Road life; told from the perspectives of different generations, cultures and walks of life that inhabit it.
Led by two Reading-based artists, Nyasher Browne and Alex Douglas, the project included a series of free photography and writing workshops, and a space for the local community to meet, talk and be creative.
Cristiana Silva
Kasia Tatys, Project Co-ordinator at ACRE, said:
"This project grew out of a need for storytelling within a safe, creative, community space, where every voice would be heard and listened to on matters great and small. And despite of its humble beginnings, the project has transformed and grown beyond our expectations! We've witnessed people come together, joined by the common need of being creative, telling a story and generously sharing those with others in a room.
And now we're incredibly pleased to invite everyone from the local communities to see, read and hear just some of those stories, stories that surround us daily, and make up the shared heritage of the place we live in. We hope you enjoy them and are inspired to tell your own story."
The exhibition follows the newest round of funding for Reading's HSHAZ scheme opening earlier this year. Applications were invited from local groups to run creative and cultural activities with the communities of the Oxford Road, from January to Summer 2023.
The Alliance for Cohesion and Racial Equality (ACRE), Change, Grow, Live, and Real Time Video were chosen by a selection committee to receive a £4k grant to deliver their proposed projects to residents of the Oxford Road.
Chanice Shea who took part in the workshops, said:
"When working and driving you don't get to experience your surroundings and even throughout this course, I've been meaning to go onto Oxford Road to take pictures and do extra work, but you just don't have the time.
"Doing this course has opened my eyes up a lot, and I've even seen stuff down on Oxford Road that I've never seen in my whole entire life here, so it's given me the ammunition to go out and explore my own hometown."
Gary Small
Cllr Adele Barnett-Ward, Reading's Lead Councillor for Leisure and Culture, said:
"This is a fabulous community exhibition showcasing the hidden gems of people places and things that make the Oxford Road a world all in one place. I'd encourage everyone to take in the exhibition if they can and discover something you may never have known about Reading's historic high street."
Occy Road – Episode 1 is available to view until 10 June, 10am-4pm at Community Wellbeing Hub, 344 Oxford Road, RG30 1AF. Funded by Historic England in partnership with Arts Council England, The National Lottery Heritage Fund, and Reading Council.
ENDS