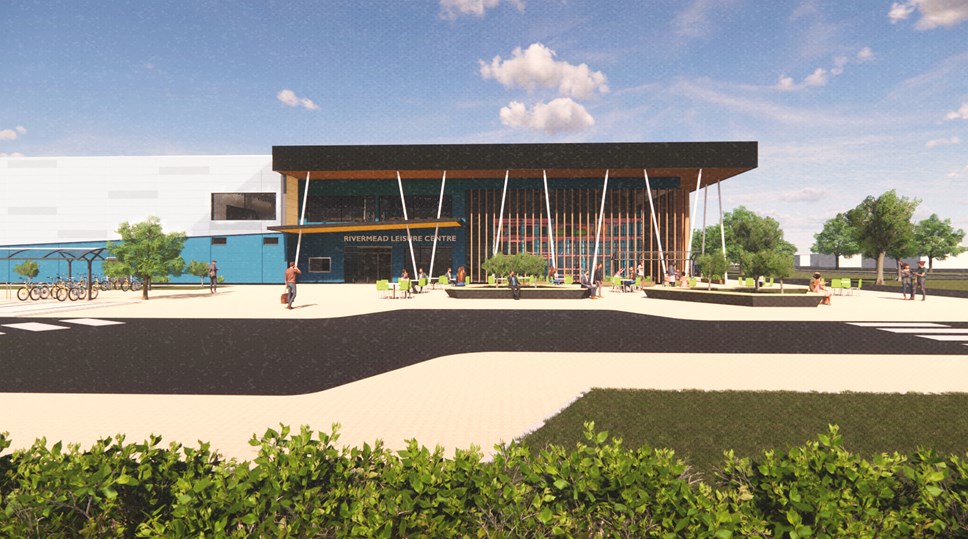 Exciting 'Virtual' Preview of Reading's New Leisure Facilities
leisure video offers a glimpse of the new facilities located at Rivermead and Palmer Park
video showcases virtual CGI models, combined with artist's impressions and drone footage to bring the project to life
READING Council and its leisure partners, Greenwich Leisure Ltd (GLL), have today launched a video promoting the modern new leisure facilities Reading can look forward to.
The leisure video offers a glimpse of what the new facilities located at Rivermead and Palmer Park – including the building of two modern new swimming pools – will look like, by showcasing virtual CGI models, combined with artist's impressions and drone footage.
The Council's commitment to providing modern and much-improved facilities for swimmers and sports enthusiasts in Reading gained momentum in December 2020, after the two major planning applications were submitted. These applications are due to be considered in March 2021.
The Council's chosen leisure provider, Greenwich Leisure Ltd (GLL) – who currently manage Rivermead Leisure Centre on behalf of the Council – will operate the new leisure facilities on the Council's behalf once they are opened.
The planning applications provide a detailed spec of the proposed new facilities, which are set to include:
A modern new-build leisure centre at Rivermead, offering:
A 25m 8-lane competition pool with moveable floor and 300 spectator seats
A combined teaching and diving pool
Splash pads
A 6-court sports hall with 250 spectator seats
A 120-station gym with 3 studios
A café/ info hub and soft play
At Palmer Park, in addition to the refurbishment of the existing stadium building, there will be:
A modern new 25 metre, 6-lane community pool
A 100-station gym with three studios
An activity zone for children with party rooms,
And a new café and information hub.
Cllr Graeme Hoskin, Reading's Lead Councillor for Health, Wellbeing & Sport, said: "Our new video offers an exciting 'virtual' glimpse of the modern facilities people can look forward to, as we work towards delivering new sports and swimming facilities for Reading. I hope this will really bring the project to life for people.
"Despite the challenges of the past year, we are continuing to press forward in providing first-class leisure facilities a town of our size and status deserves, as well as achieving a good balance for Reading's communities and for families.
"We are investing over £40 million in modern new leisure facilities – including a new leisure centre and two brand new swimming pools – delivered in partnership with our leisure provider, Greenwich Leisure Ltd (GLL). I'm also delighted that, aligning with our commitment to sustainability, these new developments will be built to BREEAM Excellent standards and renewables used where possible, as well as measures to reduce carbon emissions and improve environmental efficiency.
"Health has also always been a driving priority in this project, and now more than ever after the significant impacts of Covid-19, our ambition to inspire the communities we serve to lead healthier, more active lives and to offer targeted activities to help reduce health inequalities, is more vital than ever.
"There is no denying this has been an incredibly tough year for everyone – and it is true to say the leisure industry as a whole has suffered both nationally and locally with the necessary restrictions that have been in place. We are, however, hopeful that we can drive this project through.
"As well as watching the new leisure video on the Council's YouTube channel at https://youtu.be/TWLP75MPAkc, I also encourage everyone to take a look at the detailed plans that have been submitted. This is also an opportunity to comment on the details of the facilities that are proposed. You can find out more information on the Council's website at www.reading.gov.uk/newleisure ."
Paul Shearman, GLL partnership manager for Reading said: "'The importance of keeping physically and mentally healthy has come centre stage during the Coronavirus pandemic.
"GLL have worked very closely with our partners at Reading Borough Council to produce these impressive virtual and 3D images. They will really help give a fantastic impression of these new, state-of-the-art facilities that we know will provide a real boost for the town.
"It is already very well established that regular physical activity can not only help maintain a healthy body weight and lower blood pressure, but also alleviate depression; which as a result of a series of lockdowns has led to reduced social interactions. It's never been more important to provide high-quality sporting and leisure facilities to the local community in Reading, and we would encourage everyone to watch the leisure video and see these exciting developments for themselves."
The new leisure video can be viewed at https://youtu.be/TWLP75MPAkc and for more information about the project visit www.reading.gov.uk/newleisure
The planning applications for these major projects can be viewed at: http://planning.reading.gov.uk/fastweb_PL/welcome.asp (search planning reference numbers: 201734 and 201735)
People will be able to comment on the applications as part of the planning process. The applications are due to go before the Reading Council Planning Committee on Wednesday 31st March 2021.