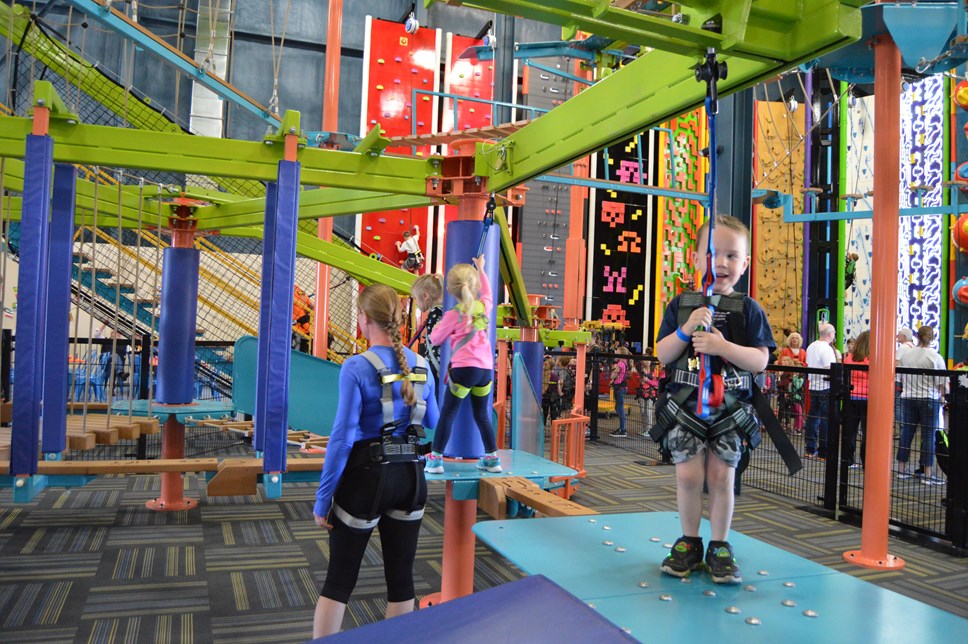 Exciting Proposal to Transform Play at Prospect Park!
READING COUNCIL has announced ambitious plans to boost the play facilities offered at Prospect Park by investing over half a million pounds to transform the heart of the park.
The Council plans to invest over £500k to build a new multi-use community hub and activity centre in part of the pavilion building at Prospect Park, which will become a new destination for activities, entertainment and learning for families and children from across Reading and beyond.
As part of the Council's ambition to improve health and drive up participation in outdoor and active play, the fantastic new facilities would offer:
outdoor family adventure mini-golf;
an indoor 'skytrail' low ropes course for younger children age 7 and under;
a café facility with indoor and outdoor seating;
new toilet facilities for skytrail and café users;
an outdoor education area that will also support Reading Play's educational outreach work which includes using play as a tool to improve particularly vulnerable young people's social skills and wellbeing.
The family 9-hole mini-golf will be designed to allow for wheelchair access and would be able to provide specialist accessible putting equipment so that everyone can join in the fun.
There will be a modest admission charge for the mini-golf, the adventure ropes and the climbing wall facility. Charges will be set in line with other similar facilities in the region and income generated will go towards delivering activities targeted at supporting vulnerable children across the borough.
A new café and toilet facilities would complement the activities at the centre, as well as a multi-function room for parties, meetings and teaching, including space for those with special educational needs or disabilities (SEND) or excluded from mainstream education.
The pavilion is the home of the Council's highly regarded and popular Play Service, and the new centre would also provide an outdoor enclosed education zone to support the team's educational outreach programmes, including a portable climbing wall and team building activities, such as den and fire building, archery, adventurous play, assault course, an outdoor classroom and much more.
Cllr Karen Rowland, Reading's Lead Councillor for Culture, Heritage and Recreation, said: "I'm really eager to see this project become a reality and I'm delighted we are able to invest over half a million in this ambitious multi-use Children's hub at Prospect Park.
"Not only will this benefit the local community, but it will also attract a diverse range of visitors to one of our most prominent green spaces, enhancing its reputation both locally and regionally. Reading currently doesn't have a significant outdoor activity centre such as Wokingham's Dinton Pastures or Bracknell's Go Ape. This proposal for adventure ropes, mini-golf and climbing walls would provide Reading with a unique mix of indoor and outdoor facilities for children and families.
"Even more importantly, this development will allow our amazing Play Service to expand the important educational work they do with vulnerable children across the borough. This will be a significant and valuable extension to our provision for vulnerable and SEND children in a fun, safe and welcoming environment. Income generated through paid activities will crucially allow for this vital targeted work to continue.
"This is also just one aspect of the enhancement and investment we are making into Prospect Park. We have prioritised the playground as urgently needing improvements, particularly free accessible equipment for children of all abilities. There will be more information on this upgrade soon.
"We think our ideas for this family-friendly adventure hub are exciting and we hope you do too! Find out more at www.reading.gov.uk/PlayTransformation There will be an opportunity to view more detailed plans and to comment as part of the planning process in April."
Cllr Graeme Hoskin, Reading's Lead Councillor for Health, Wellbeing and Sport, said: "I'm delighted at the news of this ambitious proposal for the play provision at Prospect Park. It is a key priority for us to drive an increase in activity, health and well-being across the borough, with targeted work in the community to reach those in most need, and work towards reducing health inequalities. Alongside our major investment in modern new sports facilities at Rivermead and Palmer Park, this development will help us increase leisure opportunities and in doing so significantly improve the health and wellbeing for our young people."
The environmental impact of this development on the rest of the park is limited. An overgrown hedge will be thinned to create routes through and space underneath and new native hedging will be added.
The use of the existing football changing facilities will also be unaffected by this development as the new play service will operate out of the pavilion end closest to the car park.
A report on the proposed Children's Activity Centre is due to go before the Council's Policy Committee on Monday 15 February 2021. The report seeks approval to proceed with the development. If the project is approved, a planning application will be submitted late April, with the application going before Planning Committee for approval in the summer. Construction is anticipated to start on site late summer, but this may be subject to change, given the uncertainties surrounding the pandemic. The pavilion is currently being used as a coronavirus testing centre.
To find out more about the project at: www.reading.gov.uk/PlayTransformation
The full committee report on the project can be accessed here https://democracy.reading.gov.uk/documents/s15922/Prospect%20Pavilion%20Play%20Service.pdf
The project is being funded from money secured via Section 106 agreements and from the Community Infrastructure Levy (CIL) – which are both contributions developers make towards local facilities.
Ends
Notes
Images of the proposed activity centre are available here: https://flic.kr/s/aHsmU6oSqb
Watch a video about the proposed rope trail: https://youtu.be/yU9W79nX6RM
About Reading Play
Reading Play encourage learning opportunities and social experiences for 0 to 13 years olds through play. The team support vulnerable children with respite and use play as a tool to improve particularly vulnerable young people's social skills and wellbeing. Children's lives are enhanced by playing creatively, allowing for learning and development as individuals.
Targeted educational support includes:
Supporting young people with behaviour and development issues
Playground games and sport to encourage physical activity
Transition support – into new schools/classrooms
Special Educational Needs and Disability (SEND) support with educational attainment
Running out of school play-based learning programmes for children and young people who have no educational placement
School travel training service
Early years and schools training courses for organisations
Respite provision – young carers
Mentoring young people through play.
The team also provides After School Clubs, Holiday Play Clubs, and events such as the Summer Play Days.
This development will allow the Play team to target work with children and young people by providing alternative learning experiences for children with special educational needs and disabilities, and activities aimed at reducing school exclusions and their impact. Income generated by public activities will be invested into targeted services offered to vulnerable children both on-site and in school.