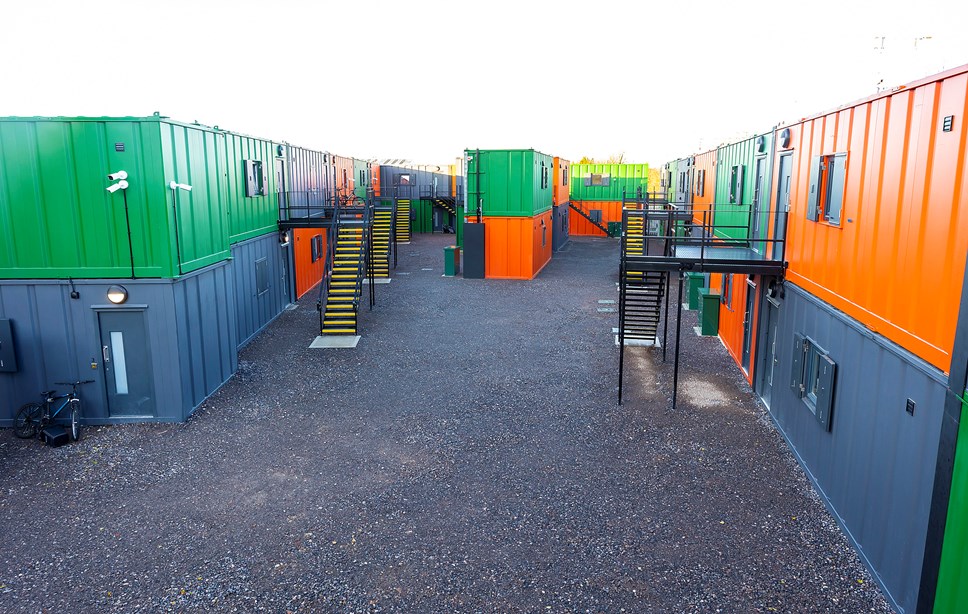 Double recognition for innovative housing project as Council shortlisted for two awards
Council shortlisted for LGC Awards 2022 and MJ Awards 2022 for its innovative solution to rough sleeping
Modular homes project gaining national recognition after opening in November and now housing 40 former rough sleepers
Shortlistings follow plaudits in November 2021 when Reading Borough Council won Homebuilder of the Year at the UK Housing Awards
READING Borough Council has been shortlisted for two prestigious awards, recognising exceptional work from its Housing department.
Shortly after the Council received news from the Local Government Chronicle that it had been shortlisted in the LGC Awards 2022 Housing category, the Municipal Journal revealed that the Council was also on the shortlist in the Best Social Housing category at the MJ Awards 2022. Both accolades were in recognition for a bold and innovative project to create modular homes for rough sleepers.
Reading Borough Council successfully launched the unique solution to rough sleeping in December 2021. 40 rough sleepers are now accommodated in a town centre gated community of modular homes, offering privacy, comfort and warmth along with vital intensive support round the clock through the Council's partnership with homeless charity St Mungo's. Residents have their own individual homes equipped with beds, kitchens and bathrooms behind their own front door. Shared laundry facilities are also provided in a separate building on site. Wraparound intensive support is available on a 24/7 basis provided by support workers skilled in working with vulnerable clients. Whatever the issues that may trouble residents day or night they can be sure there will always be someone on site available to listen and to support them.
Zelda Wolfle, Assistant Director for Housing at Reading Borough Council, said:
"I'm delighted for all of the team at Reading Borough Council who have supported and contributed to the work which has led to this recognition. I'm also really pleased that we are receiving national plaudits for the project as it confirms that this delivers exactly what we wanted it to and sets an example that others will be able to follow to help address the problem of homelessness in other areas of the country. We couldn't have achieved what we have on this without the support of St Mungo's to deliver the on-site 24 hour care, demonstrating the success that partnerships with charities can bring".
National recognition for the innovation and hard work of Reading Borough Council's Housing team was also received in November 2021 when it was crowned Homebuilder of the Year (16,000 homes or less) at the UK Housing Awards. The only council to make the shortlist for the award, Reading beat six other contenders including construction companies, housing associations and development partnerships. It was recognised by the judges for its ambition to build over 300 new affordable homes over four years with a strong commitment to sustainability and excellent team working.
The Council's £80m investment in home building will help reduce the housing waiting list and provide affordable rent properties to Reading's residents, including provision for adult social care, sheltered housing, key workers and those on the housing register.