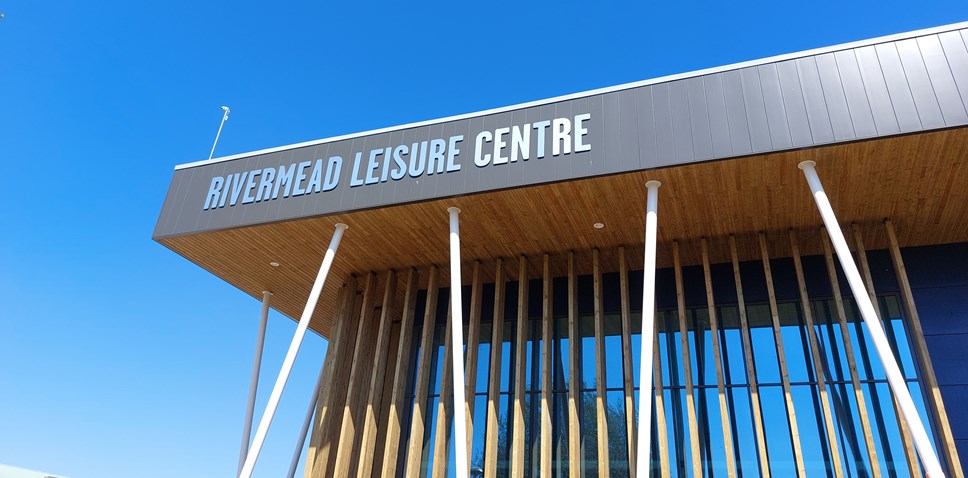 Countdown to the opening of the new Rivermead Leisure Centre
Open to the public from 17 July 2023
Facilities include a 6-court sports hall and a 120-station gym with 3 studios, soft play activity zone with party rooms and cafe
Swimming pools will follow in summer 2024
THE COUNTDOWN has begun to the exciting opening of Reading's new flagship leisure centre at Rivermead.
Preparations are now well underway for the public opening on Monday 17 July, when residents can enjoy the brand-new centre's dry-side facilities including a fantastic new 120-station gym with 3 studios, a 6-court sports hall with 280 spectator seats, soft play and café.
The new flagship leisure facilities form part of the Council's leisure investment of over £40m. This investment has already delivered improvements at South Reading Leisure Centre and Meadway Sports Centre, and the new Palmer Park Leisure Centre and Stadium with new 25m community pool which opened in 2022.
These modern facilities are designed with a focus on accessibility and sustainability, to benefit everyone in Reading. The Council is not only funding new facilities, but also investing in targeted activities to reduce health inequalities.
The opening of dry-side facilities at Rivermead in July will be followed in summer 2024 by the two new swimming pools - a 25m 8 lane competition pool and a teaching & diving pool, both with moveable floors, with over 300 spectator seats (including 7 accessible wheelchair spaces), alongside splash pads for younger users.
Adele Barnett-Ward, Reading Borough Council's Lead Councillor for Leisure and Culture, said: "We can't wait to get the doors open and welcome residents to the new Rivermead Leisure Centre. The centre represents a significant investment in Reading and provides leisure facilities that are fit for the future.
"The centre has been built to BREEAM Excellent environmental standards and is designed to create an inclusive fitness environment so everyone in our community can join in and experience the benefits of physical activity.
"From 17 July, Reading's community can enjoy a fantastic new sports hall and a 120-station gym with studios, as well as a fabulous soft play and café families will love.
"We are also looking forward to the new swimming pools opening next summer, which will be yet another opportunity to celebrate."
Craig Woodward, GLL's Partnership Manager said: "GLL, alongside our partners Pellikaan and Reading Borough Council are all working at pace together to bring forward these state-of-the-art leisure facilities that will be the envy of the Thames Valley.
"With an emphasis on accessibility and affordability, the new leisure complex will support the health and wellbeing of thousands of residents young and old – getting more people, more active more often.
"We know leisure centre users can't wait to see inside – so keep a look out for updates on our opening weekend and tours."
Gert-Jan Peeters, director of Pellikaan UK, said: "We are now in the final stages of delivering the phased opening of the new Rivermead. Work on the dryside facilities is going very well and we are confident that the centre will be a welcome addition for the local community by July."
With the new swimming pools completing in 2024, the plan will be to provide swimming facilities through the existing pool on site, in addition to the new community pool at Palmer Park and the pools at Meadway and South Reading Leisure Centres.
Building works will be needed in late July to incorporate the existing 25m 5-lane pool into the new leisure centre to enable continuity of swimming provision at the centre. There is likely to be a brief pool closure as part of these works: GLL will contact centre users to ensure they are aware in good time of any changes to sessions.
The new facilities have been developed to BREEAM Excellent standards (which is the world's leading sustainability assessment method) and with the use of renewables where possible, as well as putting in place measures to reduce carbon emissions and improve environmental efficiency. Two air source heat pumps (ASHP) at Rivermead will equate to around a 75% reduction of the carbon emission rate of the new centre's heating system and at their peak power, Rivermead's impressive 770 solar panels will output over 296 kW.
The existing leisure centre will remain open until the new centre is complete to ensure no gap in people's leisure service. Once the new centre opens, work will begin to dismantle the old structure to make way for a new car park and children's play area.
For regular updates on the leisure project visit https://www.better.org.uk/new-reading-leisure or follow the Council on social media @ReadingCouncil Twitter, Facebook and Instagram or GLL at @Better_Reading
Ends