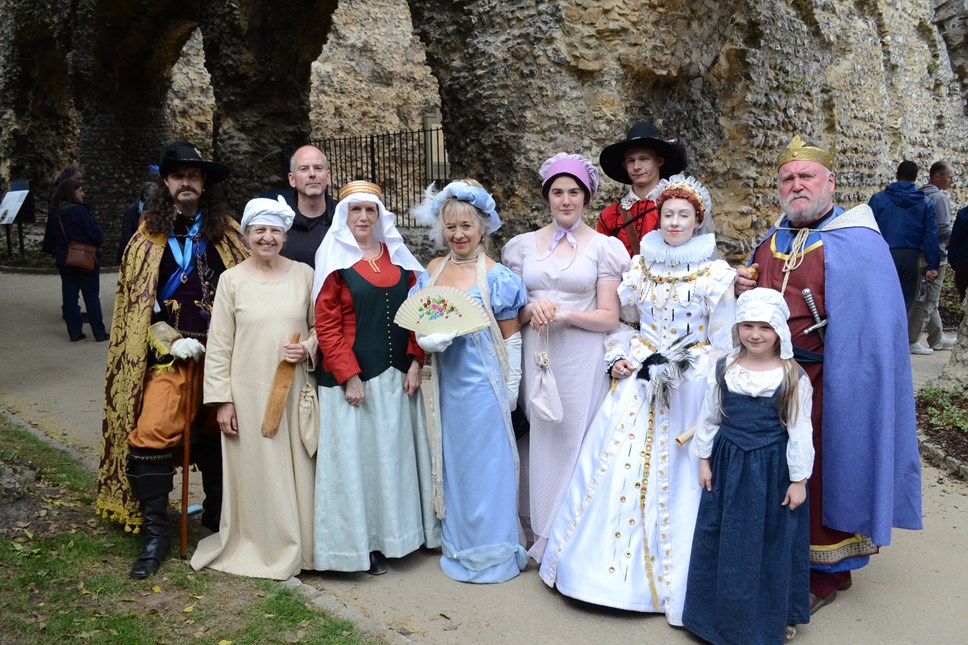 Countdown to Celebrating 900 Years of Reading Abbey at Water Fest
Reading Water Fest takes place on Saturday 19 June 2021, between 11am and 5pm
The free ticketed festival will celebrate the 900th anniversary of Reading Abbey
The Hugh Faringdon carving will be unveiled on the Abbey Gateway at 11am
Stringent measures will be in place to ensure the event operates within current Covid guidelines
THE COUNTDOWN has started for the return of Reading Council's much-loved Reading Water Fest on 19 June - this year as the flagship celebration event to mark the 900th anniversary of Reading Abbey.
2021 is an incredibly auspicious year for Reading - marking 900 years since Reading Abbey, originally one of Europe's largest royal monasteries, was founded by King Henry I of England. Reading Water Fest will be the focal celebration event for this landmark year.
The launch of the event will include the unveiling of the completed Hugh Faringdon headstop carving on the Abbey gateway, to mark the 900th anniversary of the Abbey. Catch a sneak preview of the carving here as we catch up with the Cliveden Conservation artist, Alex Wenham:
This accessible one-day event will take place on Saturday 19 June between 11am and 5pm, within the Forbury Gardens, Abbey Ruins and along the River Kennet, celebrating the Abbey's rich 900-year history and its environmental and heritage connections with Reading's waterways.
The event will host an incredible array of activities with live music in the Forbury Bandstand and the Abbey Ruin's Dormitory, medieval and Anglo-Saxon re-enactments in the Forbury Gardens, live performances from Rabble, South Street, Cast Iron Theatre and the Historical Huzzahs. For the first time in the event's history, there will be a floating stage on the day as well as performances on Chocolate Island!
This timely flagship event will also celebrate and showcase the Kennet Canal in all its glory, along with the gorgeous and historic spots on its towpath, with the chance to spot beautifully painted boats and chat to boaters.
Pay a visit to Riverside Walk on the day to experience an exciting new exhibition 'Abbey Visions' by local photographer Chris Forsey.
Chestnut Walk will be lit up during the evenings of the 18 and 19 in celebration of the Abbey's anniversary. Located along a 27m stretch of Chestnut Walk, 8 motifs will be beamed onto the wall of Reading prison depicting the key moments of the Abbeys past. Forming an illuminated timeline along the prison wall, each beam will narrate, in text and imagery, the history of the Abbey and people who came to be there. This feature is accessible to the public without the need to book.
An exciting new '900 Steps' virtual tour will also be on offer. Designed to be experienced using a smart device whilst wearing headphones, users scan the QR codes displayed onsite or online at www.readingculturelive.co.uk. Inspired by the concept of pilgrimage, the film captures Reading Abbey Quarter's rich history.
On Tuesday 15 June, Reading Museum is launching 'From Music to Magic: Reading Abbey's most famous manuscript' an online exhibition about "Sumer is icumen in" – thought to be one of the earliest recorded pieces of music, written in Reading Abbey: www.readingmuseum.org.uk/explore/online-exhibitions/reading-abbey-most-famous-manuscript
Cllr Karen Rowland, Reading's Lead Councillor for Culture, Heritage and Recreation, said: "This year is such an auspicious date for Reading and I am so looking forward to the return of Reading's beloved Water Fest. Doubling its return along with celebrating the 900th anniversary of Reading Abbey, the jewel of our town's heritage crown - it will be all the more exciting.
"However, given current pandemic guidelines, as always the safety of the public, our staff and event volunteers, will remain our top priority. As such, the event will look very different to previous years. We have operated a free ticketed system for timed entry. Don't worry if you are unable to make the event or haven't managed to get tickets though - we will also be providing a plethora of great activities online to complement the live event. We are also appealing to anyone who has reserved tickets but cannot now make it, to return their tickets for others to benefit from, by speaking with Reading Arts Box Office 0118 960 6060.
"There is so much to look forward to! This exciting event will be brim-full of history spanning the centuries – you'll be able to chat with civil war soldiers and medieval townsfolk, as well as well-known historical figures such as King Henry I and Empress Matilda. There will be arts and crafts activities galore. We are also very excited about the introduction of a floating stage on the Kennet – one of four stages on the day offering live performances. Taking inspiration from the Abbey's rich history, there will be theatrical performances throughout the day.
"We have worked with partners and the wider community to deliver a programme of supporting events and activities throughout 2021 to celebrate the 900th anniversary.
"I'm also very excited to finally unveil the Hugh Faringdon headstop carving on the Abbey Gateway, as voted by the people of Reading, as a lasting legacy to mark the 900th anniversary. A special mention to Historic England for their support and advice through the Scheduled Monument Consent process to allow this to happen.
"A huge thank you to everyone who has made this amazing event possible, during these unprecedented times, including all the hard-working staff, volunteers and community groups. Thanks also to a generous event grant from the Arts Council, to the Culture Recovery Fund and to the National Lottery Heritage Fund through the Reading Abbey Revealed project, that has made this event and all the wonderful cultural celebration activities possible."
The free event is now fully booked – although there may be returns available – visit https://whatsonreading.com/waterfest900 for more information or call Reading Arts Box Office 0118 960 6060.
For anyone who hasn't managed to get a ticket, there is a wide array of online activities available online at www.readingculturelive.co.uk and Water Fest celebrations will be live-streamed on the Council's Youtube channel: www.youtube.com/c/ReadingCouncilNews with highlights on the Council's social media channels – Twitter and Facebook @ReadingCouncil
This year's enhanced event has been made possible thanks to three generous awards; £15K funding by the National Lottery through Arts Council England (ACE) to support the festival, £16K of National Lottery Heritage Fund awards through the Reading Abbey Revealed project funding the Hugh Faringdon carving and festival activities, and for the three commissioned artists commemorating the Abbey's 900th Anniversary, a share of a £10,000 funding pot provided by the Culture Recovery Fund for Heritage and distributed by The National Lottery Heritage Fund.
Find out more at
www.reading.gov.uk/waterfest900
www.readingabbeyquarter.org.uk/visit/2021-900th-abbey-anniversary
Notes to editors
Media opportunity: Photo and filming opportunity to launch of Reading Abbey's 900th anniversary at 11am on Saturday 19th June at the Reading Abbey Gateway. Please RSVP Victoria.Nickless@Reading.gov.uk before the event as numbers will be restricted.
Festival safety measures
As with all events this year in the light of the ongoing pandemic, Water Fest will look very different from previous years. The event will be delivered in a stringently Covid compliant way. Workshop and interactive activities have been pre-booked in advance and numbers will be limited. Safety measures have necessitated a ticketed system, with reduced capacity and staggered arrival times. During the event the gardens and abbey will be closed to the general public.
Highlights Water Fest 2021
The Forbury Gardens will offer a whole range of historical workshops as well as displays, activities and exhibitions from wide range of local community and charity groups.
Visit the Forbury Civil War Camp or Medieval Village where you can experience the sounds and smells of the Quarter's history.
The Abbey's dormitory will feature four unique artist-led workshops and still life drawing sessions, co-designed with Jelly.
On the Kennet there will be a new floating stage (which will be one of four stages on the day) with local organisations such as CultureMix, Limpopo Groove and a whole host of local acts.
South Street Arts will present a brand-new piece of site-specific theatre, as part of their award winning SITELINES programme, taking inspiration from the Abbey's rich history.
Rabble Theatre Company will perform excerpts from their current production of The Last Abbot.
Riverside Walk will be transformed into a large photo exhibition by local photographer Chris Forsey, highlighting the history of the Abbey.
Chocolate Island will host an extra special children's show throughout the day.
A delicious selection of refreshments will also be available on Chestnut Walk courtesy of Blue Collar with the very best in street food and drink on the day.
Water Fest favourites will return - beautifully painted narrowboats will be moored along the length of the site who will also take part in two special parades throughout the day.
Boat trips will be available around the Forbury loop.
Chestnut Walk will be lit up during the evenings, with 8 motifs beamed onto the wall of Reading prison depicting the key moments of the Abbeys past.
Don't forget the extra special annual duck race!
The Kennet and Avon Canal Trust
The Kennet and Avon Canal Trust restored the canal, and it was fully reopened by the Queen in 1990 – so last year would have been the 30-year anniversary of that enormous effort. This year is the 70th anniversary of the establishment of the Kennet and Avon Canal Association, which became the Kennet and Avon Canal Trust a year later.
Funding information
About the Culture Recovery Fund for Heritage
This project is funded by the Culture Recovery Fund for Heritage. The Culture Recovery Fund is a £1.57 billion fund to tackle the crisis facing our most loved cultural organisations and heritage sites. This lifeline shows our commitment to a sector that matters to millions of people and our faith in the creative sector's ability to bounce back. The Culture Recovery Fund is provided by the Department for Digital, Culture, Media and Sport (DCMS) and administered by Arts Council England, Historic England in partnership with the National Lottery Heritage Fund, and the British Film Institute (BFI).
National Lottery Heritage Fund
Using money raised by the National Lottery, we inspire, lead and resource the UK's heritage to create positive and lasting change for people and communities, now and in the future. www.heritagefund.org.uk. Follow @HeritageFundUK on Twitter, Facebook and Instagram and use #NationalLotteryHeritageFund
Arts Council England is the national development body for arts and culture across England, working to enrich people's lives. We support a range of activities across the arts, museums and libraries – from theatre to visual art, reading to dance, music to literature, and crafts to collections. Great art and culture inspires us, brings us together and teaches us about ourselves and the world around us. In short, it makes life better. Between 2018 and 2022, we will invest £1.45 billion of public money from government and an estimated £860 million from the National Lottery to help create these experiences for as many people as possible across the country. www.artscouncil.org.uk

Supported using public funding by the National Lottery through Arts Council England
About Historic England
We are Historic England the public body that helps people care for, enjoy and celebrate England's spectacular historic environment, from beaches and battlefields to parks and pie shops. We protect, champion and save the places that define who we are and where we've come from as a nation. We care passionately about the stories they tell, the ideas they represent and the people who live, work and play among them. Working with communities and specialists we share our passion, knowledge and skills to inspire interest, care and conservation, so everyone can keep enjoying and looking after the history that surrounds us all.