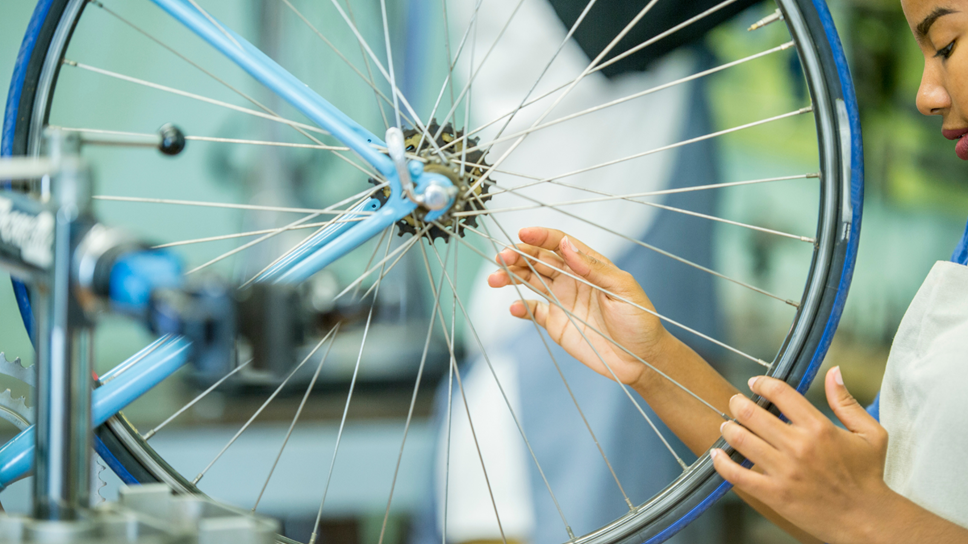 Council to support new cycle hub in town centre
Proposed cycle hub at the former Primark unit in central Reading
Enclosed cycle facility would combine cycle parking and maintenance facilities
Supported by Primark and run in partnership with Ethical Reading and The Reading Bicycle Kitchen
AN EXCITING NEW cycle hub for Reading will boast enclosed bike parking and maintenance facilities under plans being progressed by Reading Council.
The proposed town centre hub is designed to provide more secure and enclosed town centre cycle parking facilities for up to approximately 120 bicycles, with both experienced and novice cyclists in mind. There is also the potential for other activities to be run from the hub including a bicycle loan and/or bicycle donation scheme.
Following extensive research into properties in the town centre, the Council has chosen to locate the hub within a unit at 32-41 West Street, the site of the former Primark Store, which is still owned by the company. It will initially run for one year with funding from the Department for Transport (DfT), beyond which the continuation of the scheme will be subject to evaluation and the ability to secure a sustainable venue and further funding.
Reading cycle hub will be staffed and planned to be open 7 days a week, from 7 am to 7 pm and will open later this year.
Councillor Tony Page, Reading Borough Council's Lead Councillor for Climate Strategy and Transport, said: "I'm delighted we have made good progress towards establishing Reading's new cycle hub. Alongside our investment in improvements to cycling and walking routes across the borough, the cycle hub will form an important part of our ambition and vision for active travel in Reading and getting people cycling more.
"Working closely in partnership with Reading Bicycle Kitchen and Ethical Reading to make this initiative a success, this hub will offer the opportunity for people who may not be able to afford a bike, to cycle, through a 'try before you buy' donation/loan scheme.
"We hope that the hub will encourage many more people to cycle, particularly those who have concerns with theft and/or vandalism. As we enter the recovery period, following the pandemic, supporting people's return to work via active travel is a priority for the Council. In addition, we need to incentivise travel by bike for leisure purposes, as well as encourage those who may not normally choose to travel this way to consider it as an option."
Ethical Reading volunteer Ian Germer, who has worked with fellow volunteers Rob Hill and Susan Children on the project, commented: "We are delighted with the progress the council has made since we raised this idea with them in September 2020. While there has been a lot of attention paid to improving cycle routes, we felt more needed to be done to enable people to feel secure about leaving their bikes in town. This is a great location in the heart of Reading town centre, which we hope will stimulate recreational as well as commuter cycling in and out of Reading. Well done to Reading Council for making this happen."
Joe Edwards, Chairperson, Reading Cycle Campaign, said: "We are delighted that Reading Borough Council is going ahead with the proposed Bike Hub offering secure bike parking and complementary services and activities. We feel that the opportunity for cyclists to safely park their bikes in the town centre will help to boost retail and leisure sales, while reducing car traffic. A great step forward!"
Increasing Active Travel remains a top priority for the Council. The proposal to develop a town centre cycle hub sits alongside a range of other initiatives aimed at supporting a shift in travel behaviour to active modes, including:
Free adult and family cycle training and cycle maintenance training, currently delivered by Avanti Cycling.
Supporting schools with active travel planning and active travel challenges, such as The Big Walk and Wheel and Walk to School Week.
Support for Reading Cycle Festival.
Research to identify key barriers to encouraging walking and cycling in Reading.
Creating new walking and cycling maps.
Link to Decision Book on the hub: https://democracy.reading.gov.uk/ieDecisionDetails.aspx?ID=713
Ends
Notes to editors
Notes
In April 2021 the DfT announced details of a new 'Capability Fund' allocated to all local authorities outside of London. This revenue grant would enable local transport authorities to promote cycling and walking in their areas.
The Council submitted a proposal to the Department for Transport in April 2021 to fund this project.